Oriental Trumpet Lilies, also known as OT hybrids or Orienpets, are a stunning cross between Oriental and Trumpet lilies. These hybrids combine the best traits of both parents, resulting in captivating flowers that exude grace, beauty, and a mesmerizing fragrance. In this article, we will delve into the world of Oriental Trumpet Lilies, exploring their history, cultivation, care, and popular varieties.
Read Next
Origins and History
The Oriental Trumpet Lily is a product of careful breeding, created by crossing the fragrant Oriental lily (Lilium orientalis) with the towering Trumpet lily (Lilium trumpet). This hybridization began in the late 20th century, intending to produce a plant with the desirable characteristics of both parent species. The result was a lily with large, vibrant, fragrant flowers and a more robust constitution.
Characteristics and Features
OT hybrids exhibit the best features of their parent species, making them a popular choice among gardeners and flower enthusiasts. Some key characteristics of Oriental Trumpet Lilies include:
Large blooms: These lilies showcase large, trumpet-shaped flowers that can measure up to 10 inches in diameter, making them a striking addition to any garden.
Fragrance: Oriental Trumpet Lilies are known for their enchanting fragrance, which is a delightful blend of the sweet scent of Oriental lilies and the subtle aroma of Trumpet lilies.
Sturdy stems: These hybrids boast strong, thick stems that can support their large flowers without the need for staking.
Tall plants: Oriental Trumpet Lilies can reach impressive heights of 3 to 8 feet, making them suitable for use as a focal point or a backdrop in garden designs.
Color variety: The flowers of OT hybrids come in a range of colors, including shades of pink, purple, white, yellow, and orange.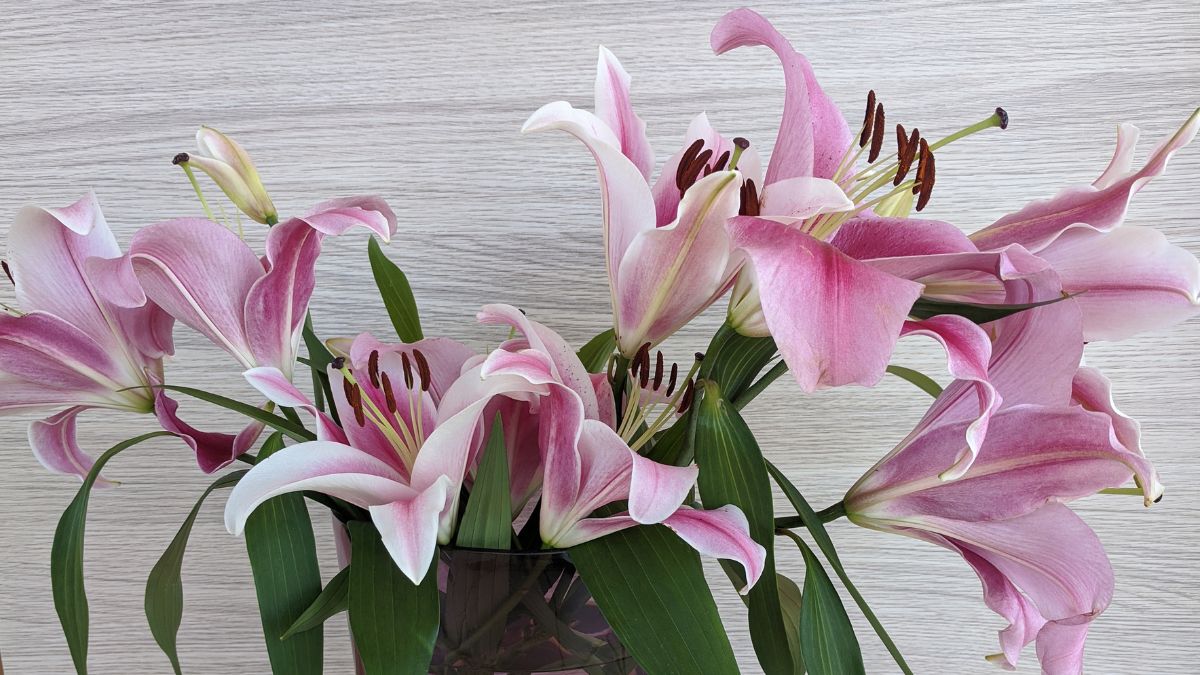 Growing and Caring for Oriental Trumpet Lilies
To cultivate these stunning blooms, follow the guidelines below for planting, watering, and fertilizing:
Planting: Choose well-draining soil and a location with full sun to partial shade. Plant the bulbs in the fall, placing them approximately 6 inches deep and 12 inches apart.
Watering: Maintain consistent soil moisture, especially during the growing season. Water deeply and regularly to encourage strong root development.
Fertilizing: Apply a slow-release, balanced fertilizer in the spring as new growth emerges. This will promote a healthy, vibrant plant and abundant blooms.
Mulching: Apply a layer of mulch around the base of the plant to help retain moisture, suppress weeds, and regulate soil temperature.
Pruning: After the flowering period, remove spent blooms to encourage the plant to focus its energy on root and bulb development. Allow the foliage to die back naturally before removing it from the base.
Pest and Disease Management
Oriental Trumpet Lilies, like any other plant, can be susceptible to certain pests and diseases. Keep an eye out for the following issues, and address them promptly to maintain the health of your lilies:
Aphids: These tiny insects can damage the plant by feeding on its sap. Treat aphid infestations with insecticidal soap or by releasing natural predators, such as ladybugs.
Red lily beetles: These red beetles feed on foliage and can weaken the plant. Handpick them from the plant or use insecticides as a last resort.
Botrytis blight: This fungal disease causes discolored or dead patches on leaves. Prevent its spread by ensuring good air circulation and promptly removing any affected foliage.
Bulb rot: This can be caused by fungal infections or excessive moisture. To prevent rot, plant bulbs in well-draining soil and avoid overwatering.
Viral diseases: Mosaic and streak viruses can affect lilies, causing mottled or streaked foliage. There is no cure for viral diseases, so it is crucial to remove and dispose of any infected plants to prevent the spread of the virus.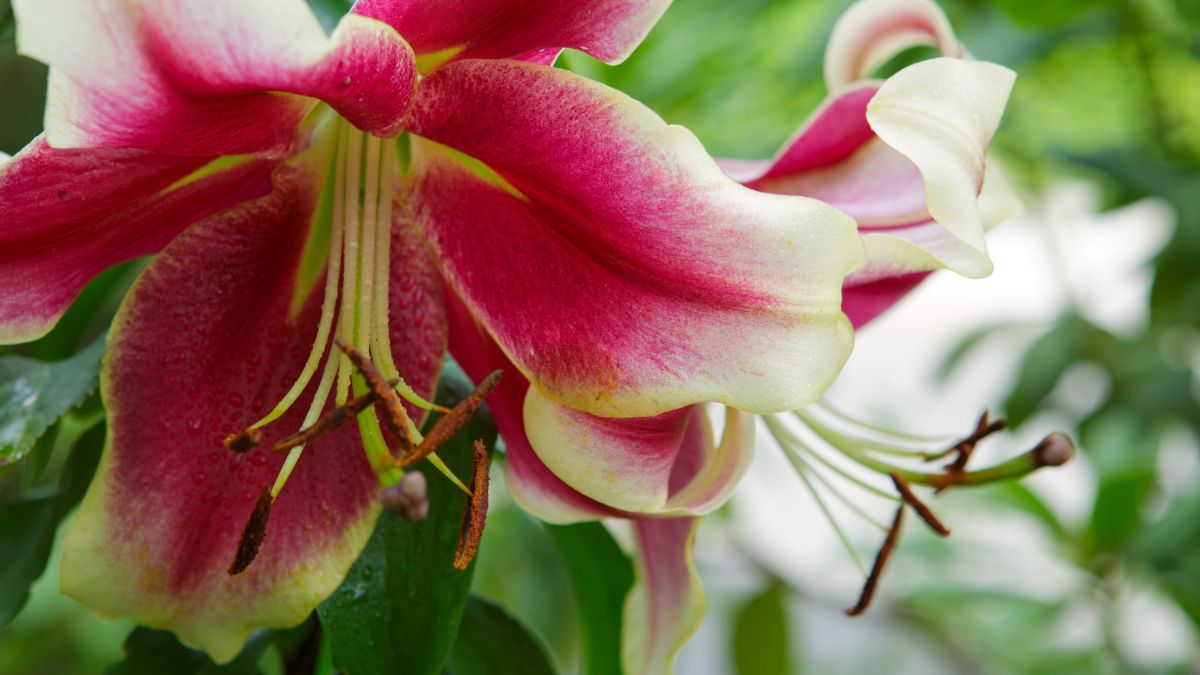 Popular Oriental Trumpet Lily Varieties
With many captivating varieties, there is an Oriental Trumpet Lily to suit every taste. Some popular varieties include:
'Anastasia': This variety boasts large, fragrant pink flowers with a white center, creating a stunning contrast.
'Black Beauty': Known for its deep burgundy, almost black petals, this dramatic lily has a striking appearance that is sure to draw attention in any garden.
'Conca d'Or': With its large, lemon-yellow flowers and a hint of green in the center, this variety adds a bright and cheerful touch to the garden.
'Robert Swanson': This lily features large, golden-yellow flowers with a bold, red-orange center, creating an eye-catching display.
'Scheherazade': This variety is known for its large, deep red flowers with a white edge and dark spots, giving it an exotic, mysterious appearance.
Using Oriental Trumpet Lilies in the Garden
The size, fragrance, and vibrant colors of an Oriental Trumpet Lily make it a versatile addition to any garden. Here are some suggestions for incorporating these stunning flowers into your landscape:
Mixed borders: Plant OT hybrids among other perennials, shrubs, and bulbs to create a diverse and dynamic garden display.
Focal points: Due to their impressive height and large flowers, Oriental Trumpet Lilies can serve as an eye-catching focal point in the garden.
Backdrops: Plant these lilies at the back of a border or flower bed to provide an attractive and fragrant backdrop for smaller plants.
Containers: For those with limited garden space, Oriental Trumpet Lilies can be grown in containers, allowing you to enjoy their beauty and fragrance on patios, balconies, or terraces.
Cut flowers: The large, fragrant blooms of these lilies make them an excellent choice for cut flower arrangements, bringing their charm and elegance indoors.
Conclusion
Oriental Trumpet Lilies are an exquisite addition to any garden, combining the best features of their parent species to create a captivating and resilient flower. By understanding their origins, characteristics, and proper care, you can enjoy the beauty and fragrance of these majestic blooms for years to come. Embrace the enchantment of Oriental Trumpet Lilies and elevate your garden to new heights.