No matter how big or small your garden or yard is, getting a sprinkler system is a must if you don't have the time. With each passing year people have less and less time to do activities such as watering a yard, but since technology is improving rapidly we may have a way to solve that problem.
So far, we have mostly bought and used regular sprinkler systems, and as much as they help, it is still a job done manually. With a Rachio Smart sprinkler, we could fix even that part of the problem by making a step forward towards making your home a smart one.
Rachio Smart Sprinkler Controller, 2nd Generation
Rachio Smart Sprinkler Controller, 1st Generation
Rachio Smart Sprinkler Review: Useful Tips on How To Use It
Before starting and deciding whether this sprinkler controller is worth buying, let us first find out what exactly it is. Apart from that, we will also mention some of the key benefits of this smart controller over a regular controller.
What Are The Benefits Of Using Rachio Smart Sprinkler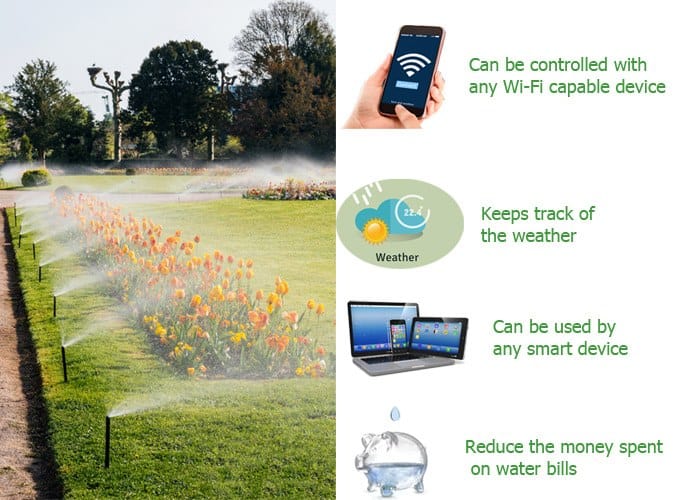 Technology companies keep pushing for a certain kind of change that can affect our entire lives, and that is the incorporation of smart systems in your own home. Whether it is the objective to make your home a smart home or just partially make it so, you will certainly get some benefits.
The same benefits are encountered in any smart system, just like in the Rachio Smart sprinkler controller. Not only that it is easier to set up and use, you can also experience the following bonus:
Can be controlled with any Wi-Fi capable device.
Keeps track of the weather in order to not water your yard if a rainy season is ahead.
Can be used by any smart device.
Will greatly reduce the money spent on water bills.
And this is only the start of one of the key benefits that you get with this product, there are many more to come! You're probably still not aware of how great some of these benefits are. For an example, the company claims that by using this smart system, you can save up to 50% on your next water bill.
This part is caused by the extreme ease of use and general mobility. You can order the sprinkler system to work whenever you want in whichever way you want.
How Does It Work And How Do You Use It?
Via: Amazon.com
As complicated as this all sounds, operating this sprinkler controller is as easy as using your smartphone, the moment you get used to it you will master ever part of it. In order to learn more about this system, we will have to see how it exactly works, so check the following steps out.
Set It Up
After you unbox it, read the manual and get each part of it in front of you. When you're done with that, all that you have to do is to replace it with your current traditional controller.
After that, connect it to your Wi-Fi and you're ready for the next steps. This entire process will take less than 30 minutes.
Start Controlling It
Now that you have it up and running, you're required to download the official application of the system on your smartphone, it can be used on both iOS and Android devices which is surely a big plus.
When installed, all you need to do is set up a personal program which is styled based on various details such as the soil type, plants, amount of sun exposure and others features.
Set Up A Schedule
In the end, you're only required to set up a schedule, this way you can make your own plans and decide how often your yard or garden should be watered and on which days. If you want, you even have the option to fully automate it and base it on your local weather!
Rachio Sprinkler Review
Via: Amazon.com
The Rachio Smart Sprinkler Controller is an excellent device for those who are too busy and don't have the time to set up and use a traditional sprinkling system. It is a fully automated process, the only thing you need to do is set it up initially and customize it according to your own needs.
The simplicity and customization of this device makes it a bestseller and most popular smart watering device. Not only you can turn it off and on or change some features in your own home, you can also do that while at work or on a trip.
Another major benefit is that if you make the watering process fully automatically, you can actually save money. The way this works is that the device checks local weather data and according to that, it decides if it should be used that day or not.
But let us get a bit deeper into the features and details of this system. In the following part we're going to do exactly that so that you can better understand this device.
Features
Control It Anywhere At Any Time
This simple yet efficient sprinkler controller has a lot of benefits and features which every person with a yard that needs to be properly maintained needs. But what are these key features and how do they exactly help you with anything?
As we mentioned before, the main feature of this device is not only the ease of use, but the mobility that you get with it. Using a traditional sprinkler can be a boring and dull task that requires you to be at home when you want to change it.
But with the Rachio smart controller, you can negate all of those traditional characteristics and bring your controller closer to you by having it in your pocket. The device can be used by anything as long as an internet connection is available. This includes the following:
Android smartphones
iOS smartphones
Laptops
Desktop PCs
Tablets
Automatable And Adaptable
Via: Amazon.com
The next key feature of this device is the general ease of use, which is mainly contributed to the implementation of a system that can be either manually or automatically controlled. You can either decide your own yard details and time schedules for when the sprinkler should work, or you can make the controller do that.
If you decide to go the easier route, you will have a fully automated system which will optimize the time schedule by getting the latest forecasts. This will help the device in a way so that it can easily determine when to activate the sprinkler. With this, you won't have it turned on when it is raining.
Eco-friendly And Money Saving Features
One of the main concerns in the 21st century seems to be saving money and being ecologically aware of the environment. But how is this possible? Well, it is all thanks to Rachio's certified WaterSense technology.
This feature will help get up to 50% off on your next water bill by using the previously mentioned automatic system. With this Rachio enabled numerous homeowners to save billions of gallons so far. This system is so efficient that even municipalities in the U.S started giving rebates up to 100% off retail.
Compatibility
We have mentioned in the previous features how this controller can be used from any place from a variety of different devices, to be exact any smart device that is either Android, iOS or Windows based.
But apart from that, you're getting even more options for connectivity by being able to connect this controller to various other devices such as Amazon Alexa. With Alexa, you can integrate Rachio in it and control zones, set rain skips and more with only the power of your voice.
Pros
It can be used by literally any device.

Controlling it is as easy as using any smart device.

It is very compact.

You could save a lot of money if making it fully automated.
Cons
Waterproof case comes separately as an accessory.

You may encounter bugs within the software sometimes.
What Comes In The Box
Via: Amazon.com
Although you don't get any significant amounts of accessories within the box of this controller, you can still get some important items. This includes the following:
The Rachio controller main device
Mounting hardware
Manual
Power supply with 6 feet cord
This is what you get with the box, but additionally, you can buy other accessories such as a waterproof case. This case will help you by preventing any form of water from entering the controller and potentially ruining it.
Conclusion
This is a really interesting product which is a first of its kind due to the massive amounts of benefits and features. For anyone who looks to relax after you get home after a long day of work and can't be bothered with the garden or yard, this is the perfect thing to buy for you.
And if you don't even have a sprinkler system currently, you can buy this controller and plan ahead, this way you will save money just like you do by avoiding watering down yards during rainy days. We hope the Rachio sprinkler review helped you to know the product in detail and understand it's functioning in a better way.