​Troy-Bilt is a trusted name in landscaping and gardening equipment in America. They take pride in revolutionizing rototiller in 1937. A rototiller is a rolling equipment that is used to break the ground in preparation for gardening and farming. From then on, the brand strived to make an excellent product that will make lawn care, gardening, snow clearing, and clean-up more convenient and easy.
With a headquarters in Ohio, various manufacturing locations in Tennessee, Kentucky, Mississippi, and Arizona and two more in Ohio, the brand is proud to carry on with the American heritage they have started more than 80 years ago.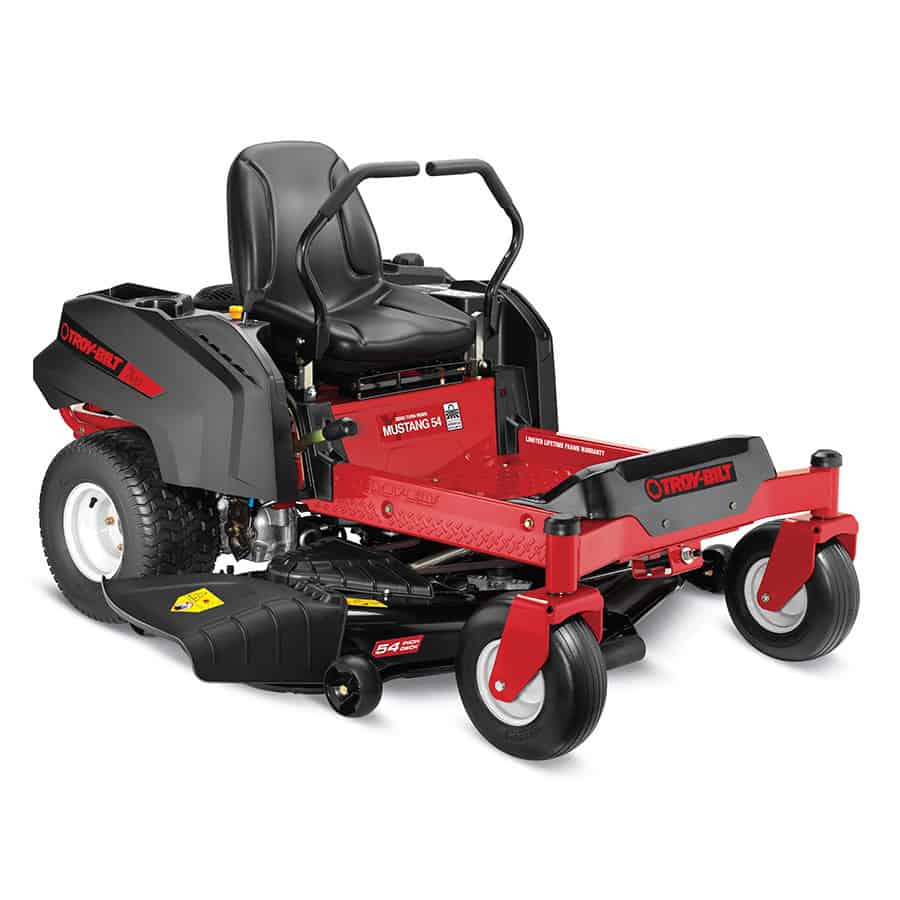 ​Among their wide array of products is the Troy-Bilt Mustang 54 Zero-Turn Mower, a powerful 25HP, 725cc model of ZTR and we are breaking down the features and benefits that set this one apart in the growing list of ZTRs in the market today.Is it worth buying? We will soon find out.
​Features and Specifications Of Troy-Bilt Mustang 54
​Engine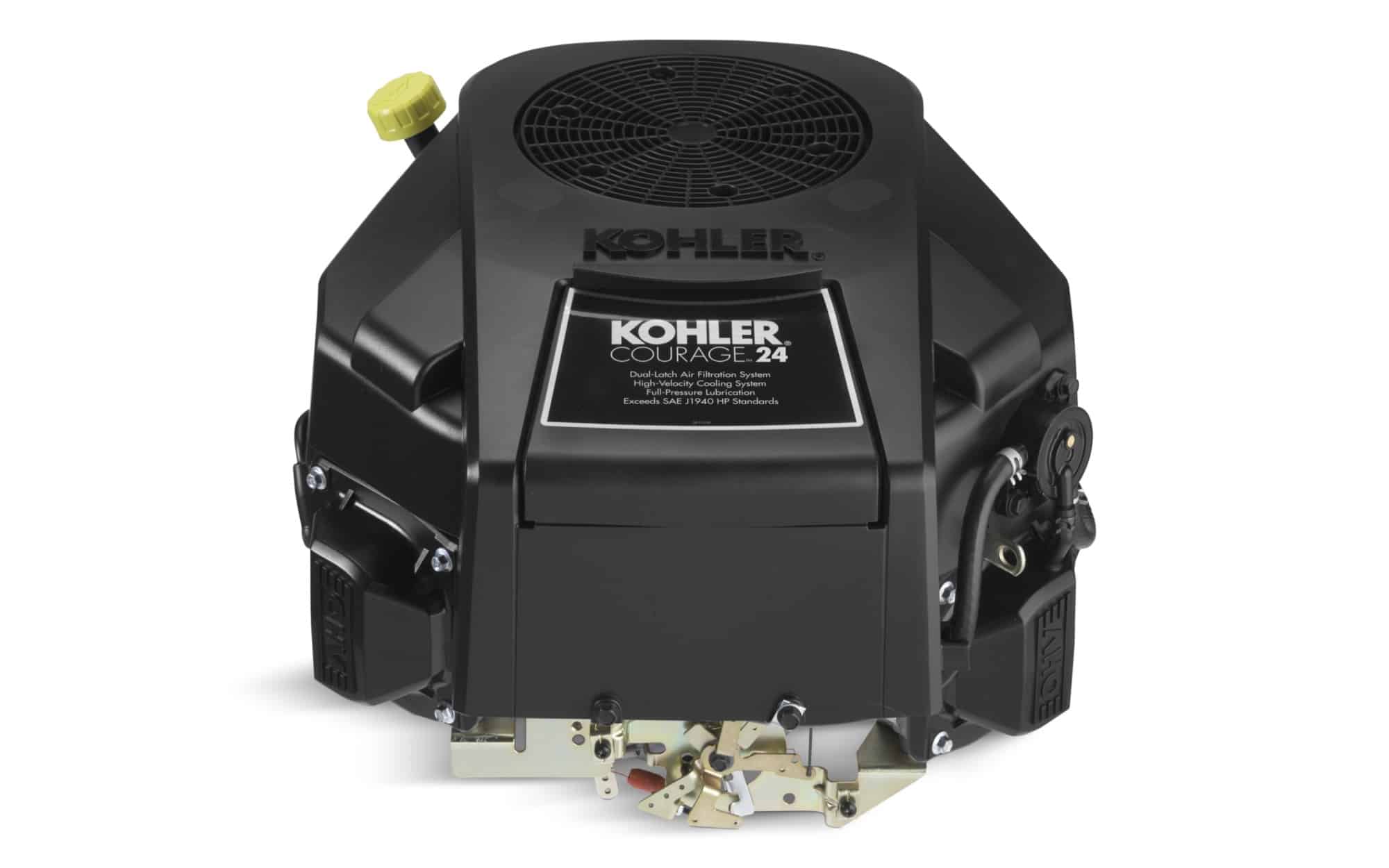 ​The heart of every equipment is what gives it power – the engine. The Kohler 725cc twin cylinder dual EZT transmission engine gives out a 25HP output. It also boasts a "Power Take Off" technology that lets you drive the Troy-Bilt Mustang 54 Zero-Turn Mower immediately after you turn the key. This engine technology also makes it fast and seamless for the blades to engage. This is made possible by the overhead valve (OHV) design of the Kohler Courage Twin Cylinder Engine. OHV design enables the engine to perform smoothly while delivering a more fuel-efficient performance. According to Kohler as well, an OHV engine has a longer lifespan than other engines because the design allows better airflow around the cylinder – that makes it cooler and it reduces the fuel consumption. Lawn mowing can expose every inch of your equipment to dirt, even the engine under the hood. Troy-Bilt Mustang 54 Zero-Turn Mower's engine has cast iron liners for added protection against extreme operating conditions. This powerful engine makes the Mustang 54 run at 7MPH forward and 2.5MPH on the reverse. With all of these inside the engine of your lawn mower, you can be assured that it can meet the crucial demands for efficiency and reliability.
Looking for more zero-turn mowers? Click here for our full buying guide.
​Cutting Deck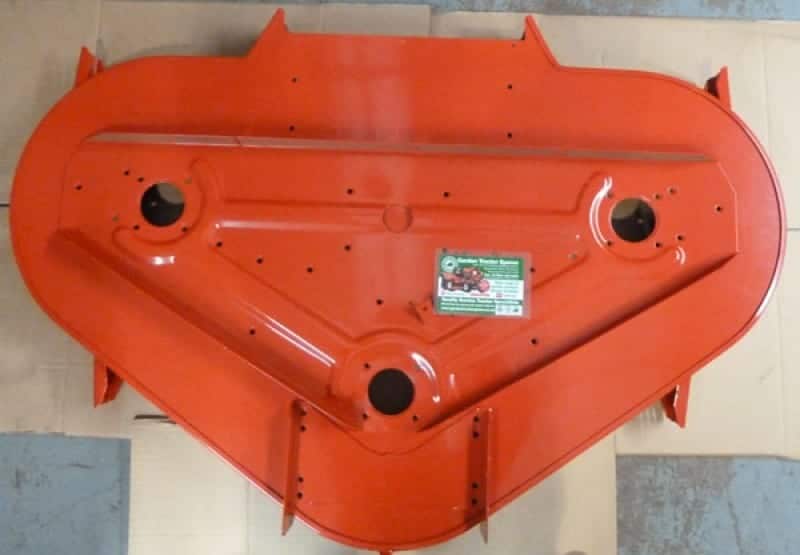 ​Troy-Bilt Mustang 54 Zero-Turn Mower has a 54" triple-blade side discharge deck. The width of 54 inches is the median of the cutting deck sizes across ZTRs, making those who are already familiar with these machines classify it as a semi-commercial zero turn mower.The triple blade side discharge deck makes way for an even cut and an easy clean-up. Likewise, the integrated deck wash enables users to simply connect a water hose and clean the bottom of the deck before drying and storing it. This prevents gunk build-up underneath and prolongs the life of the blades.
​Frame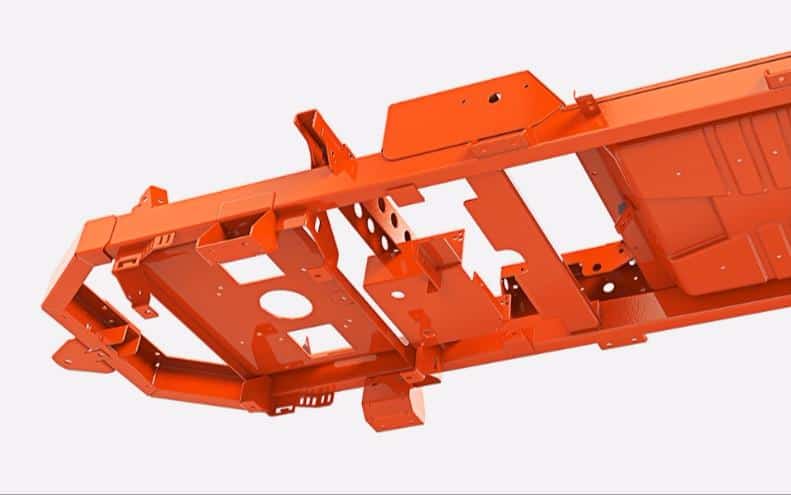 ​If the engine is the heart zero-turn mowers, the frame is its foundation. A foundation needs to be sturdy, stable and load bearing. With zero turn mowers, there are usually different types of frames, the stamped deck and the fabricated. The former is a single piece of steel that holds everything in. While the fabricated one was put together by means of welding steel pieces with different thickness and length. Brands learn from their previous models and always try to improve and innovate their craft, Troy-Bilt Mustang 54 Zero-Turn Mower is a product of continuous improvement process from the brand. With this, a reinforced, heavy-duty full frame came to be. Stability and durability are guaranteed. It comes in one whole piece of a steel frame that works with the entire mower. This achieves a smoother feel and a more comfortable ride even on rough terrain. In order to come up with the best design possible, the brand went through a redesign process, a series of stress and pressure tests on the frame as its built on the machine and an actual usage test to guarantee that it is not only comfortable and stable but can also last for a very long time. In fact, the company has a very high level of confidence for their frame, they are offering a limited lifetime warranty for it. This is something that other companies do not offer especially for fabricated decks.
​Deck Adjustment
​Another essential consideration in buying a zero-turn mower is the deck adjustment levels. Troy-Bilt Mustang 54 Zero-Turn Mower features an 8-position deck height adjustment while it is common for other brands to have 8. More levels of deck height adjustment mean closer to the optimal grass height you prefer.
​Maneuverability
​Using its 2-way adjustable lap bars, the equipment is easy to maneuver and gives a smooth and easy zero turning radius. The lap bars are also made to fit and suit users of all sizes and sports a larger ergonomic design. The five deck wheels also ensure precise turns.
​Comfort
​Long mowing hours can bring users back and buttocks strain. The fully-padded, high-back seat of Troy-Bilt Mustang 54 Zero-Turn Mower also comes with suspension springs to guarantee a comfortable ride even for long hours of mowing.
​Accessories​​​​​
Availability of accessories is very important for zero turn mowers. Since this equipment is expected to last for a long time, support for parts replacement from the brand is essential. 2-in-1 Blade (942-05056-X)Get instant replacement for your cutting deck blades for your Troy-Bilt Mustang 54 Zero-Turn Mower. This 18.67-inch 2-in-1 blade fits 54" lawn tractor and RZT mowers, 2014 models and up. Bagger (19A70043OEM)Lawn mowing can be as easy as the clean up with a zero turn mower. You can get your Troy-Bilt Mustang 54 Zero-Turn Mower an RTZ bagger for 50- and 54-inch decks. The complete kit includes bags, chutes, mounting hardware, counterweight, two tight-weave polyester bags and installation instructions. The bagger has a 4-bushel capacity to keep your lawn clean as you mow. Spark Plug WrenchAccess deeply recessed plugs with a set of three spark plug wrenches that will fit ⅝", ¾" and 13/16" hex plugs. Rear Engine GuardDust and dirt are inevitable in lawn mowing. Keep your engine protected from too much dust and dirt and prolong its life with a rear engine guard.
​Is it Worth It?
​Troy-Bilt Mustang 54 Zero-Turn Mower proves to be worthy of 5 stars in almost all aspects. It has the power to deliver great and clean cuts. It gives maneuverability and guarantees to be a time-efficient and fuel-efficient zero-turn mower. It is equipped with both the necessities and the nice-to-have accessories plus it is easy to add more to it for added functionality and convenience. The Kohler Twin Courage Engine is truly the heart of this machine. Having an equally reliable brand partner for an engine brings more to an established brand like Troy-Bilt. The technology within and the materials used to prolong the life of the engine added confidence to the buyers of this product.The proven stability and reliability of the reinforced single steel frame offered with a limited lifetime warranty says a lot about the brand and how this machine is really built to last. The ease of use that makes it comfortable for all types of users, from beginners to pros - to get used to gives it an additional positive point. However, its fuel tank capacity is much smaller than other brands in the same category. But this falls as a secondary consideration considering how fast mowing can get down with its wide 52-inch cutting deck. With all of these combined, the Troy-Bilt Mustang 54 Zero-Turn Mower is truly worth investing on and it will be worth every penny you spend on it.