​Your lawn is one of the first things that people see when they approach your home. Not only does it talk to the kind of homeowner you are, a well-tended lawn will also add to the value of your property. A big part of taking care of your lawn is making sure that the grass is well taken care of. There are many tools available for mowing lawn grass. Some of them are electric, some are gas powered but real lawn enthusiasts know that there is none better than the lawn reel mower.
What are reel lawn mowers and how do they work?
In many circles you will hear reel lawn mowers referred to as the "Fred Flintstone way to cut grass", but this is an ignorant way of looking at this tool. While it is true that these ​reel mowers use technology that was first invented in England in the 1830's, they are the best way to cut your grass if you want it to thrive. A reel lawn mower has blades attached to an axle. These ​reel mowers do not use gas or electricity – you have to push them in order to get the blades to spin. Each spin of the blades cuts grass. How does this compare to other ​reel mower types? Other ​reel mowers rip, shred and tear rather than cut grass. Over time, your lawn grass will start to look unhealthy and you will have to re-sod the whole area. If you use a reel lawn mower every time to cut your grass it can take years before you need to renew it.
Need A weed eater string ? ​Click Here.
What are the benefits of using reel ​mowers?
One of the most commonly asked questions when it comes to reel mowers is – why should I tire myself using this kind of lawn mower when I can easily find one that I don't have to push myself? Why not just spend money on a model that uses gas or electricity? We have already mentioned one reason – it cuts your grass the way grass is supposed to be cut, so you have a healthier lawn for longer. This is not the only benefit of reel lawn mowers:
​Your lawn will look much better after you use a reel mower on it. Many people are not sold on this point – how different can grass look? After all, grass is grass and so long as it is mown it all looks the same. Not quite. The only way to see the real difference is to cut grass using an electric or gas model and then use a reel lawn mower – you will notice that it looks shinier and grows better the next time around.

​Do you hate the noise of a garden mower running early in the morning when you are trying to sleep or when you are trying to catch up on your favorite TV program? Then you will love a reel garden mower – it doesn't make any noise at all.

​Reel garden mowers are surprisingly trouble free. All you need to do from time to time is oil the blades and sharpen them to ensure maximum efficiency. Compare this, for example, to a gas lawn mower – you need to buy fuel for it, gas it up, make sure that all parts are working properly not to mention that you have to struggle with the recoil starter every time you want to use it.

​If you are keen to reduce your carbon footprint a reel lawn mower is one way to go. These lawn mowers don't use any form of fuel – you cut the grass by pushing the lawn mower yourself. If you want to establish an environmentally friendly household it is time for you to invest in a reel lawn mower.

​The best thing about reel lawn mowers – for the average person at least – is how affordable they are. Acquiring the tool itself will not cost you much, and when you consider that you don't need fuel it and there is very little maintenance you will find that they are very pocket friendly.

​Statistics have shown reel lawn mowers to be the safest kind of mower available in the market today. Every year in the United States 75,000 people get injured from lawn mower accidents and a good portion of those are children. Most injuries come from gas and electricity powered mowers – people are not able to get out of the way in time. A reel lawn mower is safer because it stops as soon as you do.

​Are you looking to get more exercise? How about investing in a reel lawn mower? Every blade of grass will be cut using your own energy. It certainly beats running on a treadmill where you don't get any chores accomplished!

​Lastly, many people who have used reel lawn mowers, as well as other types of lawn mowers will tell you there is a certain kind of pleasure that you derive from cutting grass in this old fashioned way.
What are the cons of a reel lawn mower?
Just like there are benefits of using a reel lawn mower there are drawbacks, but they are few and they can be easily overcome.
​You cannot mow a lawn if it has twigs or stones in it, which most lawns tend to do. They get stuck in the blades of the mower and you have to stop and pull them out. You can avoid this by cleaning up your lawn before you mow it.

​If you are the kind of person who likes to let the lawn grow until you cannot see the dog then a reel lawn mower may not be the best for you. These lawn mowers are for better suited for shorter grass – you can still use them on long grass, but you may have to run the mower a few times before you get the desired results.

​These lawn mowers are not for the lazy. You have to be willing to put your back into things. They also take a little longer than electric or gas models.
What should you take into account when you are buying a reel lawn mower?
There are several important aspects to consider before you buy a reel lawn mower. The first is the size of your yard – if it is big you need a gas or electric powered mower. The size of the blade will make a difference – if it is wide it means you can get the job done faster. Blade durability and sharpness also matter, since you don't want to sharpen your blades after every few uses. The best blades are sharpened about once or twice a year. If you care about where grass goes after it is cut it is best to buy a reel lawn mower that has a catcher. Before you buy make sure that it is ideal for the kind of terrain that you have in your yard – if it is very bumpy you may not get very good results with a reel lawn mower.
Top 10 reel lawn mowers of ​2021 at a glance
There are possibly hundreds of different types of reel lawn mowers available in the market, but there are some that come out at the top every time.
| ​Name | ​Blade Size | ​Cut Height | ​Price | ​Amazon Rating |
| --- | --- | --- | --- | --- |
| | ​14 inches | ​1.5 - 1.75 inches | | ​4 |
| | ​16 inches | ​0.5 – 2.5 inches | | ​4 |
| | ​17 inches | ​1.5 – 3.5 inches | | ​4 |
| | ​20 inch | ​1 – 3 inches | | ​3.5 |
| | ​18 inches | ​0.5 – 2.75 inches | | ​4 |
| ​6. Greenworks 20-Inch 5-Blade Push Reel Lawn Mower with Grass Catcher | ​20 inches | ​1.75 – 2.75 inches | | ​3.5 |
| | ​18 inch | ​0.75 – 2.5 inches | | ​4 |
| | ​16 inch | ​0.5 – 2.5 inches | | ​3.5 |
| | ​18 inches | ​Up to 2.44 inches | | ​3.5 |
| | ​14 inches | ​0.5 – 1.5 inches | | ​4 |
An in-depth look at 5 of the best ​Reel Lawn Mower
Looking at these reel lawn mowers you can see that they all get an above average rating from users. Let us now have a closer look at the ones that have the best reviews. We will look at both pros and cons.
This one has been described as the deluxe reel lawn mower, and it is suitable for most kinds of grass.
Top features
​Tempered alloy steel reel and bed knife blades.

​It comes with 8.5 inch diameter high impact, polymer wheels.

​You can adjust handle height.

​It weighs only 19 pounds.

​The blades spin smoothly
PROS
The best thing about this reel lawn mower is that it provides a clean cut for many different types of grass.

It is comfortable to use – if you are tall you can extend the handles, if you are short you can make them shorter.

It is easy to maneuver – the wheels move smoothly and it is lightweight which means most people can use it comfortably.

The company has been around for more than 120 years – a testament to the quality of their products.
CONS
Some people feel that the blade size could be a bit bigger for faster mowing.

The rubber grips are not very strong and have been known to come apart.

Some people complain that it will not chop large weeds – true, but that is not what it was designed for.
Bottom line
If you are looking for a reel lawn mower that will get the job done with ho hassles then you will not go wrong with this brand. Its affordability makes it a great option for many people.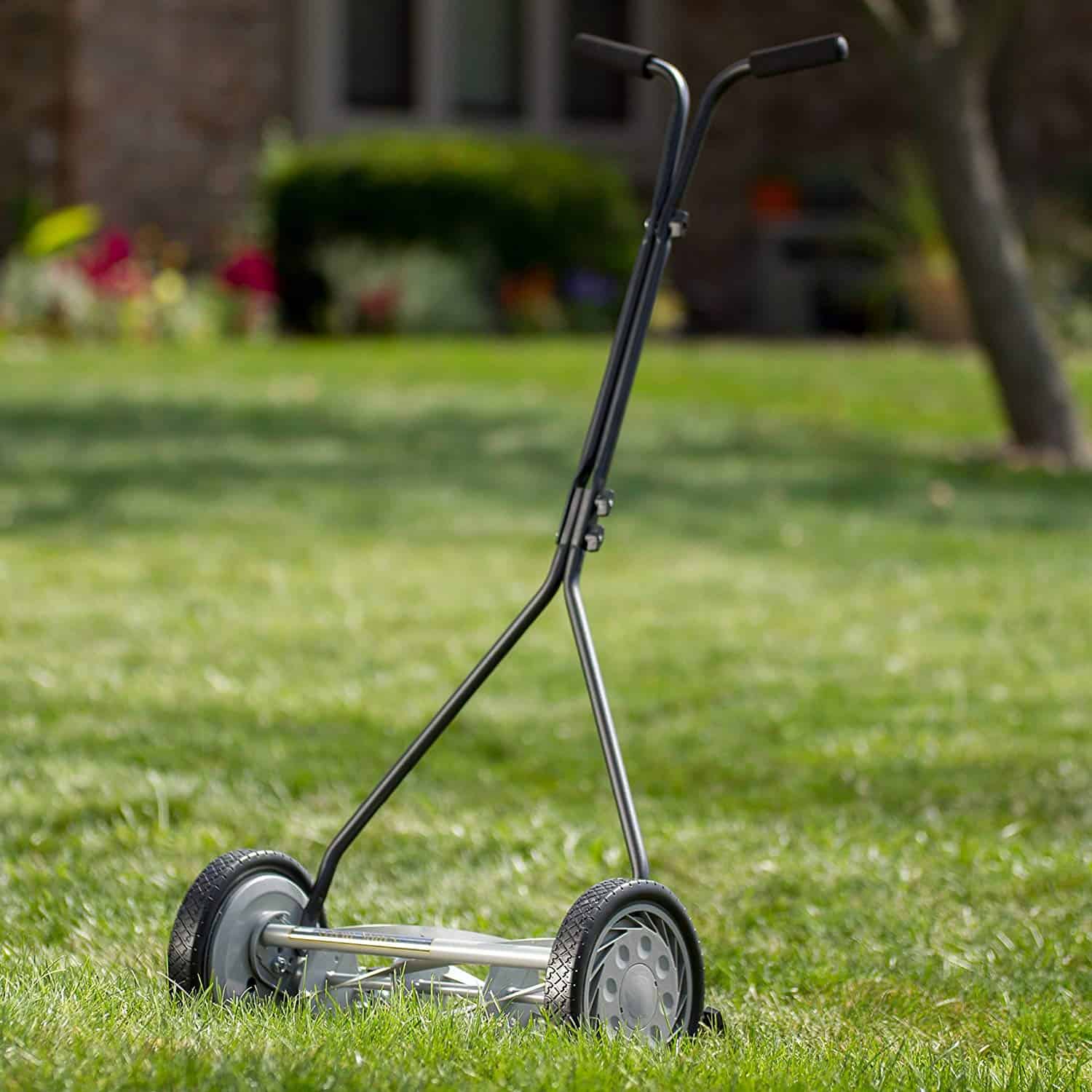 If you are looking for a reel lawn mower that has a bigger blade then you should definitely try this one.
Top features
​The 16 inch blade is perfect for medium-sized yards.

​It has strong wheels – 10 inch, ball bearing, tempered alloy steel.

​The handles are powder coated.

​The blades are heat-treated for longevity.
PROS
This cutter provides a very precise cut which makes for healthier grass and a better looking lawn.

The lawn mower is very light, and the wheels make it very easy to maneuver around the yard.

You can buy a grass catcher for it if you don't like to leave cut grass on your lawn.

Since the unit is mostly made out of alloy steel it is durable.
CONS
Blades are exposed during storage, so make sure children know to stay away.

This reel lawn mower is not designed for long grass and tough weeds – it will only flatten them.

There is no grass catcher available for this one so if you don't like thatch you have to collect it manually after cutting.
Bottom line
You will definitely do very well to get yourself this mower – most people who own it give it a rating of 5 stars.
Some people have described this as the best reel lawn mower in the market, and by looking at its top features you can see why.
Top features
​It is 30% easier to push than other lawn mowers.

​It can cut through weeds, twigs and other small debris that would jam other types of reel lawn mowers

​You get a lifetime warranty.

​The blades have StaySharp technology which keeps them sharper for longer.
PROS
You don't have to clean up your yard before you mow the lawn – the blades will cut through most debris.

It is designed to deliver 50% more cutting power which means you don't have to work it very hard.

The lifetime warranty is great, and the company has a responsive customer service department.

You don't have to worry about annual blade sharpening as you would with other types of reel lawn mowers.
CONS
It doesn't do very well on uneven terrain – it becomes hard to maneuver.

It doesn't edge, so you will have to buy a separate edger.

The rear wheels make it hard to turn in small spaces.

Unlike many other reel lawn mowers, it doesn't cut backwards.
Bottom line
If you have a small or medium sized yard you will find that this reel lawn mower does very well.
People love this reel lawn mower primarily because of the size of the blade.
Top features
​The blade is wider than most – 18 inches.

​It comes with a 5 blade adjustable reel.

​You get a 2 in 1 mulching feature – collect grass and compost it if you like.

​The handle is adjustable.

​It comes with a 2 year warranty.
PROS
The 18 inch blade means that you can clear a small lawn in a relatively short time.

The adjustable height feature makes it ideal for people of different heights. It also comes with an ergonomic grip.

The collection bag is great for those who can't stand grass clippings on their lawn.

It is made of durable parts that last a long time.

Large front wheels and smaller back wheels make the mower easy to maneuver.
CONS
The grass catcher is not very deep so you have to empty it often.

Due to the design you cannot cut grass that's close to the hedges.

For really tall grass you have to go over it twice.
Bottom line
This is another excellent lawn mower for a small yard. Make sure to clear out twigs before you use it.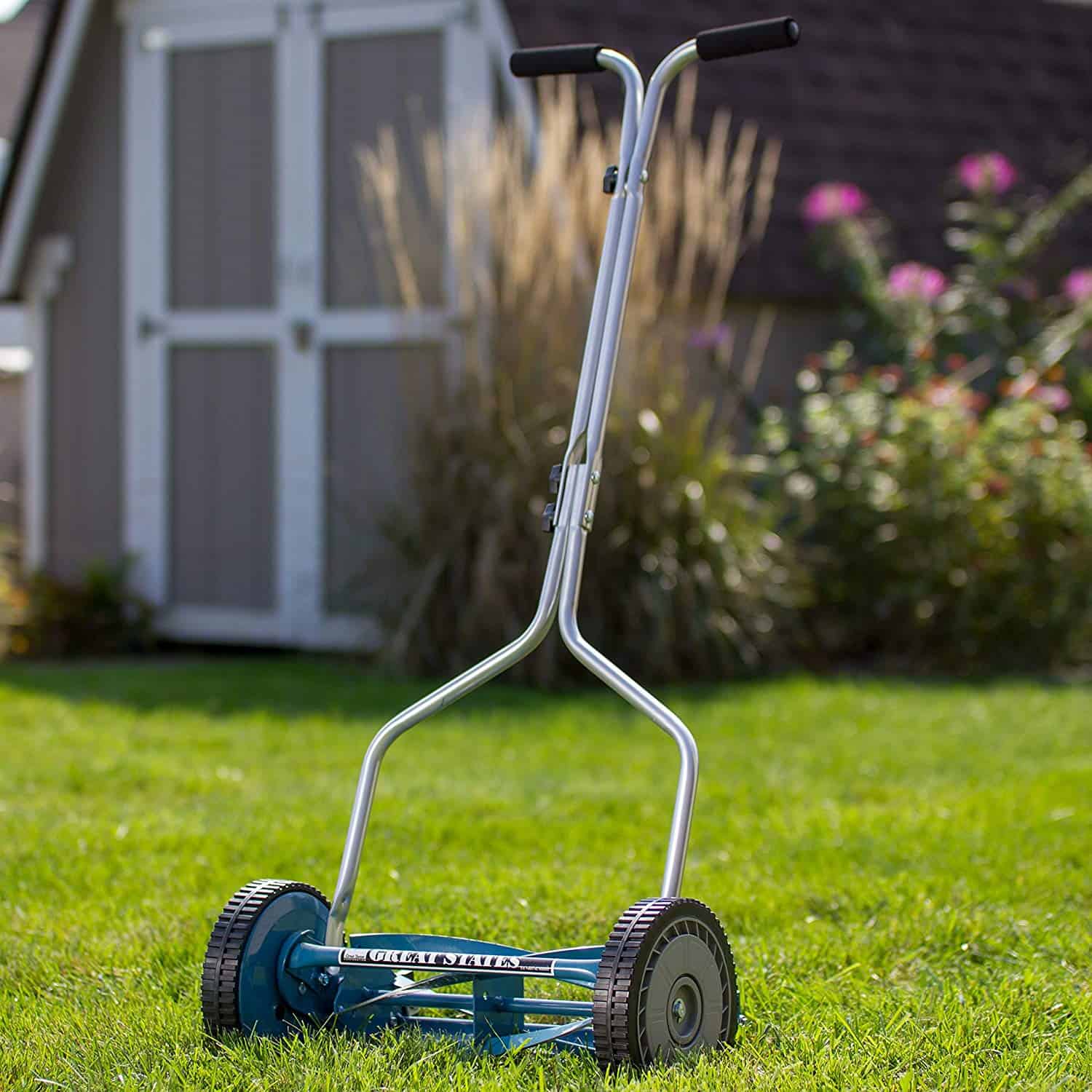 The best thing about this reel lawn mower is its simple design – by looking at it you wouldn't think that it can do much, but don't let looks deceive you.
Top features
​8.5 polymer wheels for easy maneuverability.

​3 spider 4 blade reel.

​The blades are made of a durable steel alloy.

​The blades can cut heights between 0.5 inches and 1.5 inches – adjust accordingly.
PROS
The unit is lightweight and compact making it operable by most people.

The blades last a long time and are not susceptible to rust.

It provides a very precise cut – your lawn will look neat and tidy.

Great States has some of the best reel lawn mowers in the market and they use the best technology.
CONS
The blades are exposed, so you should be careful when you store it.

Not good for uneven terrain.
Bottom line
This lawn mower gets the job done rather well especially when you consider how affordable it is.
Conclusion
A reel lawn mower is definitely a good investment for anyone who is keen on keeping a healthy and well trimmed lawn. They are not for the lazy – they are powered by pushing, which also means that they are not ideal for big yards. They affordability makes them an easy choice for most people.