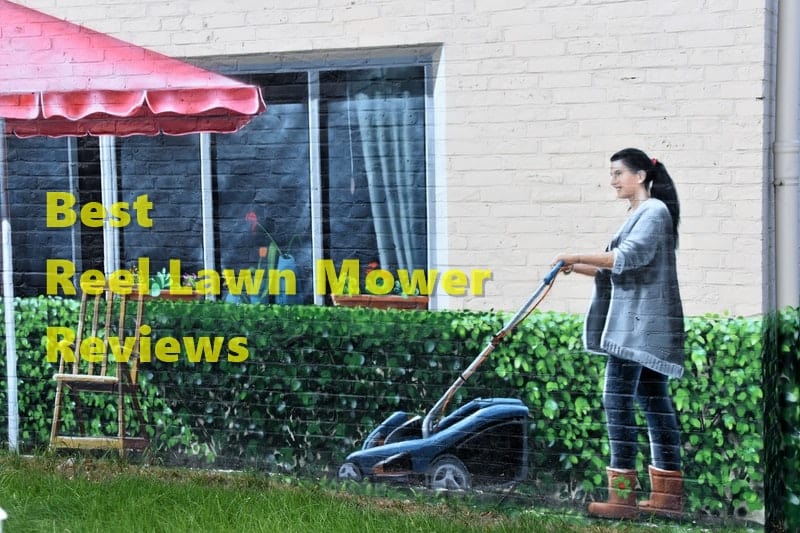 10 Best Reel Lawn Mower Reviews 2021
Your lawn is one of the first things that people see when they approach your home. Not only does it talk to the kind of homeowner you are, a well-tended lawn will also add to the value of your property. A big part of taking care of your lawn is making sure that the grass is well taken care of. There are many tools available for mowing lawn grass. Some of them are electric, some are gas powered but real lawn enthusiasts know that there is none better than the lawn reel mower.
In many circles you will hear reel lawn mowers referred to as the "Fred Flintstone way to cut grass", but this is an ignorant way of looking at this tool. While it is true that these reel mowers use technology that was first invented in England in the 1830's, they are the best way to cut your grass if you want it to thrive. A reel lawn mower has blades attached to an axle. These reel mowers do not use gas or electricity – you have to push them in order to get the blades to spin. Each spin of the blades cuts grass. How does this compare to other reel mower types? Other reel mowers rip, shred and tear rather than cut grass.  Over time, your lawn grass will start to look unhealthy and you will have to re-sod the whole area. If you use a reel lawn mower every time to cut your grass it can take years before you need to renew it.
Need A weed eater string ? Click Here.

What are the benefits of using reel mowers?
One of the most commonly asked questions when it comes to reel mowers is – why should I tire myself using this kind of lawn mower when I can easily find one that I don't have to push myself? Why not just spend money on a model that uses gas or electricity? We have already mentioned one reason – it cuts your grass the way grass is supposed to be cut, so you have a healthier lawn for longer. This is not the only benefit of reel lawn mowers:
What are the cons of a reel lawn mower?
Just like there are benefits of using a reel lawn mower there are drawbacks, but they are few and they can be easily overcome.
What should you take into account when you are buying a reel lawn mower?
There are several important aspects to consider before you buy a reel lawn mower. The first is the size of your yard – if it is big you need a gas or electric powered mower. The size of the blade will make a difference – if it is wide it means you can get the job done faster. Blade durability and sharpness also matter, since you don't want to sharpen your blades after every few uses. The best blades are sharpened about once or twice a year. If you care about where grass goes after it is cut it is best to buy a reel lawn mower that has a catcher. Before you buy make sure that it is ideal for the kind of terrain that you have in your yard – if it is very bumpy you may not get very good results with a reel lawn mower.
Top 10 reel lawn mowers of 2021 at a glance
There are possibly hundreds of different types of reel lawn mowers available in the market, but there are some that come out at the top every time.
An in-depth look at 5 of the best Reel Lawn Mower
Looking at these reel lawn mowers you can see that they all get an above average rating from users. Let us now have a closer look at the ones that have the best reviews. We will look at both pros and cons.
This one has been described as the deluxe reel lawn mower, and it is suitable for most kinds of grass.
Top features
Bottom line
If you are looking for a reel lawn mower that will get the job done with ho hassles then you will not go wrong with this brand. Its affordability makes it a great option for many people.
If you are looking for a reel lawn mower that has a bigger blade then you should definitely try this one.
Top features
Bottom line
You will definitely do very well to get yourself this mower – most people who own it give it a rating of 5 stars.
Some people have described this as the best reel lawn mower in the market, and by looking at its top features you can see why.
Top features
Bottom line
If you have a small or medium sized yard you will find that this reel lawn mower does very well.
People love this reel lawn mower primarily because of the size of the blade.
Top features
Bottom line
This is another excellent lawn mower for a small yard. Make sure to clear out twigs before you use it.
The best thing about this reel lawn mower is its simple design – by looking at it you wouldn't think that it can do much, but don't let looks deceive you.
Top features
Bottom line
This lawn mower gets the job done rather well especially when you consider how affordable it is.
Conclusion
A reel lawn mower is definitely a good investment for anyone who is keen on keeping a healthy and well trimmed lawn. They are not for the lazy – they are powered by pushing, which also means that they are not ideal for big yards. They affordability makes them an easy choice for most people.