A soaker hose is a very useful type of drip irrigation system. Drip irrigation refers to the moderate submission of water to soil via a device known as an emitter which is positioned at the foot of every plant. To use a soaker hose in a raised bed, small holes are punctured into the hose, allowing water to drip out.
When you have water running through the hose, it appears as if the hose is sweating or if you like, weeping. Using a soaker hose in a raised bed is an efficient and effective way to water your plants without wasting water. As we all know, water is life and it is a scarce resource.
A soaker hose ensures that there is no runoff, as the water trickles out through the tiny holes along the hose at a moderate speed making it easy for the ground to absorb. Less water is therefore lost through evaporation.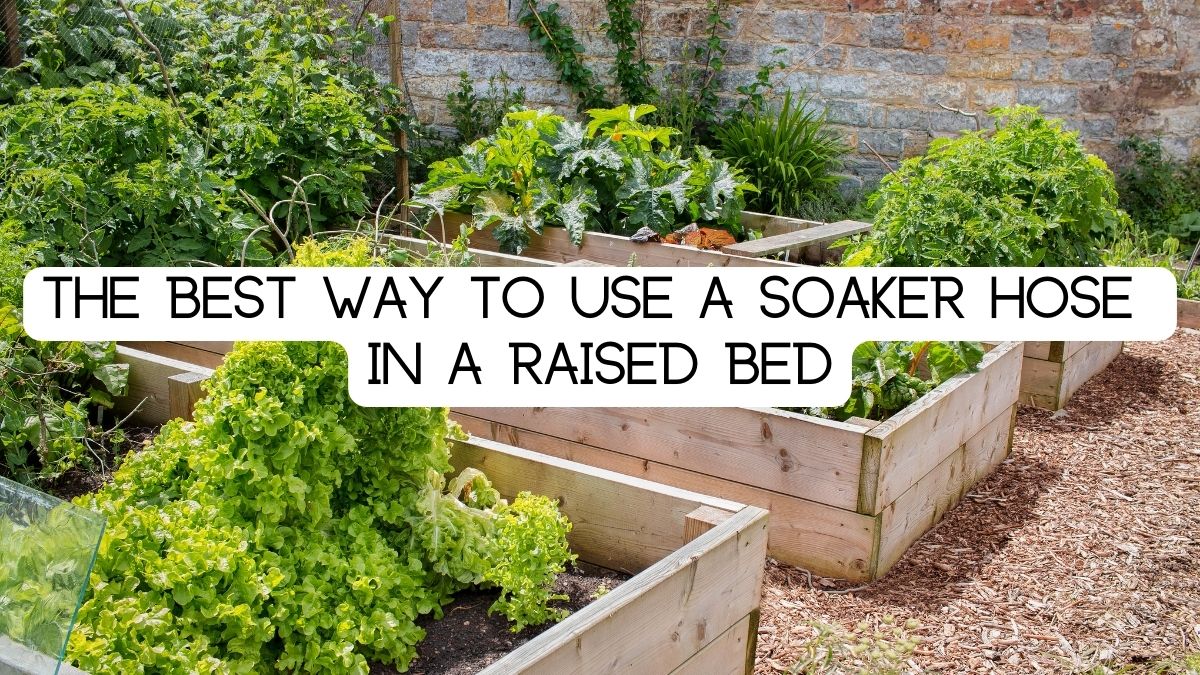 Read Next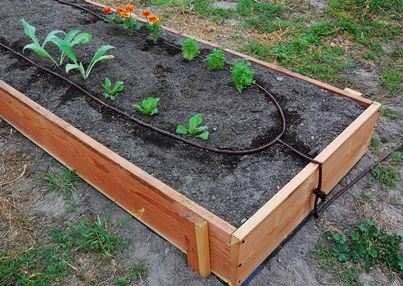 Compared to a sprinkler, using the soaker hose in a raised bed is environmentally friendly. A soaker hose delivers the appropriate amount of water to plants at the right rate, while the plant foliage remains dry.
You are probably used to hand-watering your plants and are wondering how a soaker hose works or how to use a soaker hose in a raised bed. Let us see here in this useful guide for you.
Step By Step How To
You will want to have your soaker hoses wind in the garden at 18 -20 inches apart all through the bed. You do not require any special tools. Make use of scissors to cut holes of your desired size on the hose.
1. Unfolding The Hose
Be ready to get dirty and wet. Unfold the hose and stretch it out nicely. Inspect it to see if there are any leak points and to ensure that it works just fine. You might consider making it a bit wet so that it is easier to control and carry.
2. Joining Your Soaker Hose To The Garden Hose
Turn the tap on and let the hose begin to seep. The water pressure should be moderate, so you do not need to have the tap turned on very far. You do not require it to spray, strain, or make any funny sounds.
3. Laying The Soaker Hose On The Ground
Make sure you have some sticks around. It is important to place some sticks into the ground so that they can guide you and secure the hose, thus keeping it away from the plants. Nobody wants to have their plants crushed.
4. Get Help
It might probably be very tasking so it is okay for you to get someone to help. Rome wasn't built in one day, nor was it built by one man. If you need help, get it right away.
You will need to be patient and have your problem-solving skills alert. However, if this is not you at all, make sure to have someone who will help you carry along in setting up the soaker hose for using it on a raised bed.
5. Take Into The Terrain Of Your Garden
Lay the soaker hose in a manner that minimizes an uphill flow of the water. Lay it from corner to corner on the slope of your garden.
6. Know Where The Hose Ought To Be Placed
The soaker hose should be placed in a convenient place. It should be near the tap and at the periphery of the garden. You can do this by starting with connecting the garden and soaker hose and laying it in the final position you require it to be in. You can then lay the whole hose.
Soaker Hose In Raised Bed Tips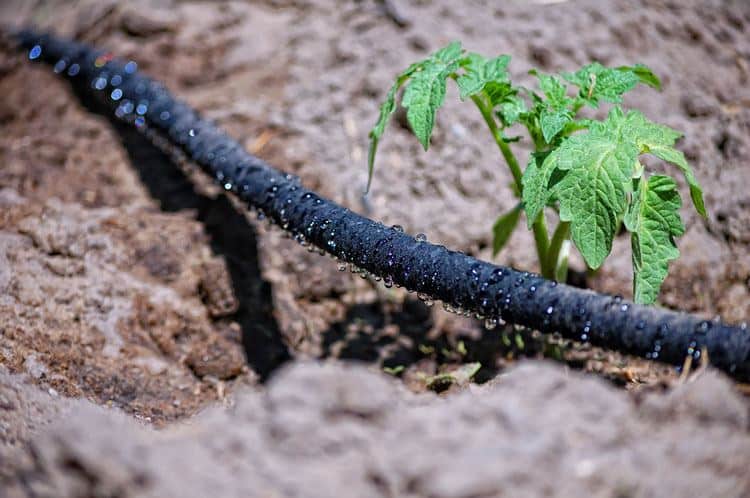 Make sure that you have secured the end that you intend to start with. You can place some heavy objects on it to prevent it from being pulled around and placed where you do not want it.
Start at the perimeter of the bed; slowly and carefully lay the soaker hose between rows, next to the plants. Ensure that you are as far as one or two inches from the foot of the plants. Remember to also secure the soaker hose with sticks as you progress laying it.
Wind the soaker hose throughout the garden and make sure you space it rightly. If you find that spacing it 18 inches apart is too wide, you can try spacing it at twelve (12) inches.
Once you are contented with how the soaker hose has been laid and after making sure that all the plants will get their thirst quenched, turn on the tap and enjoy the fruits of your labor. Remember to have the garden hose attached if you had not attached it as you started.
If the soaker hose is exposed a lot to the sun or it is bent over a long period, it might be degraded. This means that it can end up having a leak which might result in it spraying your plants with water rather than having water drip slowly.
You can seal the leaks by mounding up the soil on top. Your plants will still effectively get enough water.
You can easily check whether your plants are getting a sufficient amount of water by carefully digging next to the plant. If you find it is dry, it means they are not getting enough water. If it is moist, it means their thirst is getting quenched.
Looking for a soaker hose? Check out our Melnor Flat Soaker Hose review!
Conclusion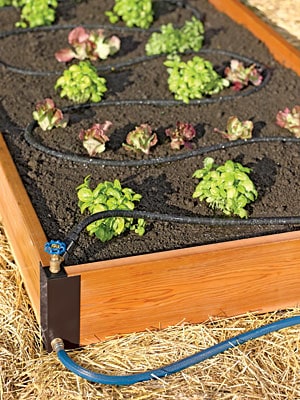 Using a soaker hose in a raised bed is a great way to water your plants. Save yourself from the tiresome job of hand-watering your flowers and plants.
Take care of your soaker hose if you want it to last and serve you for a long period. You can do this by covering it with mulch throughout the season that it is in use. Remove your soaker hose from the garden at the end of a particular season, carefully fold it up and hang it in your garage.
Depending on how favorable the weather is, you can water the plants every 3 or two days for half an hour. However, in adverse hot conditions, make sure to water the plants daily.
Using a soaker hose in a raised bed is one of the best ways you can water your plants. It is an easy process to get the soaker hose working.
Don't be afraid to get a little dirty, it comes with gardening.