Fire pits are a hot commodity in property management today. They make up for excellent home additions, which you can use to dress up a mundane yard, as you serve beverages to your guests. We all know fire to be among some of the most innovative inventions in the entire history of man. Fire pits are one of the excellent ways through which we can enjoy the power of fire with close acquaintances outdoors. Usually, a well-lit fire makes up for a scenic environment through which you can enjoy spending time with family. That said, before you can build a fire pit, you must set up a proper bottom for the pit itself. More so, it's also important to learn various other vital factors such as safety rules and construction requirements.
Aside from those who have come across Smokey the Bear`s tips or have perhaps been engaged in camping, making a functional fire pit is not always easy. The first important step is to learn about how to set up the bottom of the fire pit and to choose the correct material.
What is the "Bottom" of Fire Pit?
The bottom of a fire pit refers to the ground and surface material that you will use to burn kindling, fuelwood or even kindling. It is perhaps one of the most important aspects of lighting up a fire. Without a proper bottom, your fire might actually never light. If it does, it might huff and puff lots of smoke, as you struggle to keep the fire lit. Also, setting up the bottom is among some of the first steps to consider when setting up a fire pit.
Usually, one makes a fire pit for short term purposes, such as for camping or simple outdoor activities. An important aspect of the process is to dig up a large enough hole, to provide adequate for the material to burn
Never Build A Fire Pit Without Approval
Various factions, including homeowner's association, the government and a house deed might have regulations on the type of fire pit you can build. In some cases, these same factions might even forbid the installation of a fire pit altogether. Usually, this is because of various regulations, such as potential fire-related damage to the given property. Thus, before setting up a fire pit, ensure that you comply with regulations on the same.
Is Sand Suitable Material for A Fire Pit
Reading the instructions accompanying the fire pit is a vital factor to consider when buying a fire pit. In some fire pits, ensure that you use as much as an inch or 3 inches thick of sand in the pit. Thus, if you are still not sure as to whether you need to place some sand in the put, then check in the user manual.
The main benefit of using sand material is that it does well to soak up and distribute heat through the entire pit. Even more, sand offers extraordinary protection of the metal bowl, which can develop cracks due to heat. While sand may not be necessarily simple to clean once you use the pit, it provides a high-quality solution for the bottom of a fire pit.
For those who love gardening, sand might not necessarily be a good option. The main reason for this is that you can use the ash to fertilize your plans. Thus, mixing the ash with sand would not be suitable for your garden soil.
That said, this is only applicable to those who use wood fire fits. For those who have compost, incorporating some ash to the fire pit can provide additional nutrients.
What About Fire Pit Glass?
Yes, that's right! You can actually line up a fire pit with specially made glass. Unlike the conventional lava rocks, fire pit glass can provide various benefits. First, most brands make the glass to be exceptionally durable, and these glasses are also available in multiple types of colours. More so, fire pit glass is also exceptionally durable and suitable for different types of indoor applications. A good example would be the Hiland Fire Pit Fire Glass.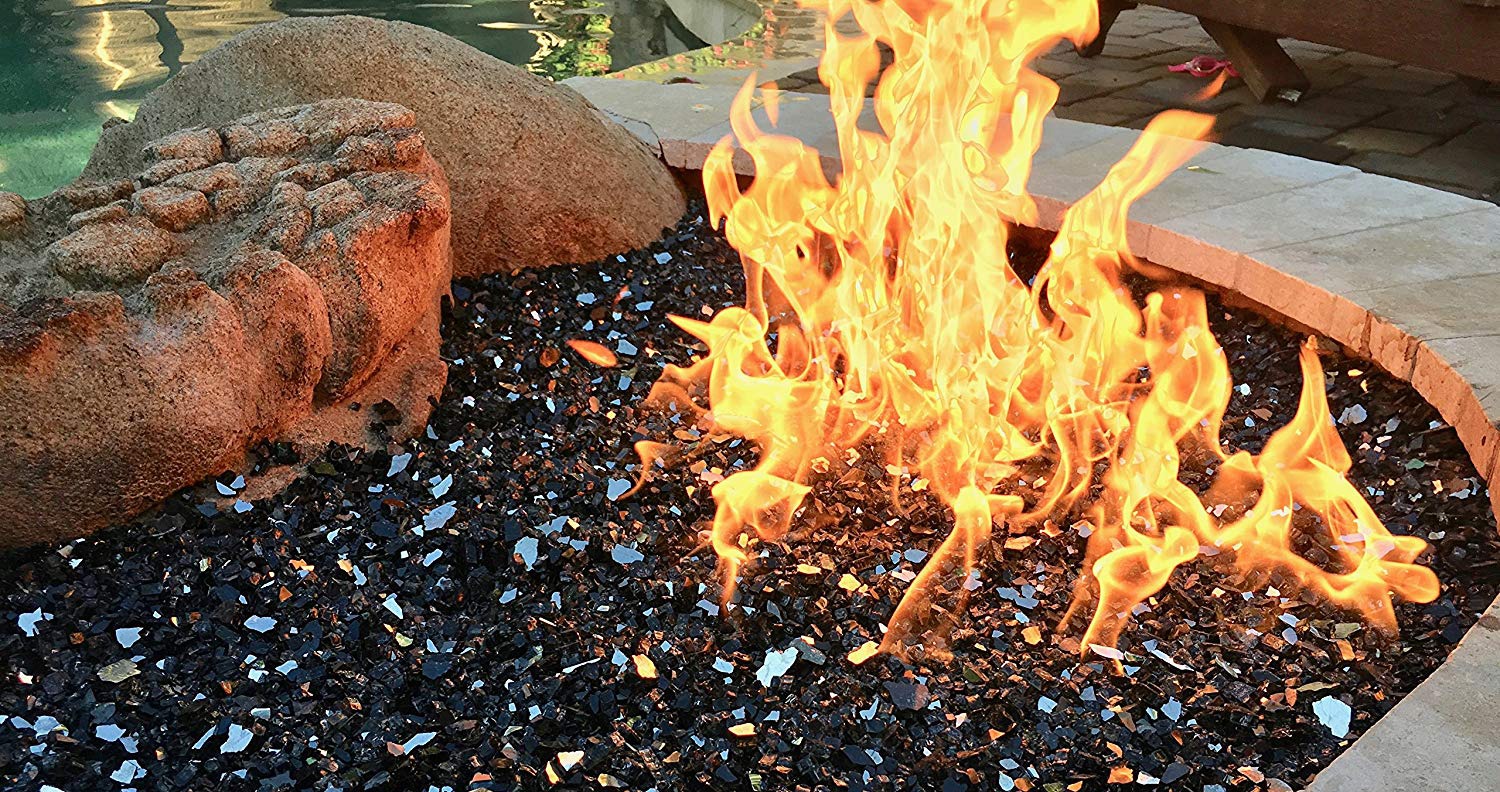 Fire glass is easy to maintain, and will not emit wastes such as soot, smoke or even ash. Therefore, you can spend more time enjoying the quality of the fire pit, and less time cleaning it. Most high-quality fire pit glasses are also not only good to hold, but also practical. You can use them to cover an entire floor, thus hiding any unwanted tubes and pipes. The glass also provides higher temperature ratings when compared to stones, lava rocks and more.
Can I Line My Fire Pit with Rocks?
While there are various factors to consider when you want to line up a pit with rocks, they make for excellent materials for a fire pit. The smaller stones are much more preferable for fire pits because they are less likely to explode due to heat exposure. Furthermore, another notable benefit of stones is that they are readily available and straightforward to collect.
When collecting the rocks, consider getting small stones that have almost the same size to help make the bottom consistent. Furthermore, getting these types of rocks is ideal because it provides optimal ventilation within the fire pit itself. If you fail to find adequate rocks in your chosen camping spot, then consider using gravel.
Can I Use the Bare Ground?
Yes, using the ground is feasible. However, you might have to consider various factors first for the best results. For instance, you want to ensure the soil is dry enough to provide the perfect platform for burning the kindling. More so, you also want to choose an area that is relatively easy to dig. You may have to a few inches into the ground to provide a perfect space for your fuel and kindling to burn. More so, also consider prepping the ground ahead of time, to give it adequate time to dry from the accumulated internal moisture.
Fire Pit Safety
According to the American Society of Landscape Architects, backyard fire pits are increasingly becoming an essential aspect of outdoor design. Everyone loves to be able to sit around a fire with friends and family. More so, recent financial studies have also shown that at least 5,000 injuries occurred as a result of fire pits in the year 2017. That is triple the number of injuries that were reported in 2008. Such statistics are a clear depiction of the increase in the use of fire pits over the past few years. The typical fire safety tips for you to consider include:
Choose the correct site – fire pit safety starts with your ability to select a proper location for the pit. The ideal fire pit should be at least 10 to 15 feet away from any nearby trees or shrub. Also, the pit should be away from places such as buildings or car parking.
Have some water around – having some water around where the is fire always has its inherent benefits. It acts as an excellent safety fire measure for when any flames exceed the limits of the fire pit itself. It's best to keep the water in an open structure such as a basin or large bottle.
Keep an eye on the fire – ensure that you always keep track of the progress of the fire. Failing to do so and the fire might easily spread to unwanted areas, or perhaps go off completely.
Put out the fire completely when done – according to various campfire regulation safety rules, putting out a fire is vital before leaving. Recent studies have shown that unattended fires are leading contributor to the unusual incidences of wildfire at various public parks.
How to Choose the Right Size Fire Pit
Are you struggling with finding a suitable fire pit size for your needs? Keeping such a factor in mind is also crucial when you want to determine what to put in the bottom of the fire pit. The portable fire pits are available in various structures and sizes. Owning a portable fire pit is beneficial because it's easy to install and set up in any convenient location. Also, building the fire pit is simple because it only involves digging a ground, and edging it properly with large stones.
The size of the fire pit is also vital in areas such as public parks, where the levels of fire are heavily controlled. In this case, you might have to consult with people such as regulators of the given area to determine the most appropriate pit size for your needs. Even more, choosing the right fire pit size depends on factors such as the amount of fuel and time you have available. To be specific, burning large pieces of wood in a small pit won't necessarily be efficient. As far as time goes, you will have to dedicate some effort to get the fire burning consistently for a few hours.
Fire Pits Tips You Don't Know
A good fire pit might be straightforward to set up, however, not many people are savvy enough to get the best results. Consider these other useful tips for your needs:
You can use an electro light starter as a convenient option for a lighter or matches.
You can also regulate the size of the fire and experience improved fire efficiency by using uniform firewood
Use wood scrapings for your fire pit, because they make up for excellent kindling and tinder material
Sprinkle some ash in y our garden because it will help reduce the occurrence of slugs or snails. It also helps to raise the alkalinity of the soil to make it suitable for different types of life forms
Avoid using wet kindling, shrubs, bushes or wood, which can easily produce lots of smoke when burning
Summary
Is there any specific type of material that you should use in a fire pit? Well, the answer is no, because you can use almost any kind of material that will accommodate burning. These include materials such as river rocks, lava rocks, sand, gravel, dirt and more. Each of these materials has its own benefits and drawbacks for a fire pit. Lava rocks are exceptional because they are manufactured specifically for burning and aesthetics as well.
Few experiences are similar to sitting around a fire with close friends and simply enjoying the moment. Rather than having to collect wood for a bonfire every weekend, give your backyard the glow it has been missing with a functional fire pit. It is easy to come up with ways to enjoy summer nights or evenings as you spend time around a pit. Regardless of whether you want to toast marshmallows or perhaps warm a cup of coffee, a fire pit is a thrilling experience.