You love spending time on your patio or pergola but you are worried that with fall around the corner, it will become too cold. Have you thought of installing a fire pit bowl? Fire pits have become commonplace, with homeowners looking for warmth, an outdoor cooking area, or an entertainment spot.
While there are many types of fire pit bowls available in the market copper fire pits are ranked at the top. They are long-lasting and they don't suffer some of the common problems that you get with fire pits made out of other materials.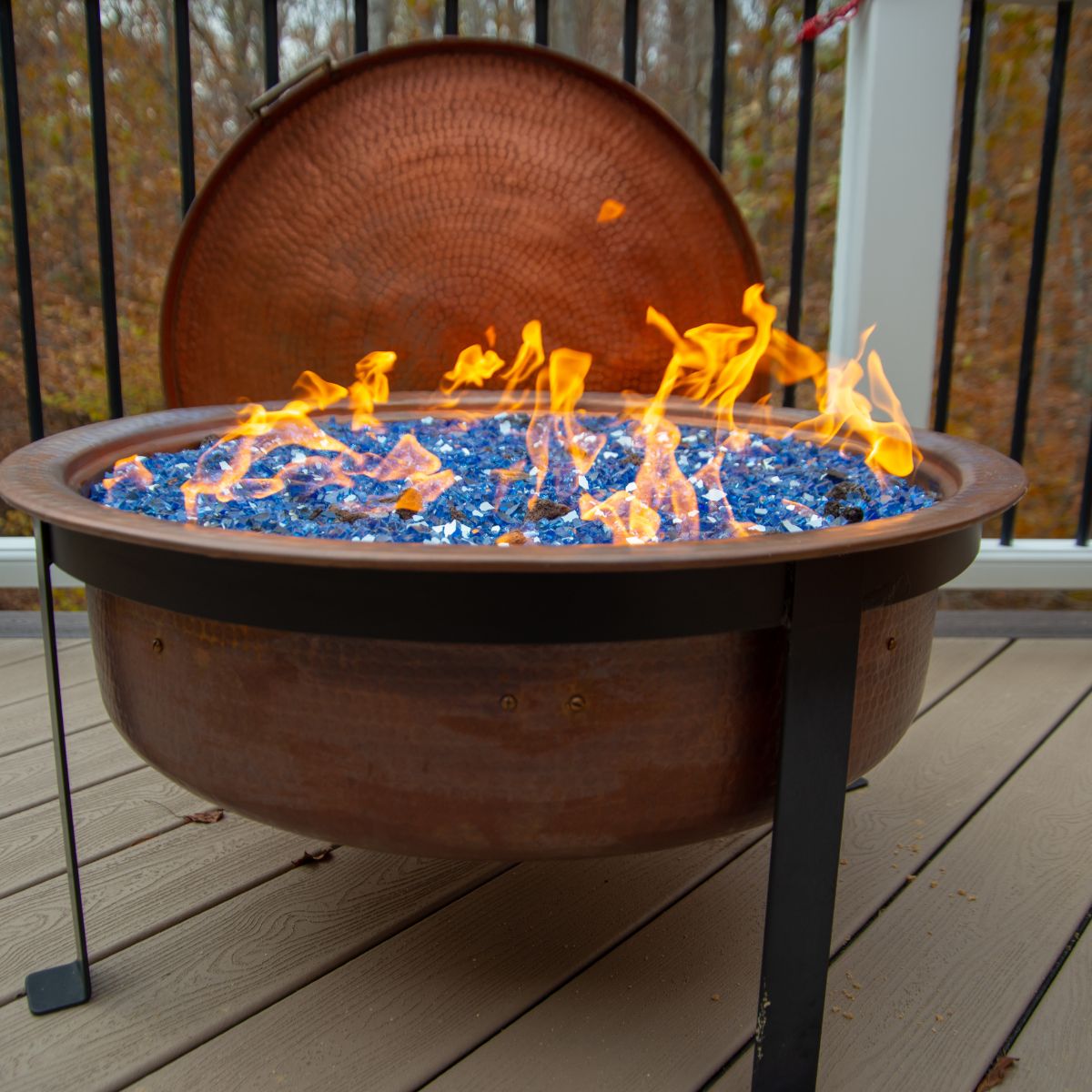 Read Next
Top 10 Copper Fire Pit Bowls in the market
| ​Name | Dimensions & Weight | ​Fuel | ​Grate | ​Price | ​Amazon rating |
| --- | --- | --- | --- | --- | --- |
| ​1. Titan 40" Solid 100% Copper Fire Pit Bowl | ​39 inches, 66 lbs | ​Woo​d | ​Yes | | ​4.5 |
| ​2. Catalina Creations 30" Solid Copper Fire Pit | ​30 inches, 20 lbs | ​Woo​d | ​Yes | | ​4​ |
| ​3. Titan 33" Square Copper Fire Pit | ​33 x 33 inches, 30 lbs | ​Woo​d | ​Yes | | ​5 |
| ​4. CobraCo SH101 Hand Hammered 100% Copper | ​30 inches, 30 lbs | ​Woo​d | ​Yes | | ​4 |
| ​5. CobraCo FTCOPVINT-C Vintage Copper Fire Pit | ​26 inches, 25 lbs | ​Woo​d | ​Yes | | ​4 |
| ​6. Sunnydaze Large Copper Fire Pit Bowl | ​30 inches, 30 lbs | ​Woo​d | ​Yes | | ​5 |
| ​7. Global Outdoors 26-in Genuine Copper Deep Bowl Fire Pit | ​26 inches, 19 lbs | ​Woo​d | ​Yes | | ​5 |
| ​8. Sunjoy Squaw Valley 35" Steel Fire Pit | ​35 inches, 27 lbs | ​Woo​d | ​Yes | | ​4.5 |
| ​9. CobraCo Copper Mission Fire Pit FBCOPMISN-C | ​28 inches, 32 lbs | ​Woo​d | ​Yes | | ​3.5 |
| ​10. Catalina Creations 26" 100% Solid Copper Portable Folding Fire Pit | ​26 inches, 13.22 lbs | ​Woo​d | ​Yes | | ​3.5 |
What is a fire pit bowl?
To understand what a fire pit bowl is, you need to understand a fire pit. It is a simple hole that is dug in the ground to contain the fire. It can be used to warm an outdoor area or to cook. Fire pits were common in ancient times, especially with nomadic tribes when they wished to light a fire without giving away their location.
Today ground fire pits are not a viable idea – there are zoning laws in place to ensure that you cannot light a fire in the ground, so they have been replaced by fire pit bowls. The bowl is designed to contain the fire but still provide warmth and/or a cooking surface.
What factors should be taken into account when choosing a fire pit bowl?
There are many types of fire pit bowls available in the market and as a first-time shopper, you may be wondering what factors you should take into account to help you choose the best one for your patio.
1. Size: The most important consideration is the size of the area where you will put the fire pit bowl. These pit bowls come in different sizes, from large to small. There are some that are designed to be installed permanently on a patio, while there are some that are small enough and light enough to be portable.
Large fire pits are the ones that have a diameter of 3 feet or more. While these are excellent for providing added warmth you should ask yourself whether they are suitable for your home. Not only will they require more wood, but you also have to be able to control the large flames that will be coming out of the pit.
Medium fire pits are suitable for most homes not just because they don't demand a lot of wood, but also because the flames are not so big as to get out of hand. These fire pits are often elevated to make cleaning easier and they can be dismantled and kept away when necessary.
If you have a small patio the best fire pit for it would be a small one – less than 30 inches in diameter. You will not need lots of wood for this one and the best thing about it is that you can also take it with you when you go camping or to your neighbor's house when you want to get together over there
2. Material: This is the material that the fire pit bowl is made out of. The most common materials are steel, tile and stone, stainless steel, cast iron, and of course copper. Each of these materials has its advantages and disadvantages.
Steel, for example, is a great material for a fire pit bowl because its weight means that it retains heat very well, and can last a long time. The only problem with it is that you have to deal with rust on a regular basis. Over time it will make the whole thing look rather ugly.
Tile and stone fire pits are common in some places – the exterior is reinforced with a steel frame that holds the tile and stone in place. They can be very artistic but the problem with a fire pit made out of this material is that it is impossible to move.
Many people will choose a cast iron fire pit bowl because the material itself is affordable, and while it is lighter than steel the problem is that it is lightweight and doesn't last as long as other materials.
However, if you plan to move your fire pit bowl around often cast iron is a suitable material. A stainless steel fire pit is long-lasting and will not suffer from problems of rust, but the problem with these kinds of fire pit bowls is that they are expensive and in fact quite rare – you can have one custom made but you should be prepared to pay quite a bit for it.
The best fire pit bowls are those that are made out of copper. It is a long-lasting material that only gets better as it ages – as it comes in contact with fire its strength and patina improve. These pit bowls come in all shapes and designs because copper is malleable, and although they are expensive you can be sure that your copper fire pit will last a lifetime.
3. Cost: The cost of fire pit bowls will vary depending on the material that they are made of, how elaborate the design is, and how big the pit bowl is. The design you choose will be dictated by how much you plan to spend, but here is what you ought to know about fire pits – if you want one that will last for decades to come you shouldn't pinch pennies.
The ones that are very cheap will give you all kinds of headaches but if you spend good money and get something with solid workmanship you will never experience any problems
Different ​Ways ​To Use Your Fire Pits
The main reason you are getting a fire pit bowl for your patio is so that you can be able to warm up outdoors on cold fall evenings, but what if you could choose a fire pit that serves more than one purpose? Would that influence the design or even how much you are willing to spend? Here are other functions of fire pits that you may not know about.
​Grilling and cooking: Grilling and barbecuing is a favorite pastime in many households. Unfortunately, most can only do it in the spring and summer months. What if you could buy a fire pit bowl that also serves as a grill or a cooking surface? It will come with a grate where you can place ribs, kebabs, burger patties, and other meats or even a pot that you would like to slow-cook. You can find different fire pit recipes online.
​Camping: Are you keen on camping? Instead of cooking your food directly over a wood fire where you have very little control you can carry your fire pit bowl with you every time you go out in the wilderness. Not only will you be able to prepare finger-licking meals, but the pit will also keep your fire going until morning.
​As a table: If you love to entertain you should definitely consider getting a fire pit bowl that you can also use as a table. You may need to have it custom-made so that it can be the right height, and if you like you can have it inlaid with beautiful designs for a great outdoor piece.
​Patio art: Some people install fire pit bowls not because they plan to use them to warm up during the cold season or to cook on them. They simply want to improve the appearance of their patio. If this is your main aim it doesn't hurt to install a fire pit bowl that is aesthetic as well as functional – you may not plan to use it, but the next occupant of your house may find great uses for it.
​Top 5 Copper Fire Pit Bowls To Buy Right Now
This one gets an Amazon rating of 5 and it is easy to see why – the only way to describe it is "top of the range". Although it is called a fire pit bowl it is actually square in shape with perfect depth.
Top Features
​It measures 33 inches by 33 inches and has a depth of 6 inches. It sits 8.25 inches off the ground.
​It is made out of 100% copper.
​It comes with a number of important accessories including a screen mesh and a fore poker.
check ​You can buy it in various sizes.
PROS
Check Circle ​The 100% copper construction means that it can last for decades without weather damage and you never have to worry about rust.
Check Circle ​It is very easy to assemble – most people are able to put it together in less than 10 minutes.
Check Circle ​It makes a beautiful addition to any patio or deck.
Check Circle ​It comes from one of the top manufacturers of outdoor fire bowls.
Check Circle ​It is very affordable at only $150.
CONS
Times Circle ​Some people feel that a deeper bowl would allow a bigger fire.
Bottom Line
The people who give this copper fire pit bowl 5 stars are not wrong – there is very little that's not to like, and you will not be disappointed.
The best thing about this copper fire pit bowl is its large size – it is perfect if you have a bigger-than-average patio.
Top Features
​With a diameter of 30 inches, and standing 24 inches off the ground it is a perfect size.
​It is made out of an interior of steel and a thick outer coating of copper.
​It comes with a mesh screen, a fire poker, and a wood grate.
check ​It has holes for easy drainage and handles for easy handling.
check ​You get a 1-year warranty.
PROS
Check Circle ​The size of this copper fire pit makes it perfect for the whole family.
Check Circle ​The mesh ensures that your patio floor is safe from sparks.
Check Circle ​The accessories are included in the price of the fire pit bowl – most manufacturers sell them separately.
Check Circle ​The bowl itself may look heavy but is rather portable, and the handles are helpful.
CONS
Times Circle ​There is nothing to complain about this fire pit bowl – it gets glowing reviews all around.
Bottom Line
It doesn't matter whether you have never used a fire pit bowl before, or whether you have been using them all your life – this one is definitely ideal for beginners and seasoned users alike.
This is another excellent copper fire pit bowl, especially when you consider what it retails for.
Top Features
​Its dimensions are 26 by 26 by 11 inches which makes it perfect for a medium-sized outdoor fire.
​At 19 pounds it's not too heavy to be moved around.
​It has a mesh to keep your patio floor safe.
check ​The legs are made of bronze which is durable.
check ​You get a poker and PVC cover to protect your fire pit bowl from rain.
PROS
Check Circle ​This fire pit bowl will last a long time since it is made out of pure copper.
Check Circle ​At 19 pounds you can move it around – you can even throw it in the back of your truck when you go out camping.
Check Circle ​It comes from one of the best manufacturers of outdoor fire pit bowls.
Check Circle ​It is recommended that you put rocks at the bottom for extra hot fires that burn even longer.
CONS
Times Circle ​The only thing some people do not like about this fire pit bowl is its simple design – they feel that it could be made more aesthetic. This is not a problem for those who like simple, sleek designs.
Bottom Line
True, the design of this fire pit bowl is rather simple, but if what you are after is a good fire, rather than the aesthetics of your patio then this fire pit bowl is a great investment.
This is another one with a large bowl and it is ideal for patios, gardens, and lawns.
Top Features
​The legs are backed with scruff protectors to keep your patio floor from getting ruined.
​It has fire mesh to keep sparks contained.
​It has a unique copper color.
check ​It comes with a poker.
PROS
Check Circle ​If you are looking to create a focal point for your patio this is the perfect addition – it is made out of a unique copper, has a beautiful color, and has great designs.
Check Circle ​There is no assembly required – you simply set it up and it is ready to use.
Check Circle ​Its bowl is big enough to create a larger-than-medium fire that you can enjoy with family and friends.
Check Circle ​It comes at an unbeatable price.
CONS
Times Circle ​While the unit is very well designed the mesh isn't – the handle on it comes off.
Times Circle ​Some people would like to have a log rack included.
Times Circle ​If you want to use it on the lawn make sure to throw some bricks beneath it to protect the grass or it will burn.
Bottom Line
When you consider that this copper fire pit bowl costs only $140 and will last for years to come while providing you with warmth for many evenings you will see that you are getting an excellent deal.
Although there are other copper fire pit bowls that get a higher rating, the Titan 40" Solid 100% Copper Fire Pit Bowl is definitely one of the best in the market today whichever way you look at it.
Top Features
​The bowl is larger than most, at almost 40 inches.
​It has a thick iron base to protect your patio floor.
​The 8-inch bowl is deep enough for a good-size fire.
check ​It looks great – it will help your patio look that much more aesthetic.
PROS
Check Circle ​It is perfect for the whole family.
Check Circle ​It is a solid product that will last for a long time – your kids will inherit it from you.
Check Circle ​You can use it in all weather, not just in the fall.
Check Circle ​It is not going to suffer weather damage.
CONS
Times Circle ​The fire pit gets hot when it use, so be careful and keep kids far away enough.
Times Circle ​It is quite expensive – true, it is a premium product, but the manufacturer can find ways to make it a little cheaper.
Bottom Line
True, this fire pit bowl is expensive, but it comes with perfect workmanship and it will last a long time.
Conclusion
There is no need to say goodbye to the lovely patio when the weather gets colder. With a good copper fire pit bowl, like the ones discussed in this review, you can continue to enjoy the outdoors.