Summer is right around the corner and that means long days, warm evenings and much more time spent outside. It's the perfect time of year to take stock of how your garden currently looks and see if some improvements can be made.
No matter what space you have even a simple change can make a dramatic improvement. Taking on a big landscaping project can seem like a daunting task at first, but actually there are a lot of simple options which you'll be able to do entirely on your own.
To get you started we've put together a list of the most affordable, but effective, backyard options to help inspire you this Summer.
​Best Affordable Backyard Garden Landscaping Ideas
​1. Outdoor lights
One of the simplest ways to transform your backyard is to invest in some outdoor lights. Hanging lights are especially popular because they add that touch of magic and wonder, really enhancing the look and feel of your garden.
Outdoor lights are inexpensive but add a lot. You can opt for LEDs which will use very little power so there's no noticeable increase to your bills. Plus, as long as you aren't doing anything complicated with the electrics, you can hang them yourself and you won't need any professional support.
Suitable for any time of year, lights really transform a backyard space into an extension of your home. One of the simplest and most affordable ways to upgrade your home.
​2. Flower boxes
Flower boxes are another affordable backyard accessory which can transform the look of your garden. They can be used to soften the design of even a basic yard, making it feel more like home.
Even if you don't enjoy gardening you can set this up really easily. You can use old wood, fill it with soil and plant flowers that are fairly low maintenance. If that feels too much like hard work you can also go down to your local garden centre and buy premade flower boxes for under $50. You'll be surprised by just how charming these can look and how well they work with any set up.
​3. Stepping stones
If you have a fairly bare backyard with a lot of grass then you may be surprised how well introducing stepping stones works. These not only look cute but they're quite practical too if you don't want to be stepping on your lawn every day.
Putting stepping stones in your backyard is incredibly easy and can be virtually cost free. You can use any existing stones you have or pick some up really cheaply from a garden centre. You can completely customise this how you like, using different size shapes and sizes to create some variety. You can even opt for varying heights if you're feeling adventurous.
It's totally down to you and what you think will look good, but if you combine these with some other features you can take a plain backyard and make it much more interesting. Plus stepping stones are great for kids, so they're well suited for those with young families.
​4. Plant pot water feature
Water features are the ultimate way to upgrade your garden. They offer a real touch of class and eloquence even to the most basic set up and give a central feature for your garden to be based around.
Often people are put off by water features because they're expensive and time consuming to maintain. Plant pot water features are smaller, and more basic than some alternatives but that helps keep the cost down. Alternatively you can build your own using equipment you probably have at home already. There's a full guide here.
Whether you have a large or small garden a plant pot water feature will fit right in. You'll impress your friends and your neighbours and really enhance your backyard.
​5. Backyard corner
There is nothing more romantic than having a hidden away corner where you can relax with a loved one. It's your garden and you should have a space you can go to when the stresses of the world start to get to you.
A backyard corner is a really adorable addition to any backyard and won't cost you much to pull together. First you should try and find a corner which is tucked away and use a trellis to create the backdrop. If you attach leafy hanging plants it will help disguise the area and make it feel more secluded. Bring in some patio furniture and some cushions and you're good to go.
If you know you're guilty of taking your garden for granted and not using it enough then setting up a backyard corner is a great way to change it up. On warm summer evenings it's the best space to sit and read or listen to music away from the hustle and bustle of daily life.
​6. Hidden storage
This is slightly different to some of the other suggestions on the list, but it's a way to use your garden more effectively. We all know that there are a lot of tools needed day to day for gardening and we all want to avoid having a large unsightly shed. By introducing garden furniture and accessories you also have more opportunities to store equipment.
Start by introducing some wooden pieces into your garden and hollowing them out. You'll quickly find that buckets, hoses and other tools can easily be stored in there securely, freeing up your storage space for other things.
​7. Palette Furniture
Palette furniture has made a real comeback over the last few years and we've even seen it in bars and restaurants. It's a great, inexpensive way to transform your garden while still keeping the outdoor feel throughout.
Palettes are normally fairly easy to get hold of and your local supermarket may even give them away for free if you ask. You can stack them and arrange them as you like, and use a few cushions or throws to dress them up. You may even choose to paint or stain them so they fit in in your backyard.
Palette furniture gives a rustic look and feel, plus if you haven't got proper patio furniture it's a cheaper way to give guests somewhere to sit and relax.
​8. Wooden barrel water feature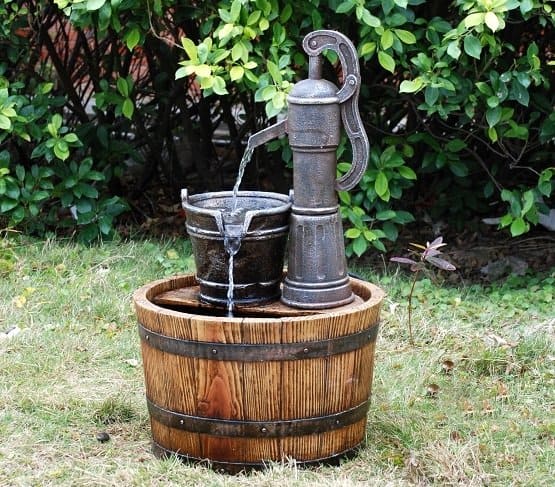 This is the second water feature on the list but the truth is we could've included hundreds! Water features are a great way to improve the class of your garden and the wooden barrel design is extremely popular.
For us this is half about the look and half about the sound. The steady flow of the water is extremely relaxing and well suited for those who like to meditate or do yoga outside. It's probably slightly too complicated to set up yourself (unless you're a DIY expert) but you can pick these up from a garden centre easily enough. It'll be popular with family and friends alike and add a lot to your backyard.
​9. Outdoor room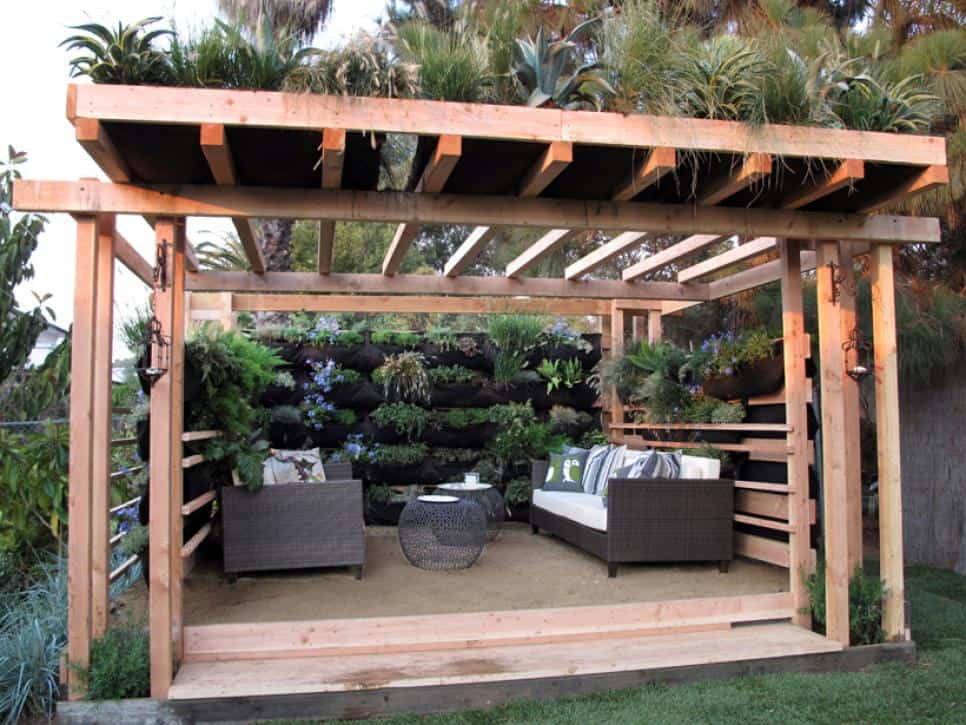 This is probably our favourite option on the list because of how much style it adds to a garden. Bringing the luxury of inside into the sunshine of the outdoors literally combines the best of both worlds and it creates the perfect space to host guests.
You should begin by putting a centrepiece in place. This would normally be a fire pit or something similar that furniture can be spread around. The trick is to look at the tables and chairs as you would with an interior room. Try to match the colours and designs so it all fits together and creates an ambient outdoor space.
This is maybe not suitable for those who live in wet areas, but definitely one for those who don't have to worry too much about rain and enjoy outdoor activities like BBQs.
​10. Edible garden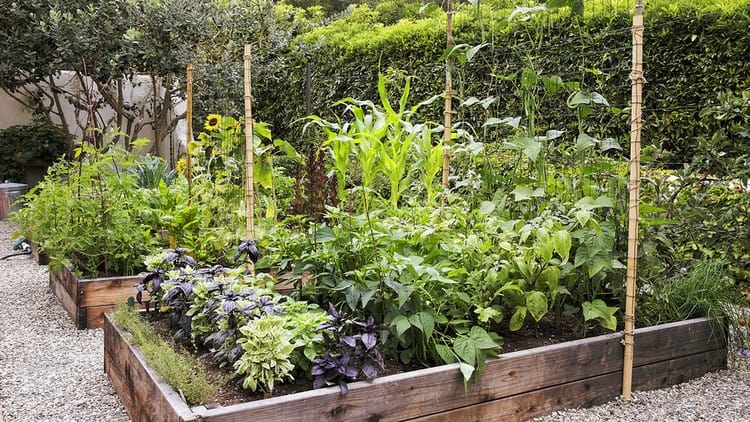 Growing your own plants is a beautiful thing to do and it's becoming more and more popular. Having a range of plants which produce fruit and vegetables that you and your family can enjoy is amazing, and really brings the space to life.
Seeds are very cheap and if you pick the right plants you can have fresh produce all year round. It's a really effective way to literally get more from your garden and probably the simplest on our list to set up. This is perfect for any sized garden but you will need to customise what you grow based on your environmental conditions and climate.
Also check out our best landscape fabric guide.
The Best Landscaping Ideas
You really don't have to spend a fortune to transform your garden. There are literally hundreds of different options for changing your features, plantlife and even the layout of your garden so it better suits your needs.
For most of the above you won't need professional help, but it's worth planning it all out before you get started. If you have more space to play with you might decide to incorporate a couple of different options, making your space more varied and exciting.
Ultimately your garden is an extension of your home. You'll get out what you put in, so take your time and explore the options before you get started. Summer is just around the corner so make sure you get the most from it.