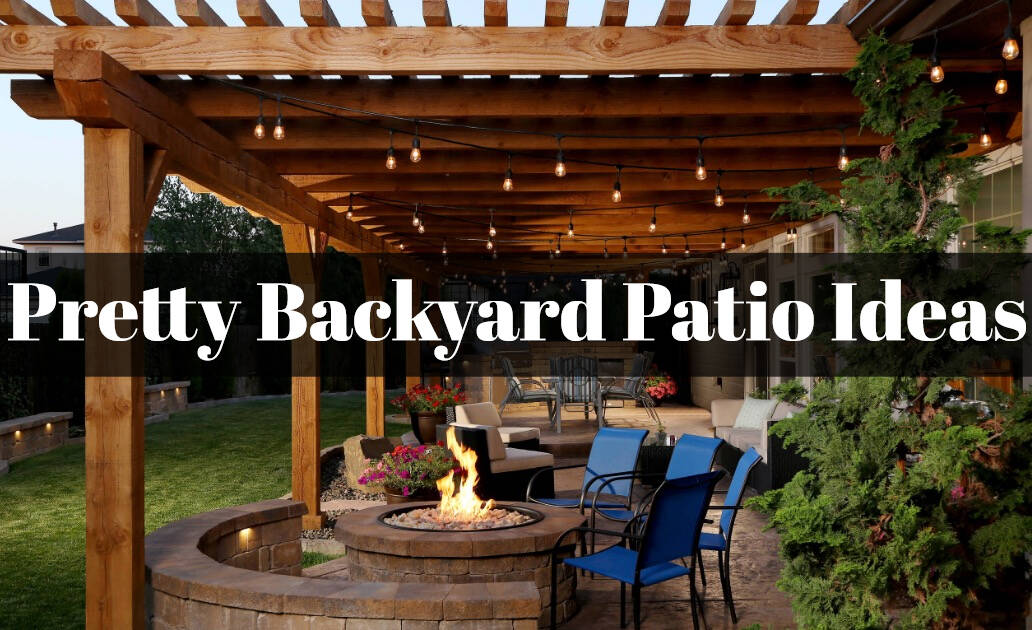 10+ Pretty Backyard Patio Ideas On A Budget
Maintaining the perfect backyard is not easy. It takes constant attention and effort and if you let it slide it can be a real project getting it back up to scratch. Sometimes it can be difficult to convince ourselves to do the work because it's hard to see the value in it. This is because we can no longer see the potential in the backyard space and we may need to consider a remodel to remedy this.
Your patio, or deck, is where most of the activities in your backyard are going to take place. If you want to breathe new life into your garden then this is definitely the place to start. We've put together our list of suggested backyard patio improvements that can be done on any budget, hopefully this gives you some idea of what will work for you.
Top 10 Pretty Backyard Patio Ideas On A Budget

Something as simple as introducing new pillows may not seem radical, but it can make a world of difference. New colours and designs can really bring the space to life and make the backyard patio feel like an extension of your house.
The pillows can be as bold or conservative as you like, but ideally they will align with the interior decor of your home. You can change the pillows every season, or as needed so that your patio remains fresh and up to date.
Lighting is the best way to improve any room and the same principle applies for your backyard patio. Hanging lights are really popular right now and they add a bit of magic to your backyard. Having the right lighting will help with the overall ambience, but give a much more positive look and feel to your patio.
There are a lot of options when it comes to lighting but none of them should be expensive. It should only cost a couple of dollars for each light and if you use LED lights then you shouldn't pay much extra in electricity bills. Lighting is an affordable and quick solution that will have an immediate impact on your backyard.
Fire bowls are a great way to add some intensity to your backyard patio. Very simply, a concrete or metal bowl is used to house a flame which can then be used as a centrepoint for the patio. It will of course also provide some light and heat to everyone around it.
Patio fire bowls adds something to your backyard which makes it a more desirable place to be in. You can pick them up fairly cheaply from a garden centre (depending on the exact model) or you can opt to create it yourself at home.
One of the trends which has emerged in the last 6 months it the increase in raised furniture. Patio furniture offers a relaxed seating area for family and friends to enjoy. Elevated seating, like a porch swing, gives a modern twist on the traditional setup while still offering all the same comforts you would expect to see. Most commonly this is in the form of a porch swing but there are several different options out there.
Not everyone will have a backyard patio that can accommodate this, but it's definitely an enhancement to consider if it's possible for you.
This may seem like an obvious suggestion, but not everyone realises that when you're outside in the backyard you want to have plants and flowers surrounding you. Putting a few flower pots around the backyard patio will help bring some colour to the area. If possible then look to include some hanging baskets, because these also look very pretty.
Within the flower pots it's a good idea to include: Skimmia Rubella because it blooms all year round, Euonymus which gives a golden and green colouring, and lilacs with their intense and pleasant fragrance.
​6. Matching patio furniture
When considering all the options for upgrading your patio you should take stock of what patio furniture you have and whether it needs to be upgraded. As a rule you should be looking for matching sets wherever possible, and avoid cheap plastic seats if you can. Large cushioned seating is preferable and gives a much more relaxed feel to the patio.
Patio furniture doesn't have to cost a lot. If you shop online and look out for bargains then you can likely find something. Make sure you have a clear idea of your budget before hand as this will help narrow down your search.
As part of the outdoor indoor crossover you should consider introducing some rugs into your patio set up. These give the backyard patio a cosy, homely feel and they can also be used to add to the overall design of the piece.
Throw rugs come in all shapes, styles and colours. You can opt for a bold style and colouring that stands out, or maybe go for a more minimalist single colour design. This is entirely down to your preferences however, wherever possible, you should look to complement any patio furniture or accessories that exist already.
A sun shade is one of the most practical features you can introduce into your backyard patio. It helps protect you from the sun and can also offer some shelter from winds. On top of practicality, a sun shade can also improve the look of the patio.
A sun shade that is set up as a canopy can help the outdoor area feel more like a room. It contributes to the outdoor/indoor vibe and ultimately makes the whole space much more usable throughout the year.
As a fun alternative, why don't you look at wooden pergolas? Or better yet, metal pergolas!
If you aren't keen on patio furniture, or your budget won't stretch then you can opt for concrete furniture. You can create a table and benches from concrete on your patio which contrasts really effectively with the vegetation and nature all around it.
Concrete furniture is reasonably inexpensive to get fitted or alternatively you can opt to do it yourself if you have experience. While concrete furniture isn't popular with everyone, it's long lasting, reliable and actually quite a stylish option.
Another fairly simple but effective enhancement to your backyard patio is by introducing curtains. You can use old fabric or even repurpose old bed sheets and hang them around the patio to give some privacy and also added protection from the elements.
These curtains add to the 'inside room outside' feel and give a touch of elegance that shouldn't be underestimated. I would recommend going for a white or block colour, but this is an opportunity for your personal design preferences to shine through and ultimately the choice is yours.
Upgrading your Backyard Patio
Changing and improving your backyard doesn't have to be challenging or expensive. In fact, in our experience some of the simplest and cheapest options have been the most effective in breathing new life into the backyard space. When considering all the options our number one tip would be to keep it in perspective. Your backyard is an extension of your home and you want to make sure your style is kept coherent throughout. This will help you when it comes to the design choices.
All of the above options are chosen because they're simple, but effective. None of them will break the bank and they are suitable for any budget. So whatever your current setup, and whatever challenges you face hopefully this has given you some inspiration as to how you change things up and get more from your backyard patio.