Made for ease of use and comfort, a backpack sprayer is vital for anyone who has to apply products to a garden, backyard, or more. What's the point of getting one?
Well, the best backpack sprayer today has several unique features to make product application a breeze. These include ergonomic designs that make it easy to carry herbicides, fertilizer, pesticide, and various types of liquids conveniently. Instead of hauling around a large metal cart or a handheld tool, a backpack sprayer can be a suitable recommendation.
It's a powerful tool that you use to apply a steady stream from various nozzles. These areas include hard to reach areas under the feet, decks, patios, and more.
Keep reading this guide because it will help you make an informed decision when shopping for a suitable one for your needs:
​Top 9 Camping Table from a Glance
The Best Back Sprayer: Buying Guide
Pounds Per Square Inch (PSI)
Pounds per square inch is the term you use to refer to measure the amount of sprayer can produce through the nozzle. The PSI for a backpack sprayer averages 70PSI, but some smaller models can produce 40PSI. The large brands can go as high as 150PSI. The correct PSI is vital because it determines your effectiveness at applying a specific product. Thus, the PSI level is directly dependent on the performance of your chosen backpack sprayer. If you have a yard with hard to reach locations, then go for a sprayer with a rating of 70 PSI or above. If you have an average or small-sized yard, then go for something that can provide between 40 to 80 PSI of power.
Piston vs. Diaphragm
Backpack sprayers are available in two popular types, with each having a unique delivery method. They include:
A piston pump – this type works to draw liquid from the tank and directs it to an enclosed section on your sprayer's upstroke. Thus, it works to direct the liquid out through unique outlet valves or nozzles when it performs the downstroke. More so, piston pump sprayers are popular because they are simple to use and maintain.

A diaphragm pump – these types are designed to provide optimal safety, especially when it comes to applying potent garden chemicals. Usually, they have a sealed system that can move liquid from one side, with one section of the sprayer being full, while the other sits empty. Even if a diaphragm pump won't produce the same power as a piston pump, it still works perfectly for delicate applications.
Type: Manual vs. Motorized
In most cases, backpack sprayers consist of an internal pump, which moves to move your product, through a hose, and to the nozzle. Usually, you can operate the pumps manually, or through the use of a motorized mechanism.
The manual types function through a hand pump, which is integrated into the chamber of the sprayer. While these types are often compact, they are suitable for small areas such as yards or sporadic jobs. It's not suited for intensive applications such as for professional service providers. Pumping manually for long durations requires lots of strength, and can cause fatigue.
Furthermore, the motorized types operate through a battery or gas. The good thing about these types is that they are simple to set up and versatile. Also, a motorized sprayer will pump the product from the chamber to the wand. Your role, in this case, is to direct the wand.
Tank Capacity
Sprayers are available with varying tank capacity sizes. Usually, the compact types are available with a handle for portability, while the heavy-duty types come with wheels. Plus, the types that fall in between these two classifications are reliable sprayers. Why? They are compact, and simple to carry around for the common product application procedures.
Auxiliary Features
Remember that backpack sprayers are available with many different features. These include in-built pressure gauges, which you can use to regulate the pressure of the sprayer. Furthermore, some come with ergonomic structures, whereby user comfort is a guarantee. Some brands even include benevolent additions to their products to make your user experience unique. For instance, some brands include additional items such as sheaths, long hoses, and more. These are all reliable signs of a good sprayer for your needs.
The Design of the Backpack Sprayer
In most cases, sprayers are available in high-density plastic materials, with tanks that pressurize the sprayer product. The pump works to compress air, which causes the pump to produce the product through a want. Usually, the sprayers come with unique wands, which you can use to control product applications' quality. More so, some types are either battery, manual, or pump operated.
The type of sprayer you want to settle for depends on various factors, including your needs and your chosen area's size. A power sprayer – these types are ideal for spot applications of the product, or if you perhaps have to cover large areas. Plus, they are also excellent for people with physical challenges such as back problems.
Features of the Best Backpack Sprayer
Weight – a good backpack sprayer is not heavy or overly compact as well. In particular, anything that falls between 4 to 9lbs should be adequate for your needs.

Nozzles – ensure you check the availability of wands, as this will make it easy to customize the application of products. Also, check if the wand is easy to attach to your chosen nozzle.

Tank size – a large tank can be bulky, while a small one can be inconveniencing. Thus, go for anything between 4 to 9 gallons, which are perfect for the product's regular applications.

Motor power – remember to check the performance and efficiency of the motor in your chosen backpack sprayer. It should be powerful enough to help you tackle large scale jobs in the garden.

Ergonomic features – also, a good sprayer has excellent ergonomic features to make it simple to use. These can include padded straps, contoured handles, and more.
​Best Backpack Sprayer Over $50
Spraying products around your property has never been this easy. The Chapin 61502 4 Gallon Backpack sprayer makes up for an excellent addition to your regimen. The sprayer comes with a 4-inch opening and translucent tank for convenient cleaning and filling. Even more, the bonus foaming nozzle ensures precise spraying with each application. You will also be pleased to know this unit is compatible with conventional fertilizers, weed killers, and pesticides.
The sprayer also has a 2-stage filtration system, with one filter sitting at the top, while the other sits at the shut-off. With such a unique structure, you are sure of the right amount of product with each application.
Thanks to the added foaming nozzle, you can see where, and the amount of product sprayed within your chosen area. The areas you spray will have better surface contact than applications that do not involve the foam. Even more, the convenient shut off assembly is easy to take part in maintenance and cleaning procedures.
It has a traditional look and feel you would expect with a conventional backpack sprayer, that also has padded shoulder straps. Thus, you are sure of a close fit to the back, and the stand left-hand pump handle also makes things convenient.
PROS
Comes with a translucent tank for easy filling
Has a bonus foaming nozzle for precise results
Suitable with weed killers, pesticides and fertilizers
Equipped with a poly shut off with two nozzles
CONS
Improve your efficiency when it comes to applying products with the Field King Professional 190328 Pump Sprayer. This unit has an internal no-leak design, which makes it safe to use with chemicals, and it won't break your back. Plus, the sprayer comes with a powerful piston that can deliver well over 150 PSI of power.
Thanks to the durable 21-inch poly wand with high-quality seals, you have a reliable sprayer to suit various applications. It even has a premium lockable shut off structure and inline filter for your convenience. The easy access pump on this unit also makes it easy to change the seals in a few minutes, and with no tools required.
The premium shut off comes with a comfortable grip, a lockable trigger, and a detachable inline filter. These components all work to prevent hand fatigue complications. For those who want a convenient application solution, this unit is available with a pressure regulator that can maintain a constant 25 PSI level.
The sprayer is also available with various types of accessories. These include adjustable padded straps, a waist belt, chest cinch strap, and more for comfort. As you would expect with all high-end sprayers, it's also available with several sprayers for your convenience.
PROS
Has an internal no leak pump design
Comes with a durable 21-inch poly wand
The easy access pump makes it easy to change seals
Equipped with four nozzles for convenient use
CONS
Slightly bulky than most sprayer brands
You have to be effective in applying products such as pesticides or fertilizer around your garden. Thus, this is why the Roundup 190314 backpack sprayer can meet your various applications. These include controlling weeds, pests, vegetables, and cleaning decks. The exceptional poly want is durable, and its integrated with a highly convenient shut off mechanism.Yes, that's right! The makers of this unit have ensured comfort is clear all around this product.
Moreover, you will be pleased with the Viton seals and gaskets that you will throughout the pump. The convenient shut off mechanism means that you will enjoy long-lasting chemical resistance. Thanks to the adjustable padded straps with a waist belt and integrated lumbar support – your comfort when using this tool goes to a new level!
With a heavy-duty and non-corrosive wand, you will find it easy to use this unit to spray hard to reach locations. It even has a lockable trigger, which can prevent hand fatigue issues when in use. Thanks to the removable inline filter, you have a reliable sprayer that can prevent clogging issues. With all these unique features, it's easy to see why the sprayer is ideal for weed killers and herbicides.
With the ample-sized tank opening and basket filter, issues such as debris or liquids will become a thing of the past. Also, the pump comes with adjustable straps and chest cinch strap for optimal comfort when in use. You can even reverse the pump handle, with the inbuilt carry handle to make things convenient. Equipped with several nozzles, this sprayer ensures optimal versatility and with a high-volume level.
PROS
Comes with a large 4-gallon tank
Equipped with a heavy-duty poly want
Has Viton seals and gaskets throughout the pump
Equipped with adjustable padded straps and a waist belt
CONS
Could use improved ergonomics
The ITISILL 4 Gallon Sprayer is also another excellent recommendation for applying garden products. The sprayer features two adjustable wands, which make it simple to use. To be specific, it comes with a retractable brass wand, and a durable polyethylene rod, which you will find easy to adjust. You can adjust it between 25-40 inches, to make it easy to spray those hard to reach places.
Furthermore, the sprayer is available with various nozzles to make it easy to use. These include a fan, conical dual canonical, and a four hose nozzle. You will be pleased with the switch lock, which features a comfortable grip and lockable trigger. The lockable trigger helps reduce hand fatigue for optimal comfort when in use.
Also, the wide mouth opening is convenient and makes it easy to pour water inside. It has a high-density filter, ensuring debris and dirt won't get into the water tank. As such, it also makes up for an excellent way to protect internal components from damage.
Equipped with a translucent water tank with a gallon mark, this unit makes it easy to view your product when inside the chamber. Such a design also makes this unit convenient to clean. Thanks to the wear-resistant seals, rings, and anti-clog filter, you are sure of an easy to maintain unit. The makers of this unit have also included some spare seals for ease of repair.
PROS
Comes with two adjustable wands for ease of use
Has a super wide opening design
Equipped with a 4-gallon water tank
Has several nozzles and a lock switch
CONS
Cleaning the tank is not easy
​Best Backpack Sprayer Over $100
You can never miss the Husqvarna brand in any list of high-end outdoor products. Thus, we also recommend the Husqvarna Sprayers, which have an internal no leak pump structure, which is safe to use at all times. Plus, you can use it with table powders and liquids for convenient use. Even more, the easy access pump and the convenient seals mean that maintenance is always a breeze.
You will even find it easy to store the pump handle, which can sit horizontally or vertically. The pump has a 150 max psi level, and it's equipped with a 25psi regulator. As such, you have a powerful pump, which offers constant pressure for your lawn chemicals.
Ranking among one of the top backpack sprayers on the market, this unit will suit the needs of both commercial or DIY users.
PROS
Internal no leak pump design is safe to use
Comes with an easy access pump and convenient seals
Has a convenient pump handle
Can provide a maximum power level of 150 psi
CONS
The harness is not suitable for tall users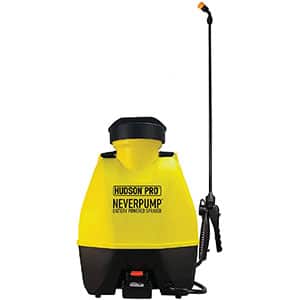 The HUDSON 19001 4 Gallon Never Pump also makes perfect up for applying products. The pump is a high performance and rechargeable unit, which will take your productivity to the next level. It comes with a heavy-duty nozzle system, which includes various options for convenience. These include the stream, dual mist, fan, and shower nozzles.
Thanks to the large and comfortable shut off valve, you are sure of a pump that locks on for continuous spraying. Besides that, the large 6-inch tank opening means that this unit is highly convenient to fill. With the cushioned and ergonomic straps with adjustable pads, you have a comfortable sprayer for your needs each time. You will also be pleased with the high performance removable and rechargeable battery that is simple to charge.
The sprayer has a removable filter to make things better – perfect for ensuring debris and dirt won't lead to clogging issues. The power button is also conveniently placed on the tank's side, and you can operate it even when wearing this sprayer.
PROS
Comes with a high performance and removable battery
Has a heavy-duty nozzle system for convenience
The large shut-off valve locks for continuous spraying
Equipped with a large 6-inch tank opening
CONS
Enjoy the convenient application of your pesticides and more when you have the Chapin International 6-2000 commercial backpack. This unit comes with a convenient control flow valve technology, which will deliver a continuous spray stream. The spray stream level averages at 21 psi, to make this unit highly efficient to use. Furthermore, the 4-gallon backpack comes with a wide mouth opening and a translucent tank for convenient filling.
Whether you want to apply weed killers, fertilizers, or pesticides, this unit is an excellent recommendation. It even comes with a poly shut off mechanism that has three nozzles. These include the fan, cone, and adjustable brass nozzles.
To make things better, the 3-stage filtration system is highly efficient. It is not prone to issues such as clogging. Additionally, the brass wand and innovative pump handle are easy to customize to suit your specific product application needs. You will also be pleased with the handle, which is easy to fold up for convenient storage.
Equipped with padded shoulder straps that provide lumbar support and a convenient back pad, this unit ensures several comfortable use hours. It's even available with Viton seals that are compatible with various types of products.
PROS
Comes with a convenient flow valve mechanism
Has a large 4-gallon wide mouth opening
Suitable for use with fertilizers and weed killers
The 3-stage filtration system is highly efficient
CONS
The roll handle is an inconvenience and needs adjustment
​Best Backpack Sprayer Over $200
Change how you can apply products around your garden when you have the TOMAHAWK 4 gallon spreader. This unit is a reliable year-round spreader for fertilizer, winter melt, and more. Furthermore, it can work to cover as large as one acre in less than one hour. To make things better, this unit can operate 20x faster than the traditional spreader.
As one of the most efficient sprayers on the market, this unit is highly efficient and will cover large areas with efficiency. The heavy-duty design of TOMAHAWK 4 gallon spreader means that you have a reliable solution for several years.
It's a granular sprayer, which is reliable for lawn and turf applications. Whether you want to apply granular seed, pond algaecides, pesticides, or more, this unit is a reliable addition to your regimen. Equipped with a large 4-gallon tank, you will find it easy to improve the spread range and your efficiency between refills. The sprayer also has a volume lever that you can use to adjust the amount of product you want to apply to your area.
PROS
Can cover 1 acre in less than one hour
Comes with a 4-gallon design for optimal productivity
Has a lightweight design and is easy to use
CONS
Adjusting the carburetor is not easy
Realize what you have been missing when it comes to product application when you have the 105Ex Effortless Backpack sprayer. This unit comes with a 20v lithium-ion powered battery, which you can use to spray well over 23 tanks with just a single charge. Furthermore, the backpack sprayer can work at a constant 40PSI to ensure it can reach farther and wider.
Plus, the backpack sprayer is compact and ultra-portable, with an average weight of just 9.4lbs. To make things better, the high-quality Viton seals throughout the sprayer provide durability, and the pressure required to tackle your projects.
It's a backpack sprayer that has been designed to provide all-day support and comfort. The new premium strap design will provide optimal comfort when in use. It even has sternum straps that will pull your shoulder straps close – perfect for comfort. It also helps relieve the weight off your shoulders and back. Thanks to the convenient chest buckle, you are sure of sprayer that sits easily on your body.
This unit's makers have also included different types of nozzles with the sprayers, thus offering the dynamism you need to work. Each nozzle has been custom designed to deliver peak performance. While this unit weighs 3lbs less than a conventional sprayer, it can still provide excellent stream sprays. To be specific, it can spray up to 33ft horizontal and 23ft vertical – perfect for vines and tall trees.
PROS
Comes with a powerful 20V lithium-ion powered battery
Lightweight and ultra-portable design for ease of use
Comes with a battery and motor enclose structure
CONS
The lid on the lip makes it difficult to empty
Best Backpack Sprayer – Final Thoughts
When it comes to applying products such as weed killers or even pesticides, it would be good to have the right resources. Aside from protective gear such as masks and gloves, you will also benefit when you have the best backpack sprayer. Yes, that's right! A good sprayer will take your productivity to the next level, and even improve your efficiency levels. We have prepared this comprehensive guide to help you make an informed choice when picking one for your needs. These are tools that have different features and can suit many different application techniques.