Having your own fire pit in your garden adds an element of relaxation to your garden and it is aesthetically pleasing as well. The lovely glow of the burning fire can provide warmth and calmness either during the day or when you're trying to relax in your garden at night.
There are a lot of varieties of fire pits on the market, mainly portable ones which you can place and move anywhere in your garden or permanent ones which can actually be one of the center points in your garden. They are also made from different materials such as clay, stone or even bricks.
There are plenty of things to know before you plan to purchase the best fire pit for your garden. Below is the helpful information, guidelines and product reviews to guide you in your search.
Benefits of Having a Fire Pit in Your Garden
Owning an outdoor fire pit has a lot of benefits aside from the obvious beauty it adds to your garden. If you're still on the fence on whether you will get one, read on and learn about the benefits of having the best fire pit in your garden:
Cooking outdoors can be made a lot more fun when you have a fire pit in your garden. Aside from being able to grill on your fire pit, you can also let your whole family join in by cooking trendy campfire food such as hotdogs and marshmallows on sticks over the open fire.
Spending time outdoors is not only healthy for us but it can also be fun and relaxing against staying indoors all day with very little social interaction.
Having a fire pit in the garden will allow you to enjoy your garden to the fullest. It adds a cozy atmosphere and warmth even on chilly nights. This then gives us an opportunity to hang out and chill with our friends or family outdoors for longer periods of time.
Whether you own a portable fire pit or a permanent one, having this in your garden will allow you to host different kinds of fun events such as camping parties or a night of stargazing. All you have to do is set-up the space around your fire pit and you're ready to entertain!
More Value for Your Money
Choosing the best fire pit for your garden and having this as an addition to your property will surely give a sense of sophistication and increase the value when you choose to sell your home. Aside from being very versatile, outdoor fire pits are also durable, making them a good investment for your property.
Of course, the main benefit of having a fire pit would be the heat and warmth it provides but you can also use the fire to burn papers, documents and other confidential materials which you'd like to dispose of permanently.
This saves you a lot of time and money rather than having to purchase a paper shredded which would only be used for that specific purpose.
Deciding on the Best Fire Pit - A Buyer's Guide
Now that you know the numerous benefits of owning a fire pit, you would also need a guide in selecting the best fire pit for your garden, based on your needs. As there are so many options in the market, picking the best one can be quite an overwhelming task. Fortunately, we have compiled a list of things to consider in your selection:
Before buying your fire pit, consider where you would situate it in your garden. Fire pits can range from huge ones to conveniently portable ones, fit for small spaces in the garden. Though big fire pits do give the most warmth and light, they can be dangerous in small spaces.
Some fire pits are small enough to serve as a centerpiece on a table and are easy to maintain. Selecting the perfectly sized fire pit for your garden is the first thing to consider in getting one for your garden.
The next thing you should consider in getting one is the style of the fire pit you'd like to have. Style would include your planned use for the fire pit as well as the look which would work with your garden. Designs of fire pits can be basic and functional or aesthetically pleasing but with limited features.
Beautifully presented fire pits may attract you but they may not be suitable for what you plan to use them for. So think about what you need your fire pit for so you can check the features of the ones with designs that speak to you.
Aside from the size and style of your fire pit, another important thing to consider is its durability. Fire pits made from cast iron or steel are good options for wood burning as they can handle high levels of heat without being damaged or getting discolored.
Fire pits which have a number of layers and thick sidewalls would be good for gas-burning models since even if they do not reach very high temperatures, they will not get damaged or discolored either.
Some of the best fire pits for the garden do come with useful features such as weather resistant coating, meaning they are made in such a way that they won't be damaged by the elements such as rain, hail or snow.
Some fire pits for garden can also be used as a mini barbecue complete with a grate for grilling. There are also some portable fire pits designed with foldable legs and a case to carry around if you plan to take your fire pit with you to other places. Such features can add to the versatility of your fire pit so you can also look for them when making your choice.
Wood, Gas or Fuel?
Considering the size, style and durability are very important. One more important thing to learn about is what you will be using for your garden fire pit. There are different types of fire pits for garden based on what you will be using to fuel the flame. Read on to learn more about them:
Wood Burning Fire Pits
Owning a wood burning fire pit is just as cool as having your own campfire in your garden. These kinds give off enough heat and smoke as well as the comforting and familiar sound of the crackle of burning wood without the hazard of the fire spreading to other parts of the garden.
Wood burning fire pits are generally cheaper than other types and they give off more heat. However, some disadvantages would be having to buy and store the wood for burning and you would have to have a place to dispose of the leftover ash.
Natural Gas Fire Pits
Natural gas fire pits would require a garden which would have enough room to house a natural gas line, which means this would be permanently fixed in an area in your garden.
This type of fire pit, which can either be built into the ground or raised up with different designs, never runs out of fuel. Having this kind of fire pit is relatively cheap however getting it placed in your garden can be quite expensive.
Propane Gas Fire Pits
Probably the most convenient type of fire pit in the market, the propane gas fire pits are beautifully designed and give a good fire without having to refill to keep the flame going. These types are most commonly on the bigger side and are permanently placed in the garden.
However, buying the propane for the fire pit is an additional cost and cooking food on these types of fire pits tend to come out missing the intensity of flavors compared to food cooked on wood burning pits.
Gel Fuel Fire Pits
If you're looking for a small fire pit for your garden, this type of fire pit would be the best option for you. The gel used in this type of fire pit is clean and its flame burns without smoke or the smell of it. They are lovely to look at and can be placed anywhere in your garden, depending on your needs.
The downside to these types of fire pits don't give off as much heat as the other types. Also, the gel fuel needed can be a bit challenging to find in stores, which means you'd frequently have to purchase it online.
The Reviews of the 5 Best Fire Pits for Garden
Such a wealth of information! Now you are equipped with enough knowledge to find the best fire pit for your garden, which is the fun part. Read on about the best fire pits on the market and keep in mind the guidelines and considerations in selecting the perfect one for you.
​
This whimsical fire pit is both eye-catching and functional. It's lightweight for easy transport and has a wrap around safety ring. The 23.5" in diameter pit allows for a small flame and comes with a cooking grate so you can grill food on it. It's both fun and useful!
What we liked about it:
Affordable yet durable.
Portable and good for cooking.
Has a wrap around safety ring, spark protective screen and a firewood poker.
What we did not like:
Has a tendency to rust
Too small for medium or big gardens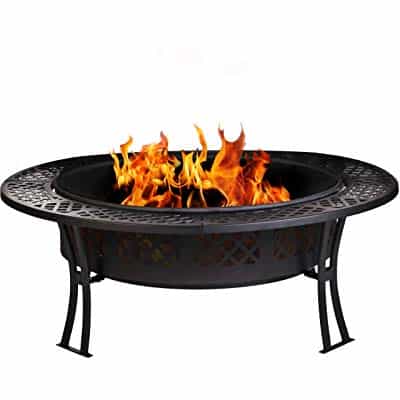 ​
If you're looking for a moderately sized and sturdy yet functional model, the CobraCo Diamond Mesh Fire Pit is for you. This versatile pit with a classical diamond design has a 5" wide edge around it to hold your drinks or snacks while you're hanging out around it. Its base also has risers which allows circulation of air, making the fire last longer.
What we liked about it:
Pit has a wire screen cover to limit embers from flying around.
Has a vinyl cover which prevents rain, leaves and other elements from entering the pit.
Base of the pit contains built in risers for ample air flow.
What we did not like:
Produces ash after use.
Fire may produce a lot of smoke.
​
This wood burning fire pit is both practical and fine-looking. The intricate cross weave pattern would be a nice focal point for any garden. Having dimensions of 36 x 36 x 24 inches all around and weighs 29 pounds, making it possible to be moved around the garden.
Made of steel, the oil-rubbed bronze paint allows for high temperatures without being damaged. It produces a good sized flame which lasts long as the design allows breathability and circulation. It also comes with a sturdy spark screen and a log poker as safety features.
What we liked about it:
Perfect size for portability and functionality.
Includes a firewood poker and a safety screen.
Good amount of space in the pit to produce a small to medium sized fire.
Affordable price is well compensated with its features.
What we did not like:
Must be placed on a flat surface.
Has to be brought indoors when it rains.
Via: Amazon.com
This sleek and convenient 19" diameter propane gas fire pit is durable and weather resistant. It is portable and easy to carry around, making it easy to move it around in your garden or bring it with you when you go camping or to other places.The flames produce no smoke and no smell of smoke making it ideal for family use. It's easy to use and easy to maintain as well as you don't have to clean off leftover ash after using.
What we liked about it:
Lightweight and portable size allows for easy carrying.
Comes with a 10 foot hose with an attached regulator.
Flame is clean and produces no smoke.
Has many uses such as for your garden, camping and tailgating.
What we did not like:
Warranty is only for the parts and not the whole unit.
Does not produce flame with very high temperature.
​
Wonderfully modern and stylish, this immense fire pit is perfect for large garden spaces with room to spare. Having a luxurious pit such as this which runs on natural gas and can reach heat up to 50,000 BTUs is easy to maintain as it does not need to be refilled with either wood or fuel. Adding this to your lush and vast garden will surely give it more character and style.
Pros
It is certified for safety. Fire pit and natural gas lines must be set up by licensed professional to ensure safety.
Guaranteed durability as product is made from heavy steel and tinted fiber-concrete.
Product includes: 50,000 BTU Burner, Natural Gas Fire Table with lid, lava rock, 10-inch gas hose and a storage cover for superior protection
Cons
It's permanently fixed due to its size.
One of the most expensive types of fire pits
Conclusion – Finding the Best Fire Pit
Finding the best fire pit for your garden is not that difficult as long as you have the right information - and now you do! If you have a big garden and a big budget to go with it, you could go for the stunning Real Flame Baltic Square Natural Gas Table to make your garden even more striking.
If you have a smaller sized garden and you're looking for a good value for your money, the Landmann USA Big Sky Fire Pit would be the best for you. It is light in weight and has good safety features. Other options are also available, all depending on what you need and what you are looking for. So have fun searching for the most suitable pit for your garden!