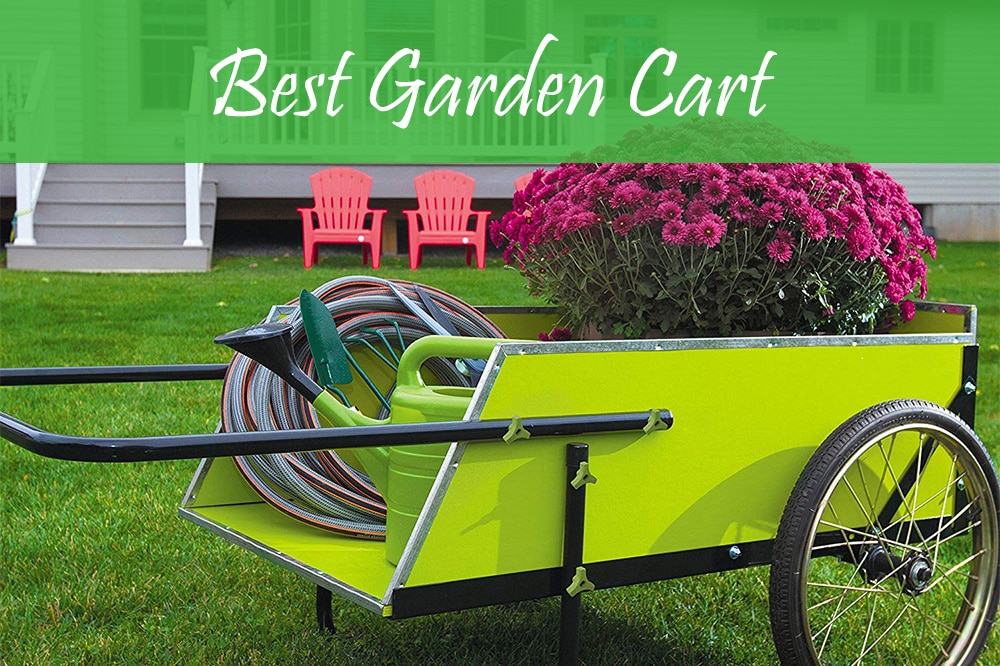 4 Best Garden Carts in 2021: Reviews & Buyer's Guide
Whether you have a DIY garden or a large grow room with many plants, you need a convenient way of hauling your items to the workspace. While you can use a wheelbarrow, the best garden cart makes up for a much more practical solution in such a situation. Why? Because a garden cart has a design suited for garden areas and gardening activities.
Today`s cultural idea of working smarter, not harder, comes from technological advancements in various disciplines, including science and agriculture. Gardening is an essential division of such a discipline and its benefit from such innovations. Simply put, gardening has become way much easier than it was in the past when we had to move around with oversized wheelbarrows.
To make things easy for you, we have compiled some useful information. Let`s get started:
Have a Quick Look at our 4 Best Garden Cart Comparison Chart
| | | |
| --- | --- | --- |
| | Fertilizer, garden tools, gardening gear, and more | |
| | Fertlizer, soil bags, tools and gear | |
| | Garden tools, soil, fertilizer and more | |
| | Fertilizer, garden tools, gardening gear, and more | |
| | Garden tools, soil, fertilizer and more | |
Choosing the Right Garden Cart
Types of Garden Carts in The Market
Utility Wagon/cart – a utility garden cart has the same appearance as a wagon, and it also features four metal sides. Usually, the sides are open and detachable to make cleaning easy. More so, users have to pull them along using a long handle. Such types are suitable for hauling wood chips, dirt, fertilizer, and more. The brands that come with detachable sides provide added versatility because you can move large loads with ease.

Dump cart – has the same appearance as a wheelbarrow and wagon, but offers improved dumping capabilities. Depending on the load capacity, a dump cart is suitable for hauling firewood, soil, grass, garden tools, and more. Also, ensure that you go for dump carts that have dump features for optimal versatility. Some dump carts even have four-wheel designs, that might seem like wheelbarrows. 

Flatbed – the flatbed types don't usually have sides. These are suitable for hauling large or nonstandard garden materials. More so, they have similar functionalities as you would expect from a utility wagon.

Foldable – the foldable garden carts have fabric sides, with accordion metal frames. These frames are collapsible when not in use for convenience. More so, the sides are not removable, and the load capacity is much less when compared to the framed carts.
Load Capacity
What is the size of the load you want to move, and the distance you might have to move them? There is a notable variation in construction and price between a cart that can hold 600 pounds, and one that can hold 1200 pounds. Consider going for a heavy-duty cart that has a reasonable load capacity, which usually averages over 700 pounds. 
Such carts usually have large tires and much more durable bodies, thus making them suitable for different gardening tasks. Furthermore, go for a brand that has detachable sides to make things convenient. Some brands are even easy to attach to lawn tractors or ATVs for convenience.
For loads that average less than 600 pounds, consider going for a wider and deep bed on your cart. Carts that have high sides are also beneficial, especially for keeping the load contained. If you don't plan on pulling the cart, then ensure its weighted to make it simple to move around.
Tires
Ensure that you go for a garden cart that has durable tires. Usually, the best tires are the never-flat types, which rarely require any replacement. More so, the type of hauls you will be pulling will determine the types of tires you will go for. The airless and pneumatic tires are best for large hauls that you have to move over rough terrains. The pneumatic tires are made using reinforced rubber, which you can fill with air. 
More so, if you want to move large hauls over gravel or rocky terrain, then for a heavy-duty garden cart for your needs.
Bed Construction
The term "bed" refers to the platform on your garden cart, where you place your garden hauls. Usually, the steel beds are best, because they are durable and can accommodate large loads. More so, such types of carts can accommodate excessive use, without damaging the interior components. That said, these types tend to be heavy and are prone to issues such as rusting. The plastic beds are also great, but consider going for the heavy-duty plastic beds instead.
User Requirements
Different gardeners have as many different needs when it comes to choosing suitable products for their needs. Thus, when investing in a garden cart, ensure that you go for a brand that suits your specific work needs for the best results. Factors such as the amount of strength you have to move the cart around are highly important. For instance, a user with physical disabilities or is perhaps elderly, should consider a compact unit with ergonomic features. On the contrary, a gardener with many plants should find a large model, that has large tires and detachable sides for convenience. 
Editor Picks Top 4 Best Garden Carts Reviews
The Sun Joe SJGC7 7 cubic utility cart is perfect for storing and transporting garden tools. With an exceptional load capacity of 300lbs, this garden cart is an excellent recommendation for your needs. It is to carry around, it features oversized pneumatic tires, that are ideal for traversing irregular terrain. More so, the inclusion of a lift-out panel makes it easy to load and dump your items.
Made using durable plywood and durable steel construction, the SJGC7 is perfect for various types of hauling in your garden. The Sun Joe brand has even done well to incorporate this unit with never-flat tires. Thus, you can take on any type of terrain without having to worry about the condition of your tires. These oversized 20-inch tires, can accommodate large loads, and enhance the maneuverability of the utility cart.
Thanks to the unique design of this structure, you have a garden cart that can lift more and get more work done with less effort. And while this unit might be compact in structure, it can carry large hauls with affecting performance. It even comes with well-positioned handles that make it easy to move the cart around small spaces.
With the S2 Lifestyle Brazee Collapsible Folding Wagon Cart, you are sure of a reliable addition to your gardening regimen. Equipped with heavy-duty collapsible wagons, this unit lets you carry loads of as much as 150lbs. More so, it also features a powder-coated steel frame, which is durable and resistant to rusting issues. The waterproof canvas bod with quality oxford fabric offers ease of use. 
The makers of this unit have also done well to include a 360-degree swivel front wheel for convenient transportation. Thanks to the fact that this unit folds and unfolds easily, you can be sure of excellent addition to your gardening regimen. It even features extra-large PU tires, which move through different terrains easily. 
The Brazee folding wagon is available in a compact design, and with a carry on handle for ease of transportation. Its also small, and with a solid removable base for the inside, such that you can fit in many items at the same time. 
There is nothing better than when you get a fully functional garden cart for your needs. Thus, this unit comes with two additional cup holders, which make it suitable for staying hydrated. You can be sure that it's ideal for hauling gear to outdoor sporting events, trips, concerts, and more.
With the Landworks 2103Q044A, you are sure of a reliable addition to your gardening regimen. Featuring a 400 lb. Load capacity, this unit is perfect for hauling various types of garden hauls. It comes with removable strong steel mesh sides, which make it easy to carry large-sized objects with ease. The foldable frame design also lets you assemble and disassemble the cart with ease. 
On top of that, it has 10-inch diameter rubber wheels that can absorb shock and ensure smooth transportation results. As one of the best garden carts on the market, this unit has detachable sides, which make it easy to organize your garden hauls. While this garden cart can provide a large surface area of space, it is compact and won't add any unnecessary weight to your hauls. 
The handles on this unit are ergonomic and contoured, which means they fit on your hands comfortably. To make things better, the garden cart features a modular cargo bed design, which lets you use this unit as a flatbed for improved user space.
The Mac Sports Heavy Duty Collapsible Garden Cart is an excellent recommendation for your garden work. Designed to be durable, and easy on the hands, this unit makes quick work of most garden work tasks. It's a folding outdoor utility wagon with a large capacity interior, which makes it ideal for storing various types of camping gear and more. More so, the heavy-duty frame can accommodate large loads of as much as 150lbs.
A garden cart is way much more useful when it becomes easy to store. Thus, the Mac Sports Heavy Duty Garden Cart folds to only 10 inches thick for secure storage in the trunk of your car. The durable 600D fabric is easy to clean, such that you leave all messes outside. The inclusion of cupholders near the handle means that staying hydrated through your trip is easy. It also features telescoping handles for easy use. 
With such a unique diversity of features, this unit is perfect for hauling gear to outdoor events, trips to the park, beach days, and more. Underneath the robust design and durable polyester fabric, you will come across giant wheels that roll over surfaces without trouble.
Experience the best of gardening results when you have the Sandusky Lee CW3418 Garden Wagon, which is perfect for various applications. Made using high quality steel, this unit will provide many years of reliable performance. Capable of holding as much as 400lbs of weight, you can use this unit to haul many different types of garden products. More so, it also has a steel mesh construction that offers improved rust resistance over materials such as iron. 
Thanks to the unique powder-coated finish, this garden cart is durable enough for many years to come. To make it easy to load and unload heavy items from the wagon, you will appreciate the unique sides that are easy to fold down. On top of that, the sides can also be removed entirely to suit flatbed wagon applications, such as moving oversized materials.
It also sets up easy, and you can detach the components for ease of maintenance. The wagon also features a steel handle with D-style grip, and as many as four pneumatic rubber tires. These tires can be abrasion resistant and can absorb all the shock from your gardening activities.
Overall Opinion
You will inevitably have to move items such as soil, fertilizer, gardening tools, and more, around your garden. Thus, you will benefit highly when you have a convenient tool, such as the best garden cart for your needs. Designed to be easy to move around and spacious at the same time, these are essential tools for any savvy gardener. On top of that, the ones we have available on this list have many unique features to make it easy to haul your materials.
We recommend that you use garden carts when you want a convenient way for moving garden hauls around. Unlike heavy wheelbarrows or hand carts, garden carts are easy to move and reliable for your grow room.