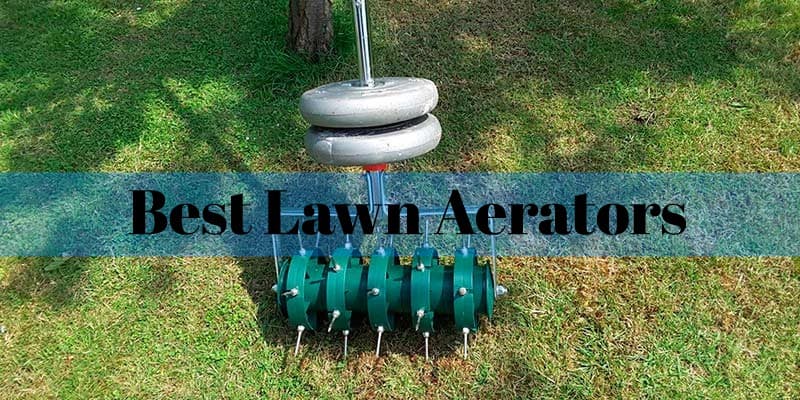 2021's Best Lawn Aerators: Top 8 Picks & Buyer's Guide
Does your lawn seem dull, uneven and sparse even if you trim and water it regularly? You might be missing out on an essential lawn care practice that will surely keep your lawn healthy and lush – lawn aeration. This practice will help homeowners keep their lawn beautiful by perforating the soil to deliver as many nutrients from water, fertilizer, nutrients and air to the roots of the grass. Performing this lawn activity will also prevent hardening of the soil that inhibits the roots to grow deeply and for the grass to multiply.
There are different ways to aerate your garden depending on the type of lawn aerator. It can be tricky when you don't know the kind of garden soil and grass each aerator is used for. So we will share with you tips and hacks to choose the best lawn aerator for your garden to help you deliver TLC on your yard.
You Must Be Intrested In Weed Eater For Your Garden
The Mantis 7321 Power Tiller Aerator will surely be a fantastic attachment for your lawn mowers. It is a practical tool to help you aerate your lawn while you mow. It also serves as a dethatcher that enables you to get rid of clumped grass on your lawn.
It has four (4) sets of tempered steel blades. And it is perfect to be used on compact and clay soil. The 60 spring-steel dethatcher pulls up clumped grass and thatch making it easy to clean. It perforates the ground without damaging the lawn.
Bottom line:
This aerator is perfect for those who use their yard heavily for entertaining guests, playing and other family activities. Heavy use of your lawn can make the soil really compact and hardened and that needs frequent aeration. This is also suitable for those who have invested on their lawn and purchased a riding lawn mower. It can be attached as a tow-behind tool and will help you take the extra mile in taking care of your yard.
This tow-behind plug aerator features a stretch of 32 coring plugs that can penetrate 2.5 inches of soil to promote penetration of air, water and nutrients and keep the lawn healthy. It has an easy hook-up pin style hitch that can be effortlessly attached to a riding lawn mower.
It comes with a 4" x 10" pneumatic wheels that allow easy movement when the lawn mover turns or moves backward and forward. The body has a rust and corrosion-resistant powder coat finish.
Bottom line :
If you are looking for a tow-behind lawn aerator that will deliver the best results on any type of soil, Yard Tuff Plug Aerator must be what you're looking for. Effortlessly connect the aerator to your riding lawn mower and you don't have to worry about turf damage because it turns smoothly with its pneumatic wheels.
This 40-inch plug aerator is perfect for compacted and hardened soil. It has a universal hitch that can be attached to any lawn tractor, zero turn mower and ATV. It comes with 24 heat-treat plugging spoons that can penetrate a maximum 3 inches depth on the ground to ensure better aeration and delivery of water and fertilizer. The plugging spoons can be serviced and replaced individually to deliver even output.
The heavy-duty steel tray of the Brinly PA-40BH Aerator has a maximum capacity of 150 lbs. or equivalent to two concrete blocks to help you deliver maximum engagement on your yard. The 2-piece tow bar is also rigid and can stabilize the aerator resulting in less drag during use. Its 10" never flat tread tires and three independent welded tine sections will also ensure smooth turns to minimize turf damage on your lawn.
Bottom line:
The Brinly 40" Tow Behind Aerator offers one of the broadest coverage among the tow behind aerators in the market today. Its rotating plug spoons can relieve compacted soil with a reasonable distance from each other. Its no-flat wheels and universal hitch are also convenient features for its users.
Those who do not have riding mowers or ATV should not worry about not having able to use a tow behind aerator. Best Choice Products offer an 18-inch Rolling Lawn Aerator that you can manually use on your lawn. It is crafted with a 50-inch handle, two wheels and 6 rows of solid tine spikes. All you have to do is push the rolling lawn aerator around your yard and you're on your way to a healthier and aerated lawn.
The handles and spikes are made with durable steel and the wheels are made with plastic. It requires a little pressure during use and might be best used on coarse soil.
Bottom line:
Rolling lawn aerators like this one from Best Choice Products will not only help aerate your lawn, but it can also be an enjoyable activity for you and the members of the family. It can also help you carefully inspect your lawn and have a feel of the actual condition of the soil.
Bottom line:
Lawn aeration also requires proper spacing, that's the primary purpose of plug aerators. The best reason to get the Garden Weasel Lawn Aerator is that allows the users to plan the distance in between the cores to minimize damage on your lawn. One noticeable flaw of coring aerators is the clogging of the steel cores, so you have to remove the soil using a stick manually.
The Yard Butler Twist Tiller is a multi-use tool that is great for gardening and maintaining your lawn. It can be used as a cultivator that will loosen the soil and prepare it for planting. It can also be an aerator with a multi-point and depth angled claw tines. It is 38 inches tall, which is not too high and straining to use. It has a 12" cushioned handle for optimum comfort during use. For hardened soil, step on the foot bar for added pressure.
To completely loosen the soil, drive the aerator on the ground and twist it as it penetrates. This product is perfect not only for lawn aeration but for the cultivation of garden flower boxes and removal of weed.
Bottom line :
Multi-purpose tools are always handy for your garden. This twist tiller, cultivator and aerator offer an easy solution to prepare your lawn not just for aeration but also for the planting of seeds, watering and putting fertilizers.
Coring lawn aerators are best used if your lawn requires maximum delivery of water to grass roots. The Fiskars 9862 Coring Lawn Aerator can remove 4-inch cores from your lawn. It has a big foot plate made with durable steel to deliver better soil penetration without too much pressure on the user.
This coring lawn aerator is best used on wet soil to ensure that soil will get in and be pushed out clumped through the coring tubes. This aerator is 38 inches tall made with sturdy steel shaft and welded footplate.
Bottom line:
Fiskars Coring Lawn Aerator offers a strong and durable lawn aerator that you can use for several years. It can deeply penetrate and remove compact soil cores and you can decide on the appropriate distance. The foot slot is also big enough and users can wear safety boots while working.
Yard Butler is a known brand in the home and garden category. They have various manually-driven lawn aerators including this lawn coring aerator. It can pierce the ground and remove two 1/2 inch wide and 3.5 inches deep plug lawn cores from your yard. This aeration tool will enable your grass to take in as much air and nutrients that they need. You will no longer have to worry about water build-up and lawn thatch because this also serves as a dethatcher.
Regular aeration will make the lawn healthier and resistant to drought because water is delivered deep down the roots of the grass. The Yard Butler Lawn Coring Aerator is best used on freshly watered lawn and can be driven on the ground with foot pressure on its durable steel foot bar. 
Bottom line :
This coring lawn aerator is designed for users regardless of height. The 38" height minimizes strain during use and will allow better leverage when the foot pushes the cores to the ground. It is also built to last with its durable steel construction.
Best Lawn Aerator for 2021
Lawn aeration is essential, but the proper distance between soil piercings is equally important to minimize turf damage and promote absorption of water, air and nutrients. The Brinly Tow-Behind Plug Aerator offers a decent depth of penetration of 3 inches and can relieve hardened and compacted soil in no time. This will surely be a fantastic attachment on your riding mowers or ATVs and you can look forward to a healthy, thick and professional-looking yard.