Getting the best from the many options requires a little knowledge of the technical and economic aspects before you can make a wise choice. It doesn't have to be as complex and tiresome as that may sound. This article contains a step-by-step guide you can employ while choosing your garden hose the next time you decide to buy one.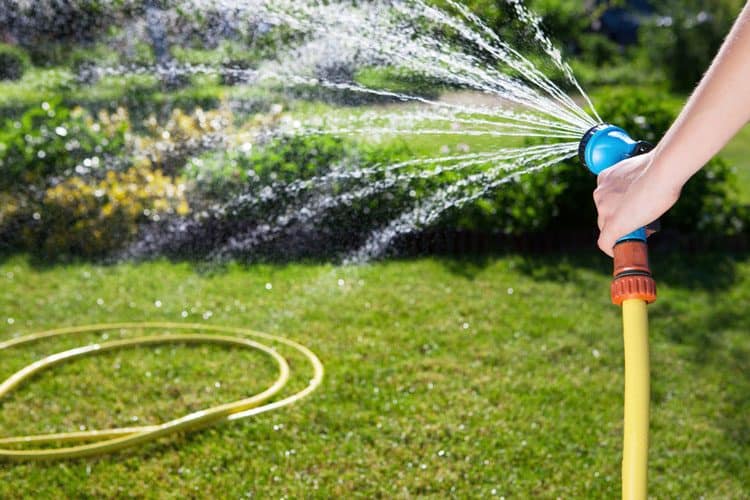 Read Next
What Factors Are Important In Choosing Garden Hose
While looking to learn how to choose the best ​water hose, there are several aspects you have to consider.
1. Durability
The durability of any product depends on the materials used to make it. Regarding garden hoses, the desirable models can withstand different weathers and climates, plus those that last in active usage for many years.
To avoid needing constant repair and purchasing new ones, hoses made of durable materials should be considered first.
2. Garden Size
Naturally, a good garden hose should be able to cover the length and width of your garden or lawn such that you don't have to shift it around in case of movement.
The size of a person's garden, whether in their backyard or not, directly determines the length of the hose needed for an all-around gardening process.
3. Strength
A hose's strength is determined by its burst pressure or the highest pressure at which water flows through it.
Past this pressure, the water is forced out before reaching the nozzle.
Weaker hoses are prone to bursts and leaks in many places, making them disadvantageous.
4. Safety
Gardening can sometimes be dangerous, and so is using a garden hose. The commonest accidents related to garden hoses result from tripping over them in the garden. This usually occurs when very long garden hoses coil up around the garden floor during usage.
5. Usability
There is no point in buying a garden hose that will not prove productive for you or be safe for use with every type of plant.
A good garden hose should be of good length and have fittings that enable it to perform its duties better, such as sprinklers.
It shouldn't damage plants during watering or become impossible to use during temperature extremes.
6. Management
Not all hose types are easy to manage. After using them, most hose types can be left on the ground or hung on a hose reel until they are required next. But some types, such as the coiled hose, come with specialized handling requirements, which may render them difficult to use. A good hose should be easy to manage every day.
You should refer to these factors when looking for the ideal hose. With them in mind, you can then be assured of making a choice that fits you. While choosing a garden hose may sound easy after that, the reverse is true.
Even after knowing how long of a hose they need and understanding their garden, climate, and plant requirements, most people still get the wrong type of hose, resulting in mistakes and accidents. Following our promise to guide you through this situation.
How To Choose The Garden Hose That Suits You Best
Rubber Not Vinyl
Most, if not all, garden hose models today are made of rubber, vinyl, or an amalgam of the two. Naturally, vinyl makes for more lightweight hoses when compared to rubber. But it does come with its downsides too.
Rubber hoses, though heavier, are known for their toughness and adaptation to temperature extremes. While vinyl hoses are more economical than their rubber counterparts, the latter beat them in durability and longevity.
They are also better for more rigorous farming activities and can transport hot water, which vinyl hoses may not be equipped to do. Vinyl hoses come with the disadvantage of constant kinking, twisting, cracking, and eventual breakage, which may require regular patching as the years go by.
Combining the two materials in one hose makes for a reinforced hose that is desirable and highly useful. Such a hose possesses rubber's toughness and vinyl's lightweight, rendering it more applicable for various activities and climates. Its only downside is the harmful chemicals that leach out of reinforced hoses into drinking water.
Garden Size
This is a requirement if you choose the right hose length for your garden. Garden hoses vary in length, diameter, and overall size. Lengthwise, they range from 10 meters and above and usually come in 25-meter increments up to 100 meters.
They also allow for longer variations in particular models. As for diameter, hoses commonly come in variations of ½ to ¾ inches. The ⅝ inch diameter is the most ideal for most garden uses.
Do not get tempted to purchase a much longer hose than you need. Longer hoses are heavier and more prone to puncturing and snagging as you use them. They also risk accidents such as tripping and require more time when rolling back on a hose reel.
Naturally, inadequate (very short) hose lengths also make for a very unsatisfactory watering experience. Try to know the extent of your garden in meters and base it on while determining the length and diameter of the hose to choose.
Test For Kinking
As mentioned above, kinking is one of the commonest problems gardeners face with hoses. To avoid purchasing a hose that kinks every time, it is up to you to test the hoses for flexibility before making an order.
Bend your hose of choice and see if it easily forms a U shape. If it kinks instead, consider another model. All garden hoses indeed kink at times.
But a hose shouldn't kink so often; the action later leads to splitting and expensive damage.
Garden Hose Variations
In addition to the everyday hose model, special variations are designed to improve performance and usability. Most of these variations feature improved systems of watering and water transportation, making them more applicable.
The common variations you'll come across in design include the flat hose, whose main advantage is its flat form that only expands when filled with water. Even though the flat shape makes it easier to handle and store, the hose doesn't work well with corners and needs to be fully rolled out before water can be turned on.
As for watering, the soaker and sprinkler hose types are the ones to choose from. The soaker is commonly used for watering flowerbeds, courtesy of the hundreds of tiny holes on its surface that allow for slow water release, making it less dangerous for delicate plants.
On the other hand, the sprinkler is known for its water release in a rain-like style, making them good for lawns and wider gardening projects.
Take note of some models, such as the coiled hose type, designed to roll back naturally after use. Their main problem is that, by their coiling ability, they tend not to stretch out to their promised length during use and are not easy to handle or hang on hose reels.
Burst Pressure
While inspecting the various hose models, check or ask for their burst pressure first. The speed and flow of water through a hose pipe are directly determined by the pressure at which the water moves.
Different hose pipes are designed with specific pressure limits beyond which they can rupture. When the water pressure exceeds the hose's pressure limit, the hose cracks, letting water escape. Ideally, a burst pressure above 350 psi is desirable for everyday gardening.
Safe For Drinking
To make them more flexible, some garden hoses are manufactured using materials such as plasticizers that contain harmful chemicals such as lead and BPA.
These always dissolve in the water, making it dangerous for drinking by humans. If you tend to drink water from your hose, look for hoses specifically branded as lead-free or drinking water safe. They are designed with materials that are not harmful and do not dissolve in water.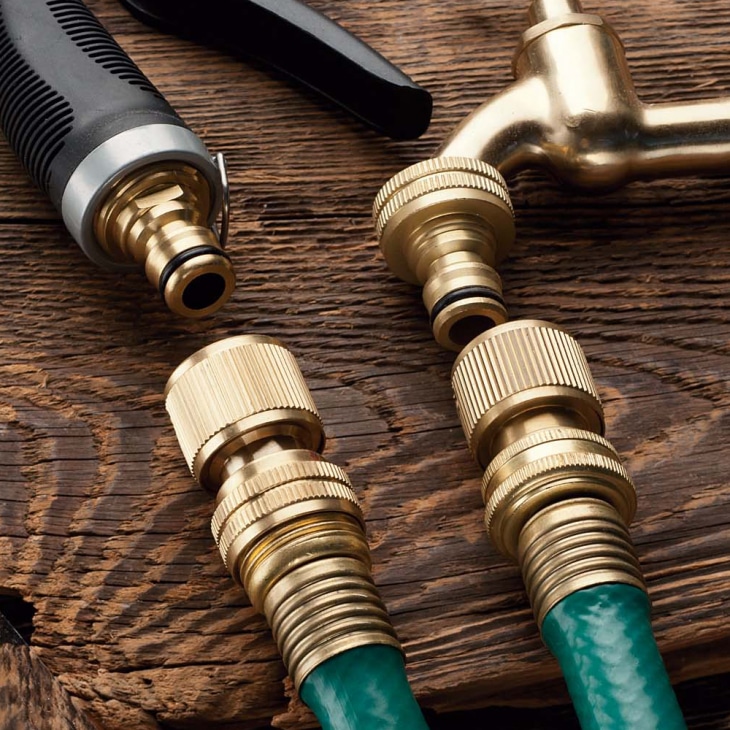 Examine The Fittings/Couplings
Garden hoses are designed with end pieces called couplings that connect the hose pipe to sprinklers, nozzles, and spigots.
Ideally, you should look out for cast brass couplings since they are ideal for most gardens, mostly because they are not prone to leaking and are more long-lasting.
Look out for the octagon-shaped cast metal couplings that allow easier tightening with a wrench. Plastic couplings are your next available alternative if you are on a budget.
They often come with cheaper hoses but can always be replaced. But like any cheap product, plastic couplings come with their disadvantages. They are prone to leaks, cracks, and breakage and tend to pose a problem when tightening.
The other alternative you're most likely to come across are the metal couplings, which are more popular than their plastic counterparts. They are usually cast or stamped, with stamped metal being thicker than cast metal. Thinner metal provides trouble in tightening at the spigot and easily gets deformed when stepped on.
When choosing the best garden hose, you might want a few ideas about the top-ranking models available.
Conclusion
Finally, choosing the ​finest garden hose for your gardening tasks does not have to be as hard as it sounds. Many hose types on the market are designed with ideal qualities, and picking them out should be easy with the above tips and tricks. Happy gardening!