Coral honeysuckle (Lonicera sempervirens) is a native North American plant known for its striking tubular flowers, versatility, and wildlife-friendly nature. This article explores the characteristics, cultivation, and benefits of this beautiful, fast-growing vine.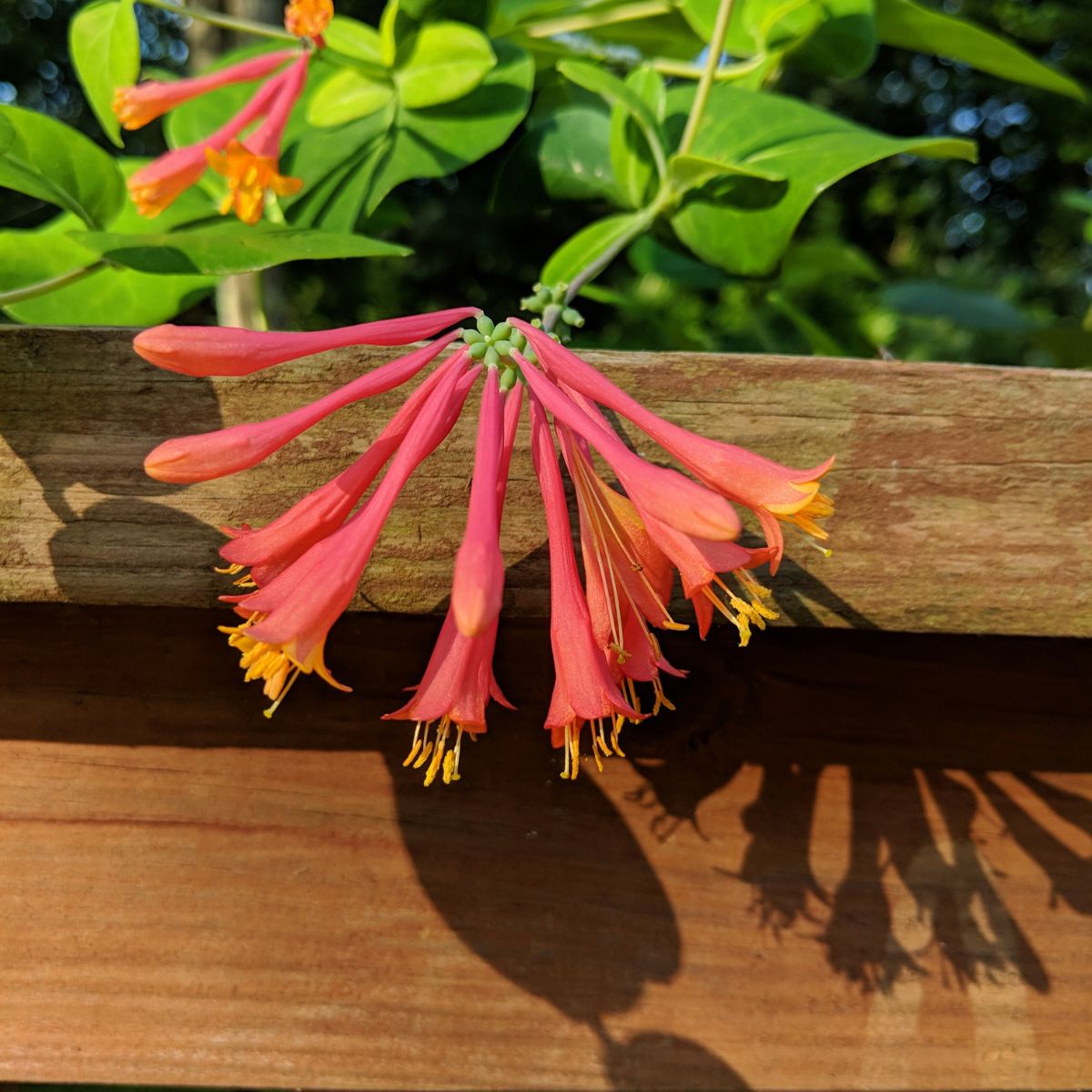 Read Next
Coral Honeysuckle Characteristics
Appearance: Coral honeysuckle is a twining vine that can grow up to 20 feet in length. It features dark green, oval leaves and trumpet-shaped, red, or orange flower clusters.
Flowering Season: This plant blooms from late spring to early summer, with sporadic flowering throughout the remaining growing season. Its flowers are followed by red to orange berries that attract birds.
Fragrance: Though not as fragrant as its cousin, the Japanese honeysuckle, coral honeysuckle still produces a mild, sweet scent that is particularly noticeable in the evening.
Wildlife Benefits: An essential source of nectar for hummingbirds, bees, and butterflies. Its berries also provide food for various songbirds.
See my article on how to attract hummingbirds.
Ideal Growing Conditions
Hardiness Zones: Coral honeysuckle thrives in USDA hardiness zones 4 to 9, making it suitable for a wide range of climates.
Soil Preferences: This vine prefers well-draining, loamy soil but can also tolerate sandy or clay soils. Soil pH should be slightly acidic to neutral.
Sunlight Requirements: Grows best in full sun to partial shade. It should receive at least six hours of sunlight daily for optimal flowering.
Planting and Cultivation
Planting Tips: Plant in the spring or fall. Choose a location with suitable sunlight and room for the vine to grow and climb.
Supporting Structures: Requires a supporting structure, such as a trellis, fence, or pergola, to climb and display its full beauty.
Watering Needs: Water the plant regularly during the first growing season to establish a deep root system. Afterward, coral honeysuckle is relatively drought-tolerant.
Fertilizing: Fertilize with a balanced, slow-release fertilizer in early spring and again in mid-summer to promote healthy growth and flowering.
Pruning: Prune in late winter or early spring to maintain its shape, encourage bushier growth, and remove any dead or damaged stems.
Propagation Methods
Cuttings: Can be propagated through softwood cuttings taken in late spring or early summer. Root the cuttings in a well-draining medium, and keep them moist until established.
Layering: Another propagation method is layering, in which a low-growing stem is partially buried in soil until it forms roots. Once rooted, it can be cut from the parent plant and transplanted.
Uses in the Garden
Ornamental Vine: Coral honeysuckle's colorful flowers and fast growth make it a popular choice for adding vertical interest and a burst of color to gardens and landscapes.
Wildlife Habitat: Planting coral honeysuckle supports local wildlife, as it provides a valuable food source for pollinators and birds.
Container Planting: With proper support, it can be grown in containers, making it suitable for patios, balconies, or small gardens.
Erosion Control: Coral honeysuckle's dense growth and the extensive root system can help control slope and bank erosion while providing a visually appealing ground cover.
Coral Honeysuckle vs. Japanese Honeysuckle
Invasive Concerns: Japanese honeysuckle (Lonicera japonica) is an invasive species that can outcompete native plants and harm ecosystems. In contrast, coral honeysuckle is native to North America and poses no such threat.
Fragrance: While Japanese honeysuckle is known for its intense fragrance, coral honeysuckle's scent is milder, providing a subtler olfactory experience.
Flower Color: Japanese honeysuckle typically has white or cream-colored flowers that turn yellow with age, while coral honeysuckle boasts vibrant red or orange blooms.
Potential Pests and Diseases
Powdery Mildew: Can be susceptible to powdery mildew, a fungal disease that appears as a white, powdery coating on leaves. To prevent this, ensure proper air circulation and avoid overhead watering.
Aphids: Aphids may infest it, but they can be controlled with insecticidal soap or by encouraging beneficial insects, like ladybugs, that prey on them.
Leaf Spots: Leaf spots, caused by fungi or bacteria, can affect coral honeysuckle. Remove affected leaves and avoid overhead watering to minimize the risk of disease.
Coral Honeysuckle Companion Plants
Climbing Roses: Pair coral honeysuckle with climbing roses to create a stunning, multi-colored display on a trellis or pergola.
Clematis: With their large, showy flowers, Clematis vines complement the tubular blooms of coral honeysuckle for a striking combination.
Native Perennials: Plant coral honeysuckle alongside native perennials, like coneflowers or black-eyed Susans, to create a beautiful, pollinator-friendly garden.
Conclusion
Coral honeysuckle is a vibrant, versatile, and wildlife-friendly vine that deserves a place in every garden. Its stunning flowers, ability to attract pollinators, and ease of cultivation make it a valuable addition to various garden settings. By understanding coral honeysuckle's characteristics, growing conditions, and care requirements, gardeners can enjoy the many benefits this beautiful native vine offers.