Red, the color of love and passion, is a common choice for gardeners. Its vibrancy adds a touch of energy and warmth to any garden. The beauty of red flowers spans a broad spectrum of shades and forms.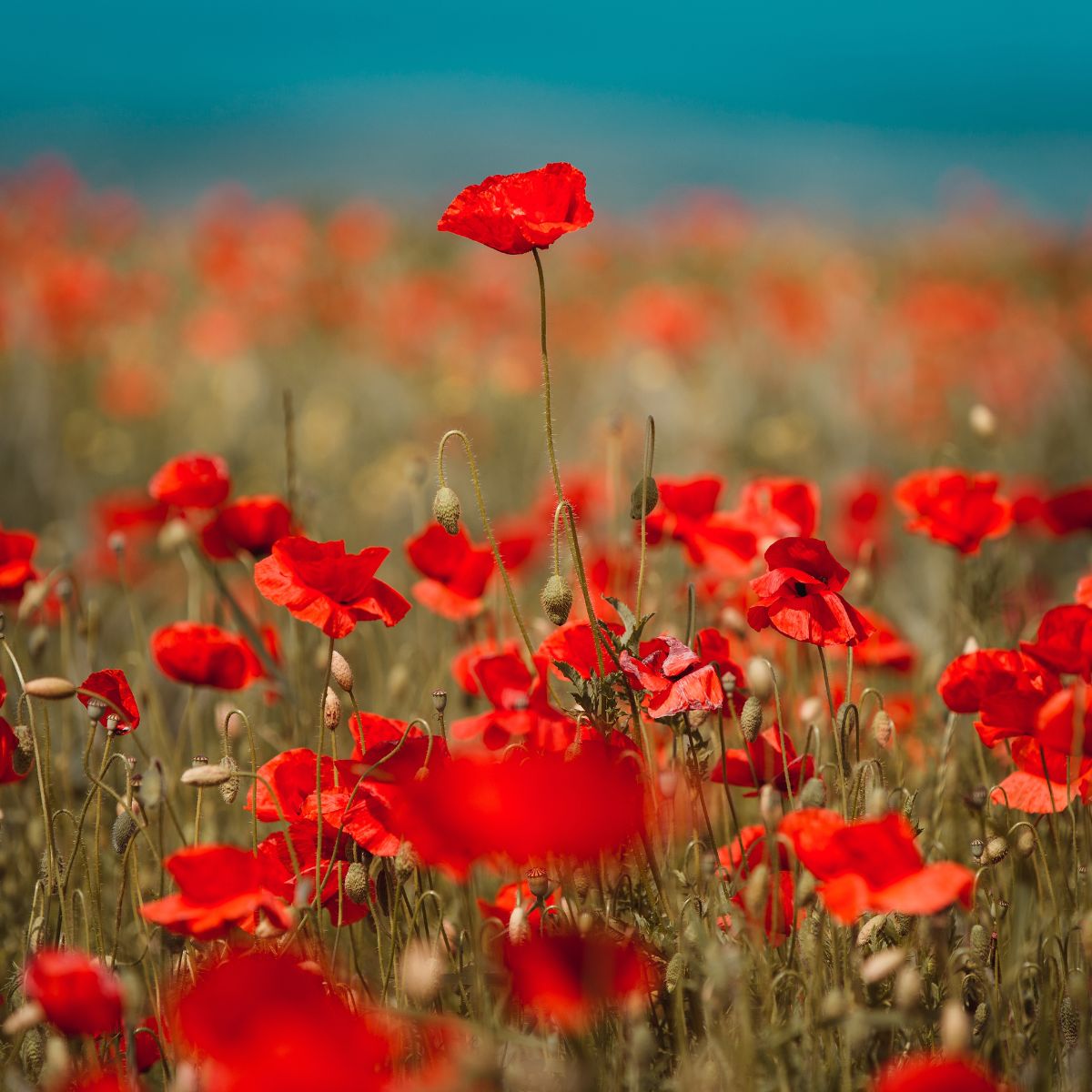 Read Next
1. Roses: The Classic Symbol of Love
Consider the timeless rose (Rosa spp.). Its crimson blooms are symbols of love worldwide. With many species and cultivars, roses offer endless possibilities for garden design.
2. Poppies: Bright and Breathtaking
Next, we have the poppy (Papaver spp.). Its red petals are striking and delicate. They can create a vibrant display in any garden setting, evoking feelings of remembrance and respect.
3. Begonias: Tuberous Treasures
Tuberous begonias (Begonia tuberhybrida) have red flowers that are show-stoppers. Their blooms are full and vibrant, making a powerful visual impact. They also prefer shady areas, offering color where few plants can thrive.
4. Red Lilies: Exotic and Eye-catching
Red lilies (Lilium spp.) are another stunning choice. Their large, trumpet-shaped flowers are exotic and bold. They add vertical interest to the garden, reaching impressive heights.
5. Cardinal Flower: Nature's Beacon
The cardinal flower (Lobelia cardinalis) is a native North American beauty. It features tall spikes of deep red flowers. It's a favorite amongst hummingbirds, attracting these delightful pollinators.
6. Dahlias: Dramatic and Diverse
Dahlias (Dahlia spp.) are incredibly diverse. From small pompom types to large dinner-plate dahlias, their red flowers are dramatic. They make excellent cut flowers, lasting long in vases.
7. Geraniums: Reliable and Resilient
Geraniums (Pelargonium spp.) are well-loved for their resilience. They provide reliable blooms of red throughout the growing season. Their easy-care nature makes them a popular choice for beginner gardeners.
8. Peonies: Lush and Luxurious
Peonies (Paeonia spp.) are treasured for their lush, fragrant blooms. Their red varieties are particularly captivating. Peonies create a luxurious display when planted in mass, perfect for a cottage-style garden.
9. Red Tulips: Springtime Stars
Red tulips (Tulipa spp.) are classic springtime flowers. They are an excellent way to add a pop of color after a long winter. They create an appealing contrast when planted among yellow or white flowers.
10. Amaryllis: Indoor Wonder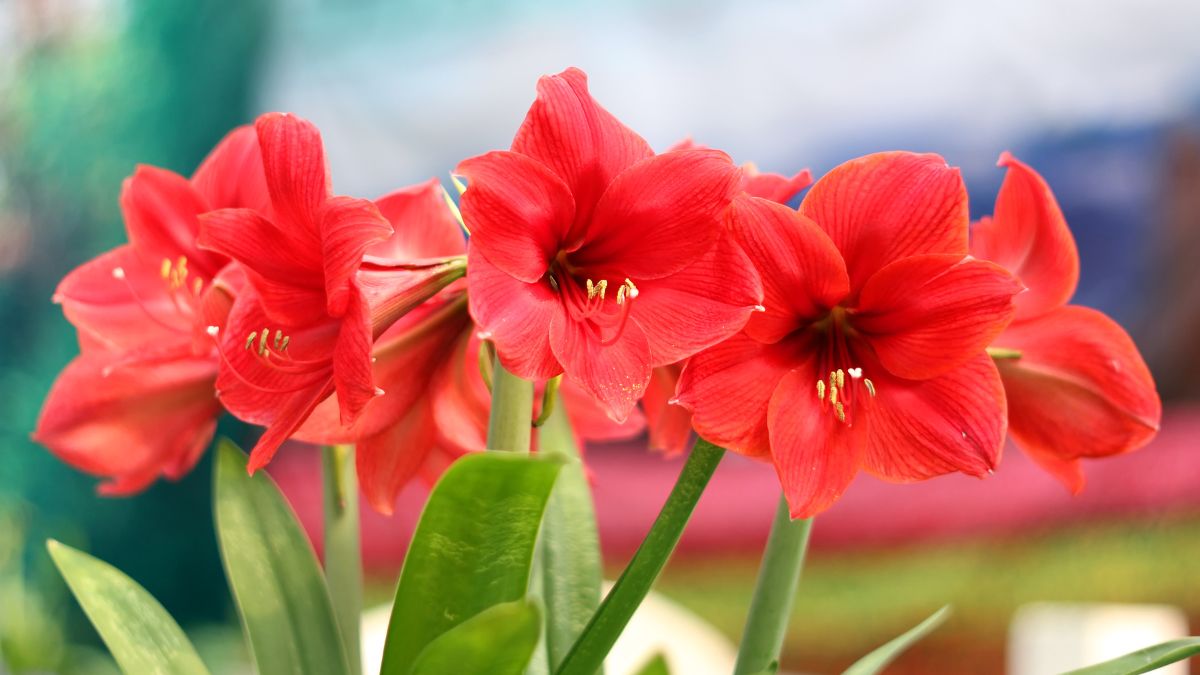 The amaryllis (Hippeastrum spp.) is an indoor favorite. Its large, trumpet-shaped red flowers are breathtaking. It's a delightful sight during the colder months when outdoor color is scarce.
11. Japanese Maple: A Foliage Showstopper
The Japanese Maple (Acer palmatum) isn't a flower, but it's worth mentioning. Its red leaves can provide a floral-like show. The tree creates a brilliant, long-lasting display throughout the seasons.
12. Red Sunflowers: A Twist on the Traditional
Red sunflowers (Helianthus annuus) offer a surprising twist on the traditional yellow blooms. Varieties like 'Moulin Rouge' and 'Red Sun' provide dramatic, deep-red flowers that are stunning.
13. Zinnias: Bright Summer Blooms
Zinnias (Zinnia elegans) are popular for their bright summer blooms. Their red varieties are particularly attractive, creating a sea of red when planted in mass.
14. Crocosmia: Fiery and Unique
Crocosmia, specifically the 'Lucifer' variety, features bold red, arching flower spikes. The unique flower form adds interest and a fiery color to the garden.
15. Fuchsia: Two-Tone Wonders
Fuchsias (Fuchsia spp.) are known for their pendulous, two-tone flowers. The red and purple combination is a garden showstopper. They're perfect for hanging baskets or containers.
16. Salvia: Hummingbird Magnet
Red salvia (Salvia splendens) is a bedding plant favorite. Its bright red, tubular flowers are a magnet for hummingbirds. It's a great choice for adding color to garden borders.
17. Canna: Tropical and Bold
Canna lilies (Canna spp.) bring a tropical flair with their large leaves and bold flowers. Red-flowering varieties, like 'President,' make a statement in any garden.
18. Celosia: Unusual and Striking
Celosia (Celosia argentea) is valued for its unusual flower form. The 'Cockscomb' variety has vibrant red, crested flowers that are both whimsical and striking.
19. Camellia: Winter Blooms
Camellias (Camellia japonica) offer winter color when most plants are dormant. The deep-red flowers of varieties like 'Blood of China' are particularly eye-catching against the glossy, dark-green leaves.
20. Poinsettia: Holiday Favorite
No list of red flowers is complete without the poinsettia (Euphorbia pulcherrima). This plant, with its bright red bracts, is a holiday favorite, associated with Christmas celebrations worldwide.
Conclusion: The Continual Allure of Red Flowers
Whether you choose red sunflowers, crocosmia, or the holiday favorite poinsettia, red flowers will always captivate. Their versatility in form, size, and bloom time offers options for every garden. Experiment with red flowers and experience the energy and warmth they bring to your garden.