Sticky Monkeyflower (Diplacus Aurantiacus), also known as Orange Bush Monkeyflower, is a charming and versatile native plant that can be found throughout California and the southwestern United States.
Known for its vibrant orange flowers and adaptability to various environmental conditions, Sticky Monkeyflower is a popular choice for water-wise gardens, wildlife habitats, and native plant landscapes.
This article will explore the characteristics, growing requirements, and uses of Sticky Monkeyflower in the garden.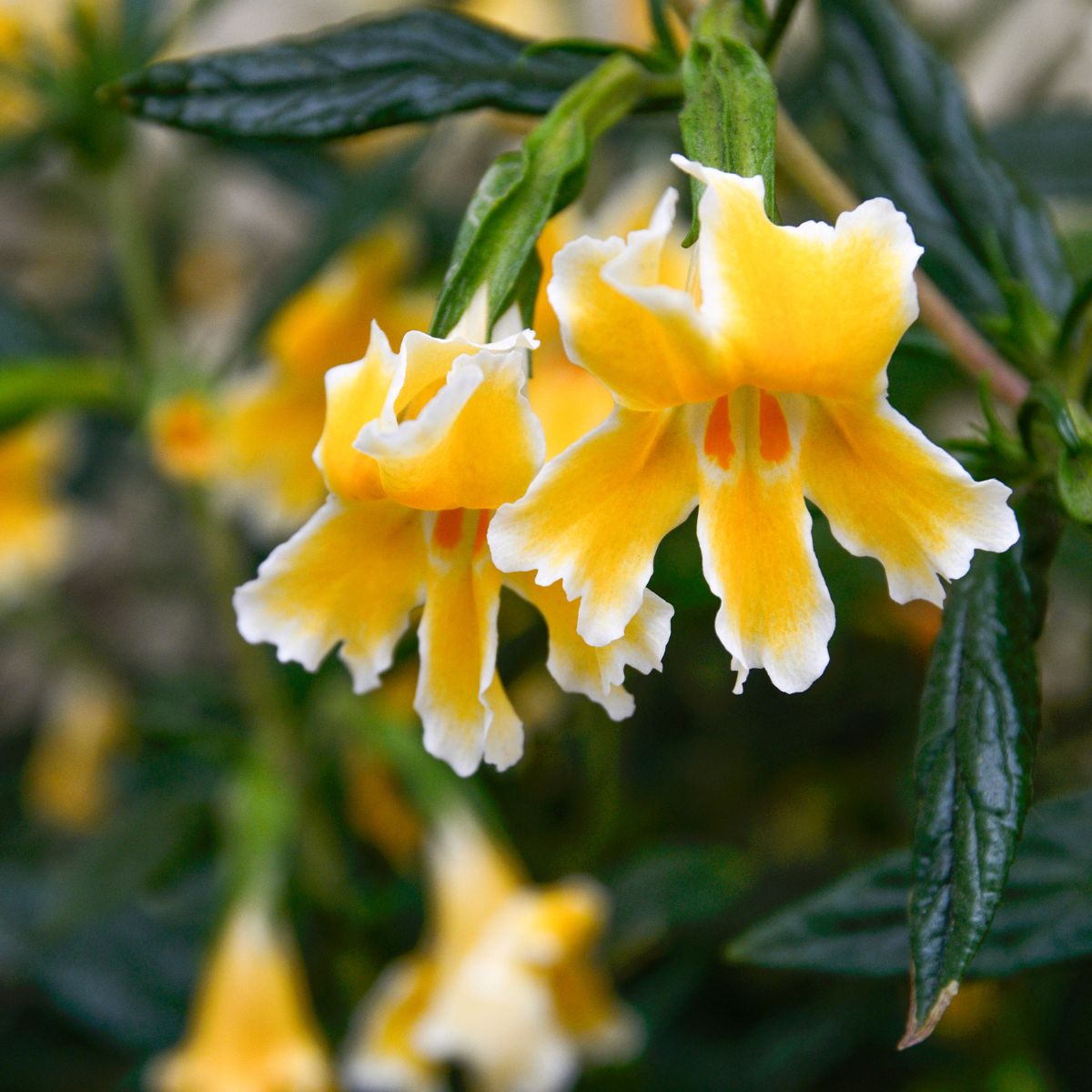 Read Next
Description and Characteristics
The sticky Monkeyflower is a perennial shrub belonging to the Phrymaceae family. It typically grows 1-4 feet tall and wide, with a rounded, bushy growth habit. The plant's most striking feature is its vibrant orange, tubular flowers that bloom from spring through early summer.
Each flower is approximately 1 inch long and features two lips, with the lower lip having three lobes.
The plant gets its name from the sticky hairs covering its leaves and stems, which help deter herbivores and conserve water. The leaves are narrow and lance-shaped, ranging from 1-2 inches long and having a dark green color. The plant is drought-tolerant, making it well-suited for low-water landscapes and xeriscapes.
Growing Requirements
An adaptable plant that can thrive in various environmental conditions. To grow Sticky Monkeyflower successfully, consider the following growing requirements:
USDA Hardiness Zones: Sticky Monkeyflower is suitable for USDA hardiness zones 7-10.
Light: The plant prefers full sun to partial shade, with at least 4-6 hours of direct sunlight per day.
Soil: Sticky Monkeyflower can tolerate a wide range of soil types, including sandy, loamy, and clay soils. However, well-draining soil is essential to prevent root rot.
Water: While drought-tolerant, Sticky Monkeyflower benefits from regular watering, especially during its first year. Once established, it can tolerate extended dry periods.
Fertilizer: Sticky Monkeyflower typically does not require fertilization, as it can grow in nutrient-poor soils. If desired, apply a slow-release, balanced fertilizer in early spring.
Pruning: Prune the plant after flowering to encourage bushiness and prevent legginess. Remove dead or damaged branches as needed.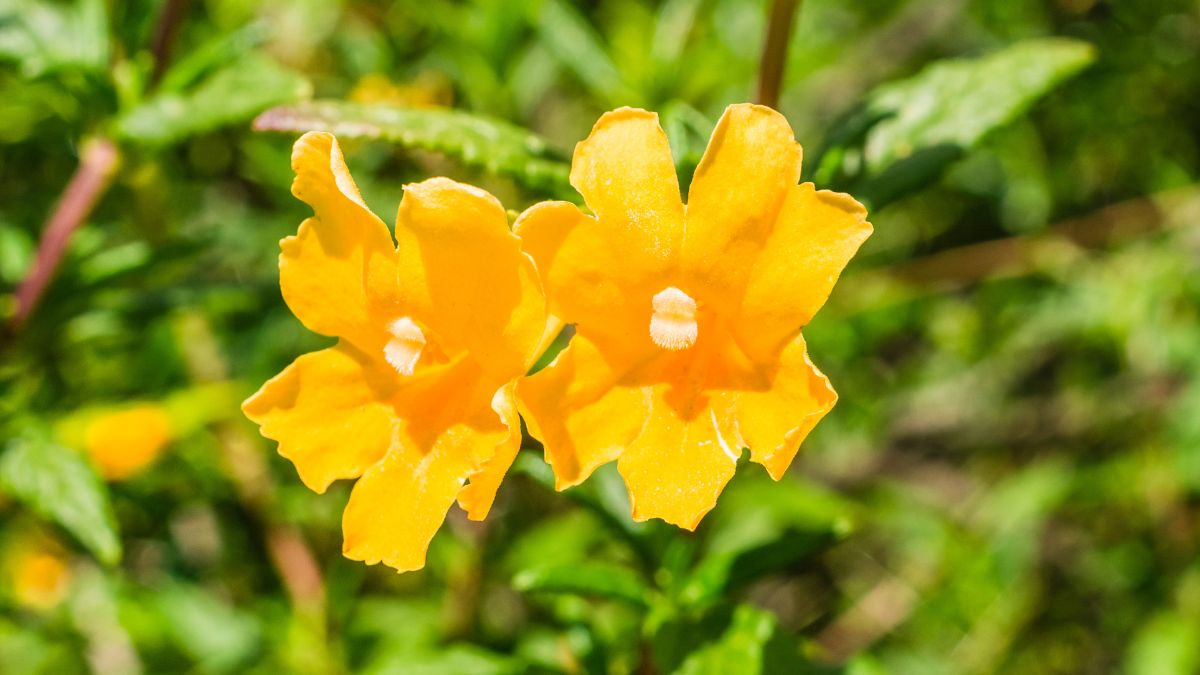 Propagation
Seed, cuttings, or division can propagate Sticky Monkeyflower. Follow these guidelines for successful propagation:
Seed: Sow seeds in fall or early spring in a well-draining soil mix. Keep the soil consistently moist until germination, which can take 3-4 weeks. Transplant seedlings to their final location once they are large enough to handle.
Cuttings: Take softwood cuttings in late spring or early summer. Dip the cut end in rooting hormone and insert it into a well-draining soil mix. Keep the soil consistently moist until roots develop, which can take 4-6 weeks.
Division: Divide the plant in late fall or early spring, carefully separating the root ball into smaller sections. Replant the divisions in their desired location and water thoroughly.
Landscape Uses
Sticky Monkeyflower's bright, showy flowers and adaptable nature make it a versatile addition to a variety of garden styles and designs. Consider using it in these landscape uses:
Native Plant Gardens: Incorporate Sticky Monkeyflower into a native plant garden, where it will thrive alongside other drought-tolerant California natives.
Wildlife Gardens: The plant's tubular flowers attract hummingbirds, bees, and butterflies, making it a valuable addition to a wildlife garden or pollinator-friendly landscape.
Xeriscapes: Sticky Monkeyflower is an excellent choice for water-wise gardens, as it requires minimal water once established.
Rock Gardens: The plant's adaptability to various soil types makes it suitable for rock gardens, where it can grow in crevices and add a pop of color.
Mixed Borders: Plant Sticky Monkeyflower alongside other perennials, shrubs, and ornamental grasses to create a vibrant and dynamic mixed border.
Erosion Control: The plant's extensive root system can help stabilize slopes and prevent erosion, making it an excellent choice for hillside plantings.
Container Gardens: Sticky Monkeyflower can be grown in containers, adding color and interest to patios, balconies, or other outdoor spaces.
Companion Plants for Sticky Monkeyflower
When choosing companion plants, consider plants with similar growing requirements and a complementary appearance. Some good companion plants include:
Salvia (Salvia spp.): These drought-tolerant perennials offer a variety of colors and forms, making them excellent companions for Sticky Monkeyflower.
California Fuchsia (Epilobium canum): This native plant boasts vibrant red-orange flowers that complement Sticky Monkeyflower's blooms while providing additional habitat for hummingbirds.
Yarrow (Achillea millefolium): Yarrow's feathery, fern-like foliage and flat-topped flower clusters contrast Sticky Monkeyflower's leaves and tubular flowers.
Blue-Eyed Grass (Sisyrinchium bellum): This native perennial offers grass-like foliage and delicate blue flowers, subtly contrasting Sticky Monkeyflower's bold appearance.
Toyon (Heteromeles arbutifolia): This native shrub provides evergreen foliage and bright red berries, offering year-round interest and a contrasting backdrop for Sticky Monkeyflower's vibrant blooms.
Pest and Disease Management
Sticky Monkeyflower is generally resistant to pests and diseases. However, proper cultural practices can help prevent issues:
Ensure well-draining soil to avoid root rot.
Space plants properly to allow for adequate air circulation, reducing the risk of fungal diseases.
Monitor for pests such as aphids, which can be treated with insecticidal soap or neem oil.
Remove and dispose of any affected plant material to prevent the spread of diseases.
Conclusion
Sticky Monkeyflower (Diplacus aurantiacus) is a captivating and adaptable native plant that brings a burst of color and texture to various garden settings. With its bright orange flowers, drought tolerance, and ability to attract pollinators, Sticky
Monkeyflower is an excellent choice for creating a vibrant, low-maintenance, and environmentally friendly garden.
By understanding its growing requirements, propagation methods, and landscape uses, you can successfully incorporate Sticky Monkeyflower into your garden and enjoy its striking beauty for years to come.