As spring comes on at a pace, the obvious signs of the season's growth become apparent the onset of various natural occurrences. These include the thickening of undergrowth along walkways, while ponds, backyards, and lawns suddenly start disappearing from the view. More often than not, you will have to clear this vegetation for aesthetic reasons.
That said, commercial landscapers and operators, including council workers, are not a convenient solution for you at this point. Equipped with a practical brush cutter, you can easily complete this job and restore your lawn.
Options such as flail or scythe mowers are ideal but are, in some cases, too massive to access mixed undergrowth in your garden. It is in these situations that a good brush cutter comes into play. Compact, lightweight, and easy to maneuver, a brush cutter makes up for the perfect way to trim your lawn.
Best Grass Shears from A Glance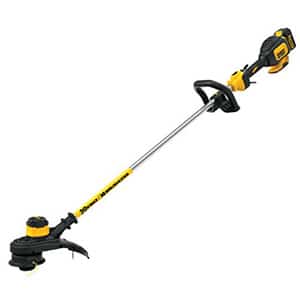 Best Overall
DEWALT DCST920P1 Brushless Trimmer
Best Compact
WORX WG170 GT Revolution 20V 12" Grass Trimmer/Edger/Mini-Mower
Best for Ease of Use
Troy-Bilt TB42 BC 27cc 2-Cycle Gas Brushcutter with JumpStart Technology
Best Durable
Worx WG801 20V Shear Shrubber Trimmer, Battery and Charger Included
What is the Difference Between A Brush Cutter and A-Line Trimmer?
A brush cutter is a tool with a straight shaft, and also features a cutting or mowing heat on one end. In some cases, the tool even features a power unit such as a motor or petrol engine for the cutting process. On the contrary, a line trimmer is a tool that has a bent shaft, which is integrated into a nylon cutting line and with a power unit similar to a brush cutter with a straight shaft.
The benefit of owning a straight shaft brush cutter is that it can deliver more power from the engine to the cutting tool. Usually, the tool features a metal blade and nylon line, which is fed from a spool. The metal blade works best for clearing mature and abundant vegetation such as nettles, bramble, and fibrous undergrowth.
A line trimmer features a ben shaft, which might not transfer adequate power to the straight shafted machine. That said, it tends to be more accurate when you want to clear the grass around obstacles, such as plant containers, flower beds, and more. This all thanks to the fact that such tools have a curved structure around the shaft area. A line trimmer is only compatible with a nylon cutting line, whereas a brush cutter works well with both a nylon cutting head and a metal blade.
​Brush Cutter FAQ
Brushcutters are useful for cutting thick undergrowth and grass. They are suitable for lawns, yards, patios, and even for professional cutting purposes. Consider these common questions when buying a brushcutter:
Q. Do you want a brush cutter for professional use?
A. For professional use, ensure that you go for a tool that offers longevity in use. Thus, the tool is suitable for the work you want to do. There are various high-end brands you can consider when it comes to buying brush cutters for your needs.
Q. Which sizes do you want to pick?
A. For professional purposes, ensure that you go for a brushcutter that has proper size. Instead of going for the most robust model, go for a tool that is up to the task. A tool with a powerful motor will cut through thick vegetation way easily. However, a durable machine is massive, and you have to strike the right balance between these features. As a professional, you may want to own many brush cutters types to make things easy.
Q. How easy is it to use?
A. When buying a brush cutter, ensure that you also consider how comfortable the tool is to use. Usually, you want to check for features such as removable trimmer heads, ergonomic handles, and more. Also, ensure that it's easy to change the line, especially when you want to use a trimmer head to feed the tool.
Features of The Best Brush Cutter
Motor power – check the motor power of your chosen brush cutter, and determine whether its adequate for cutting brush in your yard. The maker of the tool will indicate these metrics on the side of the tool. If it's a petrol-powered cutter, check the engine CC rating.

Design ergonomics – a good brush cutter is also comfortable on the hands, and easy to use, especially when you have several projects to handle

Ease of use – the brush cutter should be easy to assemble and feature well-positioned tools to make machine customization easy.

Tool brand – there are several common brush cutter brands you can consider. The common ones include DEWALT, Husqvarna, Troy-Bilt, and more.
Factors to Consider
Consider your needs first before you buy this type of power tool. Here are some few tips to get you started:
Go for a machine that is powerful enough for your lawn or yard maintenance projects

Get proper gloves or equip your machine with a harness for your convenience

Consider getting one with an angled handlebar, to ensure the load balance on your back is correct

The tool should also have vibration dampening features, especially if you have to use it regularly

Get a handlebar, which you can fold down for convenient and easy transport

Buy your machine for a dealer who can provide useful accessories for cutting brush
​Top 7 Brush Cutter Reviews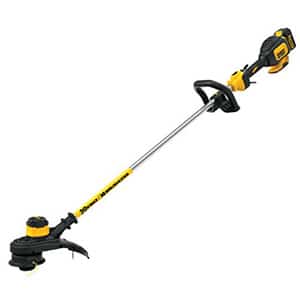 Discover the excellence of the DEWALT DCST920P1 Brushless Trimmer, which is perfect for various types of cutting. Featuring a brushless motor, this unit offers optimal motor efficiency and durability benefits. Even more, the dual 0.080 line with bump feed, makes this unit easy to use each time. More so, the variable trigger with speed control lets you adjust the functionality of the brush cutter to suit your needs. The patented gear drive design also offers an exceptional RPM level of 0-4,600 rpm.
While the DCST920P1 Brushless Trimmer might be compact, it works well in small spaces and can cut through the thickest brush. Furthermore, it even comes with ergonomic handles, which sit well in your hands during cutting projects.
You will even appreciate the individual LEDs on the brush cutter, which makes it convenient for various forms of lawn care applications. The makers of this unit seemed to have noticed the importance of being able to maintain optimal control of your power tool. Thus, this unit comes with various convenient features to make it ideal for cutting vegetation.
PROS
Brushless motor maximizes motor efficiency
Dual 0.080 line with bump feed
13-inch cutting swatch
Variable trigger with speed control
CONS
Could use better switches for ease of use
The variable trigger is not durable
The Husqvarna 967055801 324L is an excellent addition to your brush cutting regimen. Equipped with a 25-cc four-cycle engine, which powers the 18-inch trimmer head, you can be sure of a reliable tool for your needs. It even runs on unleaded gas, and will not require any mixing of fuel and oil during operation. You can also easily release the new trimmer line as you work, by tapping the head against the line. Such an action will help to activate the tap n Go line to make things convenient.
The makers of this unit have done well to include a translucent fuel tank, which makes it easy to check the fuel level. You can also conveniently remove unwanted air from the carburetor and fuel system by using the air purge primer. Even more, this sturdy unit can tackle grass and weeds in your yard with exceptional results.
The smart trimmer technology does well to reduce cord resistance by as much as 40%. Thus, you will enjoy convenient engine starts, and the sturdy braided trimmer line is also ready to tackle any type of brush. The Brush Cutter also features a straight shaft design, to offer enhanced reach, especially when cutting under bushes.
PROS
25 CC 4 cycle engine powers 18-inch trimmer head
Trimmer engine runs on unleaded gas
Translucent fuel tank makes it easy to monitor fuel level
Air purge primer bulb is convenient
CONS
When a string trimmer is not suitable for the job, you can rely on the Troy Bilt TB42 BC 27CC gas brushcutter as an excellent solution for your needs. This unit features a powerful 27 cc full crank engine, with Jump Start functionality.
Thus, you don't ever need a pull cord to activate the functionality of the machine. More so, the makers of this unit have also done well to include an adjustable J handle that ensures optimal control, regardless of whether you are right or left-handed.
The TB42 Gas Brush Cutter is perhaps one of the most powerful tools for cutting brush. It features durable components, including a premium engine, high quality grade box, steel tip blade, to ensure years of reliable tool performance.
The inclusion of an 8- and 4-inch steel brush blade lets you tackle the thickest of vegetation with ease. On top of that, the capable attachment design enables the trimmer to engine power as many as ten different attachments. Thus, you can enjoy turning your trimmer into a garage full of tools.
With the unique foot pedal automatic CVT, you are sure of a tool that is easy to use, regardless of the cutting required on your lawn.
PROS
Premium 27 cc two-cycle full crank engine
Comes with adjustable J handle for optimal control
8 inch and 4-inch steel brush blade for dense vegetation
Attachment capable design makes this tool highly convenient to use
CONS
27 cc engine produces some noise in operation
Should be easy to attach accessories on this unit
When it comes to property maintenance, you want to go for the tools which offer exceptional performance. Thus, the Husqvarna Gas Straight Shaft Trimmer can be an excellent recommendation for you at this point. Why? Well, it can help to keep your lawn, pathways and flower beds looking appealing. This unit comes with a clearly defined edge, which makes the cultivator suitable for use in small areas such as flower beds.
On top of that, the inclusion of a pole sow on this unit offers extra reach, even when you want to get to those hard to reach limbs. The machine also features SmartStart Trimmer Technology, which reduces the starter cord resistance by as much as 40%. Furthermore, the straight shaft design ensures improved reach underneath the bushes, and those had to reach locations.
Weighing in at just less than 10 pounds, the 128LD brush cutter is simple to use, and it even features a detachable shaft. With such a unique combination of features, it's easy to see why this tool offers optimal freedom for tackling various types of outdoor jobs.
This trimmer is also easy to store and transport, all thanks to the detachable head function. As part of a smart multi-tool family, the 128LD string trimmer power base is compatible with as many as three clicks on attachments.
PROS
Lightweight and multipurpose tool suitable for home use
Detachable shaft for convenient storage and transport
Stop switch which resets automatically to the on position
Versatile cutting guard which you can use with grass blades
CONS
The cutting guard does not cover the entire blade
Detaching the shaft needs lots of power
Make the most of your brush cutting projects when you have the WORX WG170 GT Revolution Mini Mower. This unit offers 3 in 1 flexibility, to make it a dynamic and suitable solution for your needs. For instance, it can convert from a precision string trimmer to a robust inline wheeled edger, to a simple to use mini mower. Furthermore, this tool is also a foot longer than the conventional Worx tool, thus making it easy to use.
The inclusion of the innovative command feed spool system provides instant line feeding, and minimal downtime thanks to the new spool holder. Equipped with two 20v power share batteries, you always have adequate time to get your machines running and charging. An adjustable space guard helps to protect vegetation, and also lets the tool act as an edger guide. Thanks to the front auxiliary handle with seven locking adjustments, this tool offers optimal comfort as you trim and edge.
The WORX brand has undoubtedly set the bar high when it comes to producing quality brush cutters for DIY use. Why? Well, the combination of features on this unit makes it a stand out performer. It even has telescopic shafts, which you can adjust to the height and posture of the user.
PROS
3 in 1 tool makes up for a dynamic cutting product
A full foot longer than its predecessor
Adjustable space guard protects ornaments and flowers
Rubberized twin wheelset for optimal tool control
CONS
The space guard is not durable
The tool is somewhat heavy for some
Realize what you have been missing when it comes to cutting brush at home when you have the WORX WG261 Hedge Trimmer. Light but sturdy, this unit makes up for an excellent addition to your property maintenance tool collection. While it's compact, it has a long handle, which can easily make short work of hedge trimming duties. You will appreciate that it has a 22-inch cutting range, that is ideal for flat tops and long even sides. That said, it's still nimble enough to cut around corners while providing improved balance.
The unique D grip handle also makes it easy to hold the tool from almost any angle. More so, the unique design of this unit also provides you with the leverage to maintain it from any position, while improving user performance. You will also appreciate the dual-action blades that cut once and then catches the edges again on the way back for powerful performance.
The ¾ inch blade gaps also get around branches and rip through them to make tool use convenient. More so, the unique over-mold construction on the grips absorbs all the power of the machine, such that you won't ever feel a thing. Thus, you can enjoy a smoother cut and very little fatigue on your arms or hands.
PROS
22-inch cutting range suitable for flat tops
Grab n Go d grip handle makes it easy to cut from any position
Dual-action blades cuts once
Designed to absorb vibration when in use
CONS
Realize what you have been missing when it comes to trimming and cutting brush at home when you have the Worx WG801 Trimmer. This unit comes with dual action blades, that can provide professional trimming results each time. Furthermore, the compact, lightweight, and over-mold soft grip handle provide optimal user control. You will also appreciate the fact that this unit has as many as 8 inches of hedge to make it ideal for different types of cutting.
The inclusion of a sheath guard protector offers added safety, especially when you want to store the charger. With its compact and efficient design, the Worx WG801 can quickly and easily various types of trimming around your yard. The makers of this unit also seemed to have noticed the people prefer using simple tools.
Thus, this unit makes it easy to switch instantly from the 4-inch grass shear blade to the 8-inch shrubbery for optimal convenience. It's a tool that is part of the power share platform, which lets you enjoy convenient power and ease of use for your tools.
PROS
Dual-action blades for professional trimming
Compact, lightweight and over-mold soft-grip handle
Comes with 8 inches shrubbery and shear blades
Sheath guard protection for optimal safety during storage
CONS
The blades are not easy to reach during maintenance
Could use improved handle ergonomics
Finally
Being able to keep your lawn, yard, or patio neat is a good venture. You don't have to spend hundreds of dollars on repair service. With the best brush cutter, you can make quick work of most types of brush, grass, bushes, and more. Before investing in a suitable cutter for your needs, you have to ensure that you determine your needs. Check the nature of plants that you have to cut, and whether you need a powered or manual grass cutter.
The options are endless when it comes to choosing these types of tools for your needs. We have developed this guide to help you choose an excellent tool that offers the best value for money.