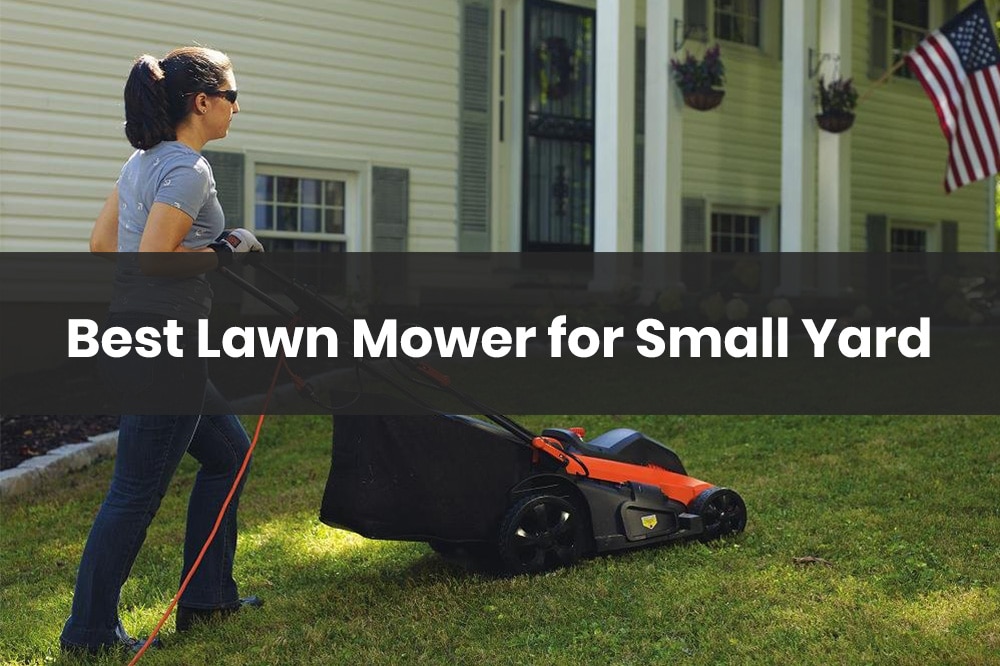 8 Best Lawn Mower for Small Yards – Buyer's Guide
What happens when you want a convenient solution for cutting grass and keeping your small yard in pristine condition? Well, there are various suitable avenues for you to consider. For instance, the best lawn mower for small yards is an excellent place for you to start. Simply put, these are small, but high-performance mowers that you can use with ease. Similar to buying any mower, there are some few key features that you should consider to ensure the best user experience. 
Also, there is something Zen about mowing your yard with a reliable tool. The sound of the motor drowns your thoughts, and the effect is compounded by the presence of health yard plants as well. Of course, the critical factor between a meditative experience and one full of challenges relates to the quality of your mower. 
A good mower for a small yard should be compact, robust, fuel-efficient and easy to use. The key features to consider include the motor/engine power, cutting system, engine start functions, LEDs, and more. We have a compiled a comprehensive buyer guide along with some few products for you to consider.
Best Lawn Mower for Small Yards at Glance 
Best For Ease Of Use And Maintenance
​Lawn Mower Buyers Guide
Nothing messes up the serenity of a lazy sunny afternoon in the weekend like a lousy mower. Fortunately, the opposite is also exact! The right mower can make cutting your lawn a breeze. If you need a lawnmower but are not sure of the specific features to look out for, then you are at the right place.
Whether you are a first-time homeowner investing in lawn tools, or perhaps an experienced professional, you want a lawnmower that gets the job done right each time. With a quality lawnmower, you can enjoy faster landscaping and simple to use machine features. 
Lawnmowers are pretty straightforward machines. Most lawn mowers come with wheels, which make it simple to move around the yard as you cut grass. Even though most of these machines have varying designs, the majority of them classify as rotary mowers. These are the mowers that have an engine to produce power and are equipped with a horizontal blade. More so, the blade often rotates at high speed and are housed inside a deck. Another common mower type would be the reel fashioned mowers, that comprise of a vertical blade.
Factors to Consider When Buying Lawn Mowers
Lawn Size
There are different types of mowers, which are suitable for many different lawn sizes. The push mowers are only ideal for people with yards of up to ½ an acre or less. If the lawn is bigger than this, then you are likely to face issues getting energy to move the mower around the entire area. Even with a self-propelled mower, this can be a challenging task, particularly during the summer months. Thus, get a mower that suits the size of your property and your specific needs as well.
If the size of your yard averages between a quarter and half an acre, then consider investing in a self-propelled mower. This means that you will not have to push the mower. More so, the self-propelled mowers are useful for hilly places. More so, consider the size of the blade. Go for a mower that has a blade that is at least 20 inches long if you have a big yard. On the contrary, if you have a large area to mow, then a mower with a smaller deck is suitable for your needs.
Also, pay close attention to the model numbers on your chosen device. Most brands have many models with slight variations in features. After doing some research and setting your heart on a specific mower brand, ensure that you check the particular machine code.
The Terrain
You also want to evaluate the terrain in which you will use the mower. Is the terrain flat or clear? Does it have hills or obstacles that you have to navigate? Homeowners with small to moderate lawns will do well with a push or reel mower. However, if you have hilly terrains, then a self-propelled mower is best for the task. Also, if you have flower beds, rocks or even fountains to mow around, then a zero-radius mower is a perfect fit. This type of mower is easy to move around obstacles as when compared to the standard ride on mower.
Power Supply
There are two common power supply sources for mowers, which are gas and electricity. Each approach has its own merits and demerits. The gas mowers will deliver more power and can last for long durations during the mowing process. That said, maintenance is an issue because these machines start with a pull cord. On the contrary, the cordless electric mowers are also excellent, because they are clean, quiet and easy to start. One issue with these mower types is that they don't last long enough per charge. The corded electric mowers will give limited run time, but many people find it inconvenient to use a mower with a trailing cord.
Deck Size
The deck size determines the size of the blades on your mower. The bigger the deck, the bigger the blades that are required for the cutting process. On average, decks classify between the 20 to the 70-inch category or larger. That said, some homeowners prefer mowers that have decks that average between 30 to 60 inches in size. 
Why is the size of the deck important? A wide deck can cut large paths with each pass, meaning that it requires a small amount of time to mow the lawn. However, it is only suitable if your yard is flat, and has a uniform shape. The wider decks are designed to cut straight paths fast, but won't move easily through obstacles such as trees, bushes and flower beds with ease. The smaller decks are more comfortable to manoeuvre but might require more passes with each cutting session.
Grass Clippings
The lawnmowers can cut grass in various ways. The most affordable option for your needs would be the side discharge mower, which removes grass clippings back to the lawn. A common practice among users is to leave the grass clippings on the yard because they will break down and become compost material. That said, if the cuttings are excessively thick, then they might compromise the development of the undergrowth. If such is the case, then consider removing the cuttings with a rake. 
The other common mower option is the one that comes with a bagger. These types tend to be costly because you have to purchase the bag separately. However, they save you from having to rake the yard, since the clippings collect in a bag, you might have to stop and empty it when full. Also, you might have to get away to dispose of the clippings you collect
Accessories
If you go for a riding lawn mower, consider investing in one that is compatible with many attachments. The attachments are vital because they can improve the functionality of your machine. Some of the common accessories you can get include rakes, lawn aerators, rakes, rollers and more.
​Top 8 Lawn Mower for your Small Yard
The Lawn-Boy 17732 Gross torque lawn mower is an excellent addition to your small yard. This unit comes with various unique features to make it easy to care for the yard. For instance, the Lawn-Boy 17732 comes with a rear-wheel-drive system, that provides optimal traction and control on hill surfaces. More so, the 2-point height of cut system also makes it easy to adjust the cutting height from one side of the mower. To make quick work of most types of grass and thickets, this unit comes with a powerful Kohler 149cc OHV engine. The engine on this unit is exceptionally powerful and can start with 1 or 2 pulls of a lever.
Even more, the Kohler XTX engine series will easily take your lawn care skills to the next level. It's a commercial-grade lawn mower that delivers robust performance and professional-grade performances. Even more, the inclusion of a 21-inch steel deep dome is lightweight and durable at the same time. Such a unique design offers exceptional mulching results and enhanced cut quality. You can also adjust the deck height to improve the level of tool customization. 
Keeping the lawn after cutting is also with this unit. This is because it comes with a large bag capacity, that holds more clippings and makes it easy to empty the bag faster. With its versatile cutting system, this unit makes it easy to choose between bagging, mulching and side discharge.
Equip yourself with the WORX WG958 14-inch cordless lawnmower, which is perfect for various types of outdoor yard care projects. Featuring a powerful 20-volt 4.0 Ah lithium-ion battery, this unit offers extended run time and is also reliable. The WG958 also comes with a patented intellicut system, which provides enhanced torque on demand, and the ability to improve battery power when required.
You will also appreciate that the mower comes with a compact and lightweight design, making it ideal for small spaces. In fact, this machine has an exceptional ability to produce up to 350cfm of air volume, for tackling most outdoor jobs.
It's not surprising why the Greenworks brand classifies among some of the best home care products brands in the world. This is why this list would not have been complete without the GreenWorks Lawn Mower 1303802AZ. This unit can deliver an exceptional cutting path of 16 inches, to reduce the average cutting time required for your small yard. More so, this unit also has a unique 2 in 1 feature, that offers rear bag and mulching functionalities. This, with this best Greenworks lawn mower, you are sure of a dynamic tool that suits the various types of lawn structures.
With its unique four-position height adjustment function, this unit offers a diverse range of cutting heights to suit your needs. It even comes with 10-inch front cutting wheels and rear rollers that make it simple to manoeuvre across the lawn. The lawnmower will also produce minimal fumes, no gas and is also quiet in operation.
With the Greenworks 25022 lawn mower for small yards, you can be sure of excellent addition to your lawn care regimen. This unit comes with many unique features that will make it easy to cut grass and achieve outstanding results. For instance, it comes with a powerful 12-amp motor that will deliver efficient and effective cutting performances each time. The mower also has a 3 in 1 capability, whereby it cut mulch, side discharge and rear bag as well. 
Even more, the mower has a 7-inch position height adjustment, that provides various unique cutting heights. To make things better, this machine is also simple to start, and you won't have to struggle with pesky pull cords. Why? This is because this lawnmower features a push-button start function, for ease of use. Furthermore, th
Enjoy your lawn mowing sessions with the WORX WG6960 Cordless lawnmower. This unit comes with all the useful features that you need to cultivate a healthy lawn. For instance, it has a powerful 5.0 Ah li-ion battery that provides extended run time. More so, the cordless mower is also simple to use, and easy to store in small spaces. 
Whether you have a small yard with mud or rocky terrains or one with thick grass or brush, this lawnmower will take anything you can throw at it. It comes with all-terrain wheels, which will improve machine performance. 
Equipped with an Intellicut system, this unit provides added torque on demand. It also provides you with the ability to conserve the machine battery power when required.Designed to be both powerful and compact at the same time, the WG960 is compact and will produce 360cfm of air volume. This way, the lawnmower works well for various types of yard sizes.
The Troy Bilt TB220 159CC self-propelled lawn mower is also a solid performer when it comes to lawn or yard care. You can expect a host of unique features to make your chores easy outdoors. For instance, the TB220 comes with a 159cc front wheel drive OHV engine, which is both powerful and reliable for yard care projects. More so, the self-propelled mower is ideal for mowing small to medium-sized yards with ease. 
This unit also has a lightweight design and 21-inch steel deck, which makes it stable on most floor surfaces. The dual-lever height adjustment offers optimal user comfort and side mulching performances. It even comes with 8 x 8-inch wheels that provide enhanced control even as you move through the terrain. 
The TB220 mower also has cutting and mulching capabilities with an exceptional height range to suit your unique lawn care needs. Furthermore, this unit also offers as many as three options, which you can select to suit the structure of your law.
Designed for manoeuvrability and optimal cutting power, the BLACK+DECKER BEMW472ES is perhaps one of the best additions to your small yard. This unit comes with a host of unique features that will make lawn care a breeze. For instance, it comes with a convenient push-button start, which makes it simple to start the machine even when it's cold. The 6-point adjustment function on this machine also lets you adjust the cutting performance to suit your needs.
The 10 Amp electric lawn mower with pivot control handle is easy to manoeuvre. To make things better, the rugged wheels are suitable for moving around even the thickest of grass and bush thickets.
You are one step away from owning the best lawn mower for small yards. The BLACK + DECKER MM2000 13 Amp corded mower is perfect for working on small spaces. This unit is powerful and fast, which does well to make yard care less of a chore. More so, the powerful electric 13 Ah motor will offer high performance, and maintain a manicured lawn, minus the hassles. Thanks to the inclusion of EdgeMax Technology, this unit can mow along with areas such as fences and landscapes borders with precision.
This way, you can produce smooth and clean-cut edges that make your lawn unique. Also, the one-touch height adjustment function means that you can easily adjust the height with a pull of a lever. Unlike most mowers today, you can fold the MM2000 for compact storage, to make it ideal for users with small spaces. 
With its exceptional 20-inch-wide cutting path, this machine is perfect for various types of yard spaces. It also has an outstanding 7 setting height adjustment for ease of use.
Overall
Keeping your lawn clean and well-cut is vital for various reasons. For instance, a well-maintained lawn looks good and also improves the value of your property. With the best lawn mower for a small yard, you can easily find a powerful solution for your needs. These tools are simple to use and come with many different functionalities. Thus, consider the information in the lawnmower buyers guide to help you choose the best machine for your needs.
These are machines that are essential for any property with outdoors space today. Getting the right one depends on your ability to choose the correct tool. Thus, get a lawnmower to make your mowing sessions fun.