The John Deere range of Tractors are ideal for property owners that want a simple to use, but a powerful machine for their needs. Using products such as mowers is sometimes not reasonable, especially if you have a large lawn or if you perhaps have physical issues. For instance, people with back or cardiovascular problems might find it hard to use mowers in large spaces. This is why using a tractor mower can be a great way to maintain a lawn.
In particular, the E130 tractor comes with a range of unique features to make mulching, mowing, and bagging easy. Among some of the key features on this machine include the high back seat, V twin-engine, and easy to use controls. It's a powerful machine, which you can use to restore the original appeal and value of your lawn. The John Deere brand has done well to make a machine that is easy to use and suitable for various types of lawn mowing applications.
The John Deere E130 is among some of the leading machines produces by this company. The tractor was made based on various criteria, including the following ones:
Predicted reliability – this particular test evaluates the performance of newly produced machines based on specific performance factors. The timespan for the reliability test averages at five years of ownership for the tractor.
Satisfaction – this test occurs by evaluating the number of tractor users that are likely to recommend the product to other similar users on the consumer market.
Side discharging – this aspect evaluates the length and range at which the machine can discharge clippings from the chute.
Features of the John Deere E130 From A Glance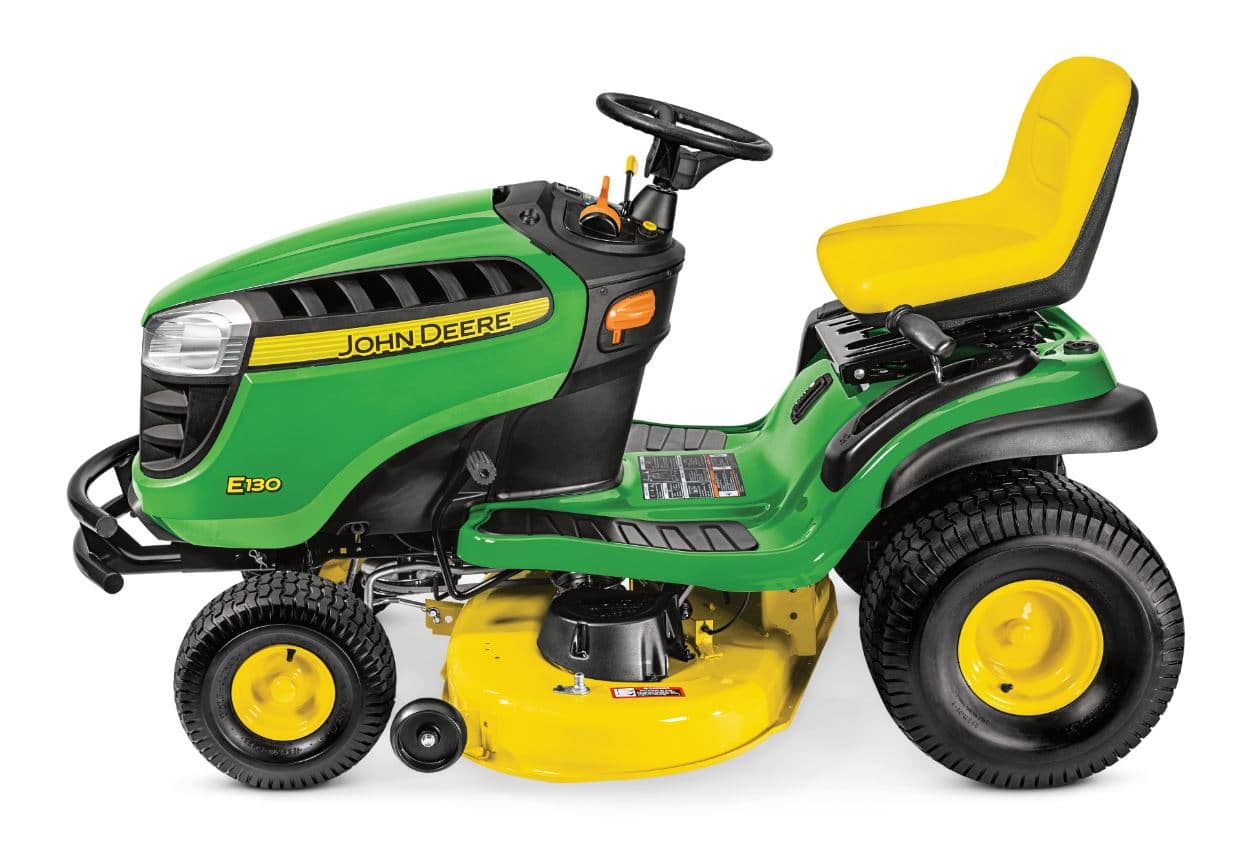 22HP V Twin smooth running engine

Deep deck design for lifting the grass for the best cuts

Enhanced deck lever for adjusting the deck height

Wide and comfortable operator station
Other Important Features
The contoured dash has appealing design finish
Color-coded control for ease of identification

Logically placed controls that are convenient to access

Hourmeter for convenient oil changes and maintenance

Service reminder function
Best Features of The John Deere E130
Instruments and Controls
As one of the best tractors for lawn mowing applications, this unit comes with a host of unique features for your needs. For instance, it has a contoured dash with clean and attractive styling. More so, the controls are also color-coded to make it easy to identify during machine operation. Also included in this unit is an hour meter, which lets you perform convenient oil changes and various maintenance procedures. The lawnmower even has a service reminder that informs you of the next time the machine requires maintenance. It also comes with an operator station that is designed for comfortable operation. All the controls are positioned where there are easy to reach and to control the tractor.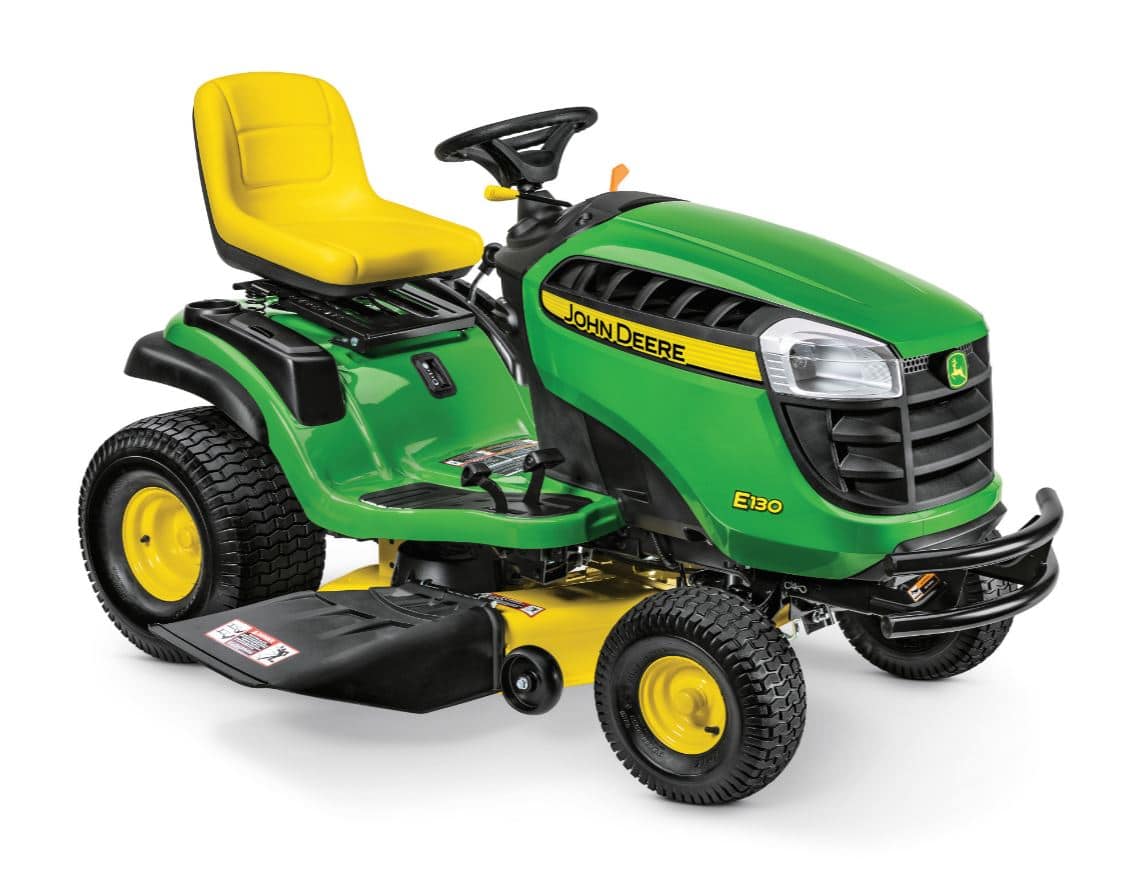 The E130 tractor also features a convenient cargo mount system, which makes it easy to carry additional tools. In fact, the machine comes with front and rear mounting points for your convenience. The developers of this unit have also done well to ensure that mounting the bag is a straightforward process. It's a unique component that works well for various applications, including rear bagging, sun canopies, and multiple attachment types.
Well Positioned User Controls
To make things better, the lawnmower also features side by side transmission controls. The controls on this unit are well labeled, which makes it easy to see regardless of the lighting conditions. These include the side by side foot pedals, which you can use to adjust the direction and speed of travel. On top of that, the tractor also features an automotive type accelerator, which lets you control the machine with ease. You can even adjust the direction of the machine without having to remove your foot from the platform.
The deck on this mower also features a simple to see and use the lever on the dashboard. The convenient placement of the lever on the right section of the mower provides added room on the left part. It also offers added room on the entry side of the tractor, such that the operator finds it easy to get on and off the machine. The controls are also durable against everyday wear and tear issues when using heavy tools.
Cruise Control
Perhaps one of the most important and most convenient features of this unit is the cruise control. Yes, that's right. This unit lets you set the machine in auto mode, which makes it easy to use, especially if you have large lawns. To engage the cruise control function, you just have to lift the cruise lever and maintain its position until the foot detaches from the pedal. Also, if you want to perform an emergency stop, then you can release your foot from the pedal.
Equipped with an easy change oil change system, this unit is highly convenient to use. It is as easy as twisting on a new oil-filled filter. Being able to change the filter makes it easy to remove contaminants, and you can replace a large portion of the engine oil. This does well to help you save time, and avoids the challenges associated with traditional oil changes.
Deck Height Adjustment
Being able to customize the deck height of your machine is a highly convenient feature. Leveling your lawnmower by adjusting the deck height is crucial towards the quality of your lawn mowing results. An uneven deck might cause the blades to damage the lawn by perhaps moving too close to the ground. Furthermore, such a unique function helps to reduce issues such as stepping. These might make the lawn look like it is cut at an angle, and is the result of a deck that requires leveling. Adjusting this mower might involve customizing the tires, and ensuring the deck is level on either side.
The inclusion of a spring-assisted and low effort lift lever makes it easy to customize the height of the mower. You can adjust the machine in increments of 0.65 cm, to allow for exceptional cutting results. On top of that, the cut height is also adjustable in 10.3 cm lengths for your convenience.
Equipped with parking brake control functions, this unit stays safe in one position regardless of the terrain.
Powerful Engine
The mower also comes with a powerful and smooth-running engine with a V-twin design. It classifies as a 22-hp V twin engine that delivers optimal torque and power to handle various types of activities. These include mowing, mulching, and bagging applications. The V-twin engine design is also unique in that it provides enhanced torque, reduced vibration, and improved sound quality.
On top of that, the spring return feature ensures that the operator never leaves the throttle lever on negligently. The engine also comes with a cast-iron cylinder liner that offers enhanced engine longevity. Equipped with overhead valves, this unit provides optimal power and fuel economy.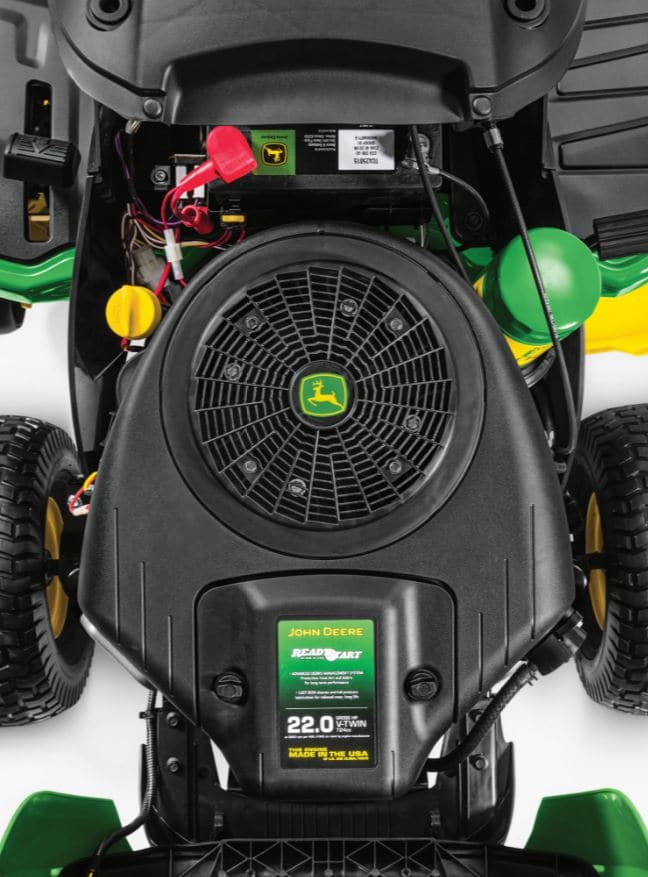 Heavy Duty Cast Iron
The front axle on this unit is made using heavy duty cast iron that is durable. Similar to automotive steering systems with pinions and sectors, you can be sure of smooth turns each time. The unique cast iron material provides smooth turns, even when you want to turn in tight corners. Even more, this unit comes with as many as three grease fittings, on either steering spindles, as well as the center pivot. Such a unique design provides enhanced lubrication to ensure improved steering, and to reduce any machine wear issues.
The frame is made using full length and 12-gauge high strength steel. The steel will provide optimal longevity, and is suitable for use in various types of machines. The automotive-like steering system with a pinion and sector gears makes it easy to turn even in tight corners.
Also available on this machine is the hydrostatic transmission, which provides several types of speeds. Such a unique design makes it easy to adjust the direction of travel for your needs. It has a large pedal surface area, to provide enhanced comfort when using the tractor.
Deep Deck Design and Deck Lever Lift
Featuring the unique Edge Cutting System, this mower provides optimal convenience and improved performance regardless of the cutting activity. The deep deck mower design makes it easy to lift grass for clean and even cuts. Furthermore, the process does not require tools when you want to convert from mulching, side discharge, or to rear bagging. It also comes with a wash port to make it easy to clean the underside of the mower. The inclusion of a spring-assisted and ergonomic lever makes it easy to adjust the machine settings to suit your needs.
The lift handle is designed for ease of use and is conveniently placed away from the main machine operators. Also, the operator station and controls are convenient to use. The seat on this unit is also tilted back, and the steering is angled to provide added comfort. The debris removing channels work well to keep the footrest area clean and dry during operation. You can even adjust the seat forwards smoothly, and rearward without having to move out from the seat. To top it all off, the dash is contoured and has appealing design aesthetics.
The Good
Easy oil change system with oil filter canister
22 HP V-twin and choke free engine
Cruise control and side by side foot pedal system
12-gauge steel construction is durable
42-inch edge cutting system with a deep back design
Hydrostatic transmission and durable front bumper
The Bad
Heavy machine needs a large space to store
Could use an LED screen for ease of use
The tires should be airless for convenience
Benefits of A Tractor Over A Mower
Are you searching for the perfect way to take care of your mower? Well, you have access to various options when it comes to lawn mowing. Among some of the key benefits to consider include:
Easy to Use
A mower is a machine that is easy to use. Take, for example, the E130 tractor. While this machine is sturdy and heavy in structure, it does well to clear your lawn. The machine can perform close to three functions at the same time. It can mulch, mow, and bag. Furthermore, mounting a bag or any other attachment on this machine is a simple process.
Powerful Engines
For people who have large lawns, owning a tractor mower is an excellent investment for your needs. To be specific, this mower comes with a V-twin 22 HP engine, that makes quick work of most types of plant life. Aside from that, the engine is also highly efficient and silent in operation at the same time.
Suitable for Large Surface Areas
While a mower is suitable for working on small lawns, a tractor is ideal for both small and large yards. That said, you need adequate space for you to move the machine it cuts grass, and bags at the same time. It's a relatively small tractor in size but packs a powerful punch in terms of its ability to keep your lawn neat.
Overall
Being able to keep your lawn neat is an excellent resource to have at home. You can only keep your yard tidy when you have the correct tools. This is why the John Deere E130 might just be an excellent recommendation for your needs. It's a powerful tractor mower that comes with a host of unique features for your lawn mowing needs. These include the one-piece hood, hydrostatic transmission, heavy duty steel gauge, v twin-engine, and more.
Even more, features such as electric start also makes it easy to start the machine. The tractor might be small in size, but it comes with a powerful engine to make it easy to take care of your lawns.