We've all dreamed about owning our own pool at one point or another. For some people, that dream is a reality and they are lucky enough to have a garden that features a pool, but the story doesn't stop there. You want to make the space inviting and exciting with decorations and accessories that add to the overall look and feel of the pool.
You don't need a huge budget to transform and improve the look of your pool. There are a lot of different options out there on how to do this so to help you out we've put together our top list of the best ways to decorate your pool. Hopefully, this list gives you some inspiration on how to decorate your outdoor pool going forward.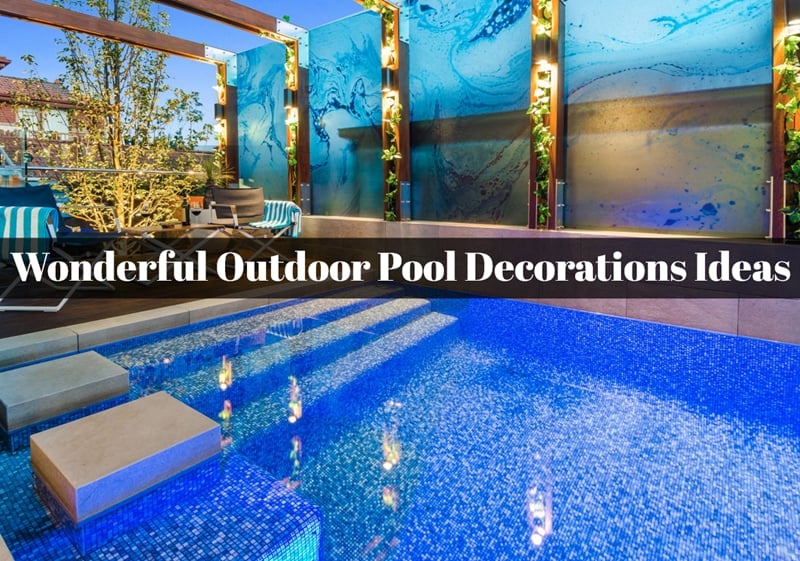 Read Next
Outdoor Pool Decorations Ideas
​1. Hammock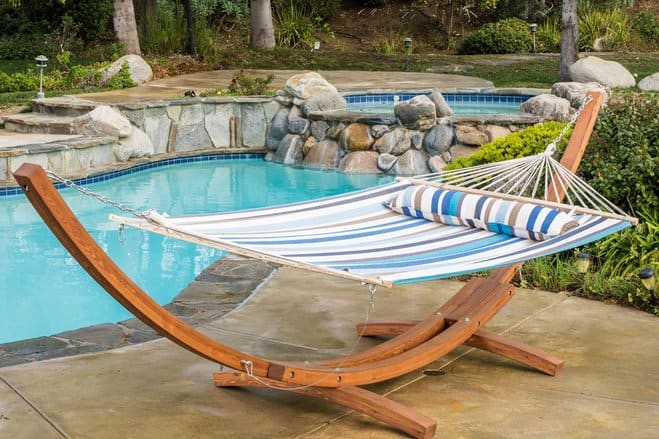 A hammock is a simple, but effective solution for decorating your outdoor pool area. You can buy them reasonably cheaply online and all you need to do is tie them to two posts or trees in your garden. Then you can just sit back, relax, read or just snooze in the midday sun.
Hammocks are all about laid-back relaxing and just by having it your whole space will seem more casual in a good way.
Do beware though, hammocks can be surprisingly challenging to get in and out of and you'll need to be careful so that you don't injure yourself.
​2. Outdoor Rug
Rugs and hanging tapestries are one of the cheapest ways to really transform your outdoor space. By laying these around your pool or hanging them on nearby walls you create a more colorful scene.
You can also use floor rugs to clearly define the seating area and make it separate from the rest of the pool area.
With outdoor rugs, you can totally dictate the style according to your tastes and preferences. Go bold, or keep it minimalist, it's all up to you.
​3. Hanging Lights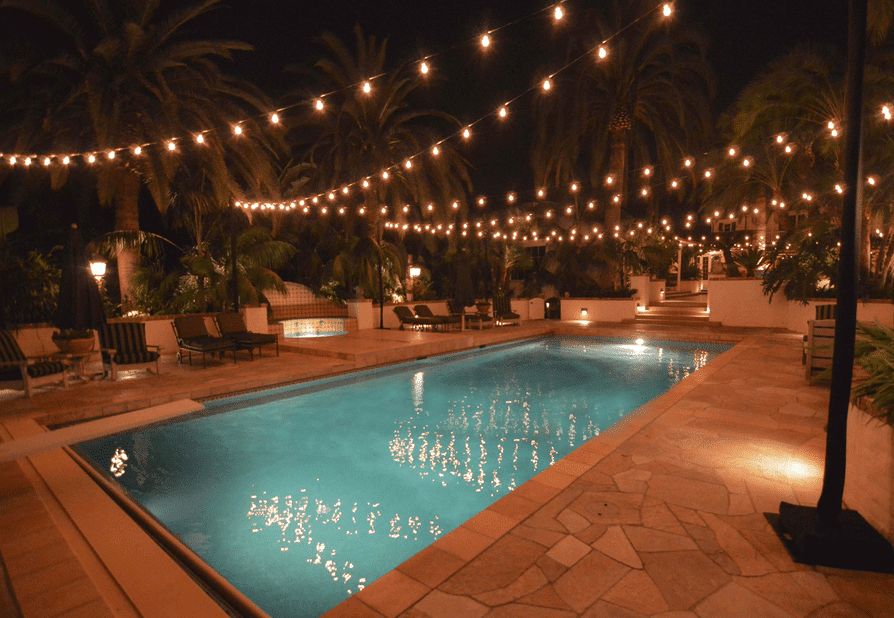 The right lighting can transform any room in your home and that goes doubly so for your garden. Hanging lights around your pool will not only help light the space when it gets dark, but it will also add to the overall ambiance of your garden. You can pick up hanging lights for less than $5 and install them yourself in minutes. You'll be surprised what a difference it can make.
​4. Solar Shower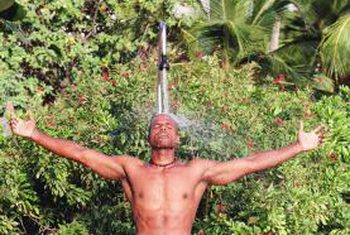 Having a space to shower outside your home may seem a little unnecessary, but believe me, it looks good. Solar showers won't use any energy and attach directly to your hose pipe.
This makes them simple to set up and it shouldn't take more than a few minutes. Once set up it allows you, and your guests, to have that touch of spa luxury in your back garden transforming using the pool into a whole experience.
​5. Vertical Garden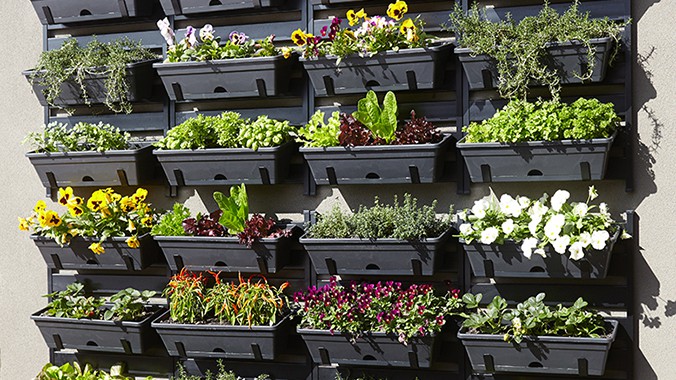 Adding plant life around your pool will help add to the overall look and feel of your outdoor pool. While potted plants are good, a vertical garden wall stands out much more and offers a more distinctive look.
It won't take up much space and despite how it looks, it's not overly difficult to set up on your own cheaply.
​6. Meditation Area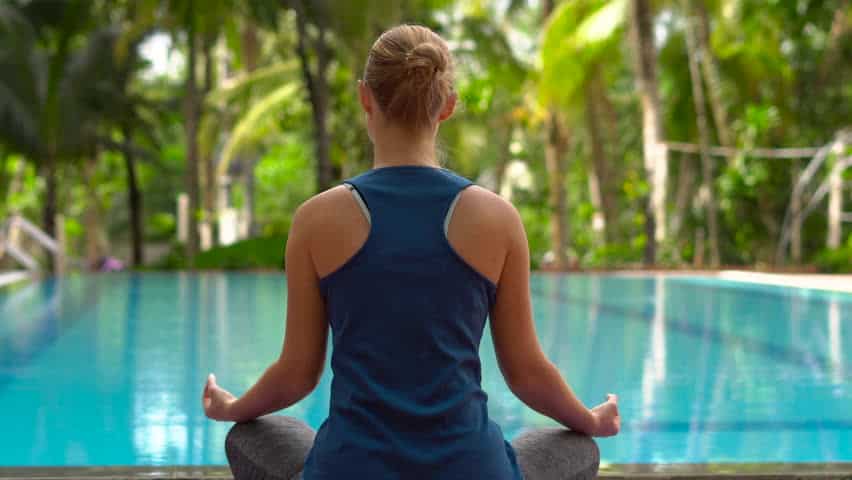 Meditation and well-being are becoming more important these days as we realize the true value of mental health. Spending regular time in the garden and in the water has been proven to reduce stress and help focus the mind, but you can take this to the next level with a meditation area.
Try and find a secluded area and build it as you need it to truly relax your body and mind.
​7. BBQ Space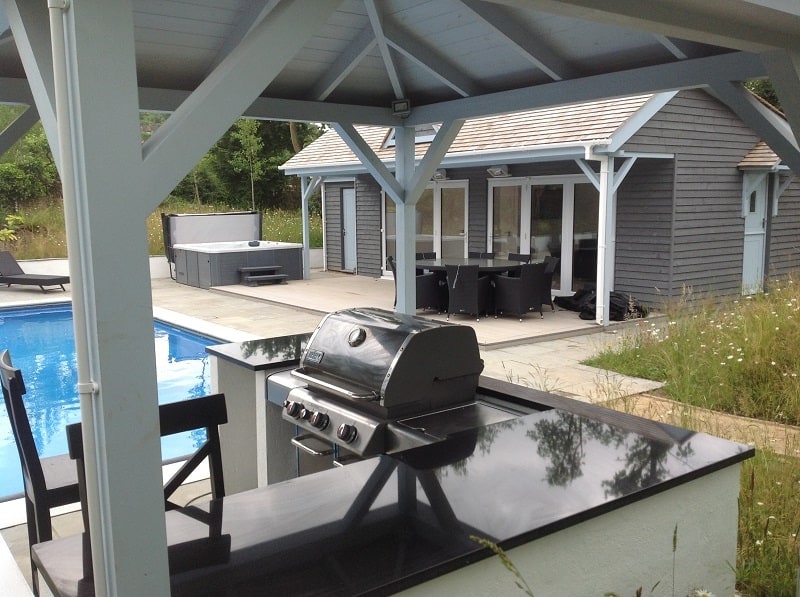 Everyone loves a BBQ in the Summer. Having a built-in grill in your garden by the pool looks great and shows everyone that you know how to have a good time.
For anyone who enjoys cooking it's a must-have piece of equipment and you can host some amazing gatherings for friends and family.
​8. Shade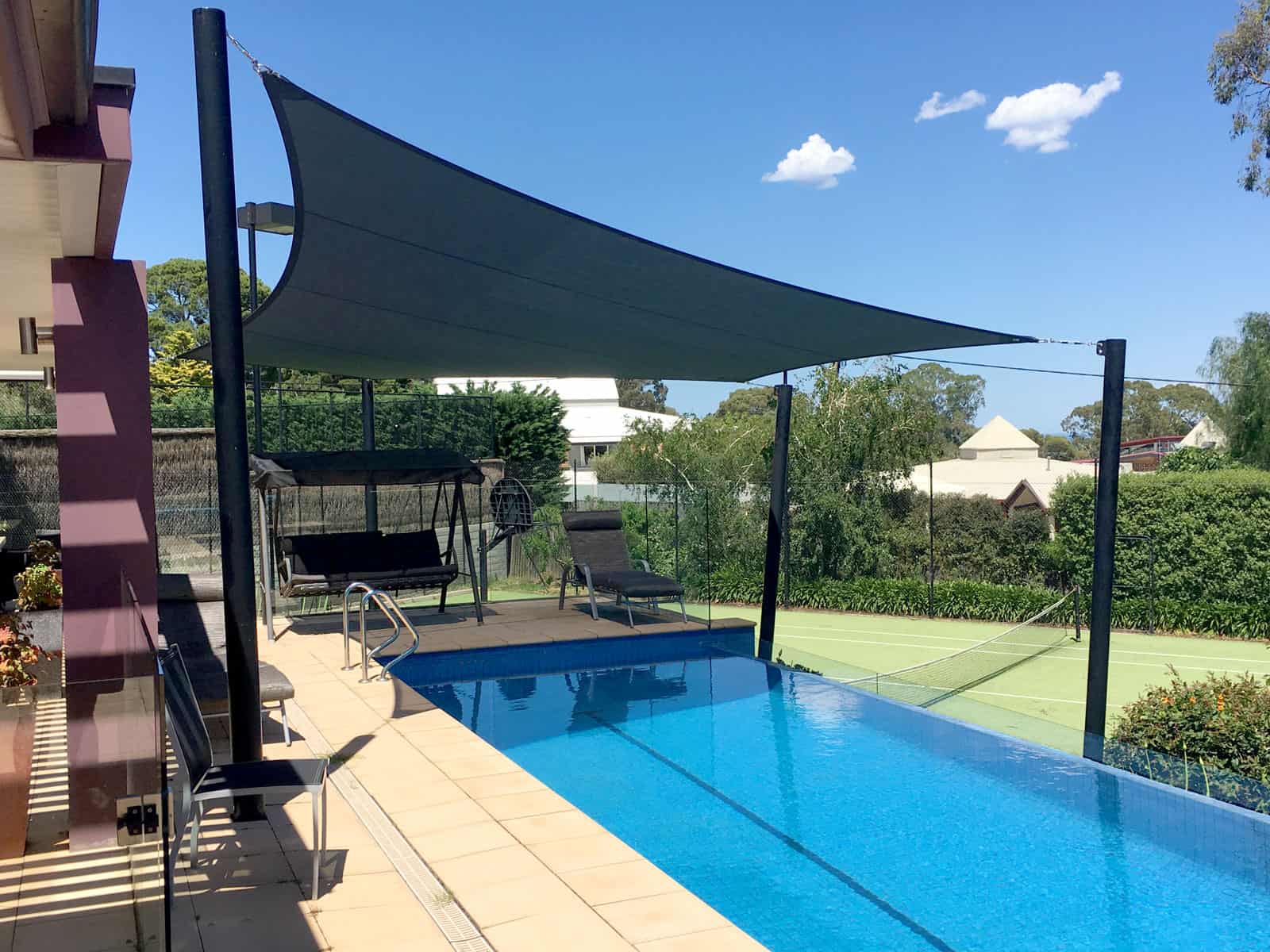 A sunshade is a practical addition to your outdoor pool area. It has the practical application of course to protect from the sun which is really important for those in very hot areas.
Shades can also add a touch of class to your outdoor pool. There are literally hundreds of different designs to choose from so the ball is totally in your court.
Our only advice would be to think of luxury, not a cheap holiday resort. This should help keep you right.
​9. Privacy Screen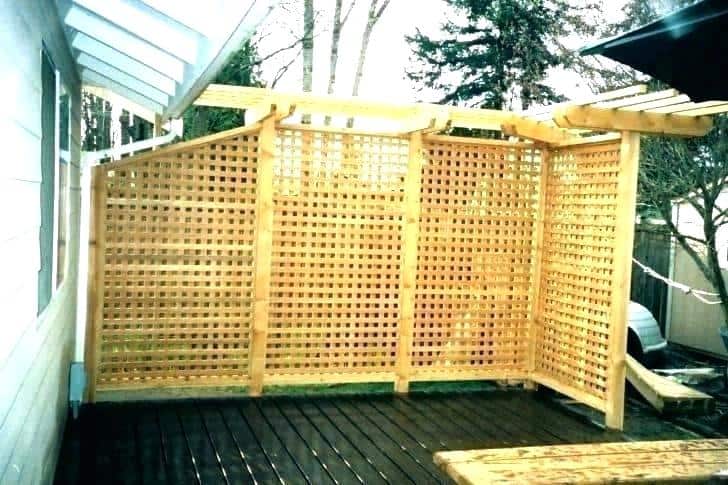 A privacy screen is a classy decoration that works well as part of a more traditional setup.
It's something most people don't think of but actually, a privacy screen really adds to the look of your pool area.
Plus it's functional, giving privacy around a shower or changing area for those using the pool. A definite asset to your home.
​10. In Pool Bar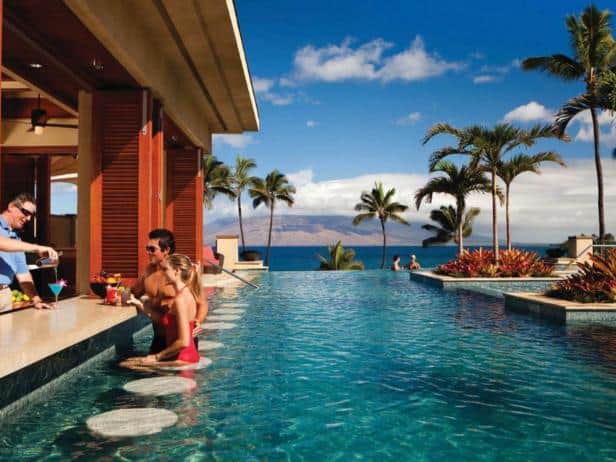 This isn't an option for everyone and may be the most expensive option on the list, but anyone who says they've never considered having an in-pool bar is absolutely lying.
Having a table partially submerged with stools surrounding it just looks amazing and your friends will be so impressed when they see it.
Get some drinks and games on the go and you'll find the space doesn't just look better, it's more fun than ever.
​11. Fire Bowl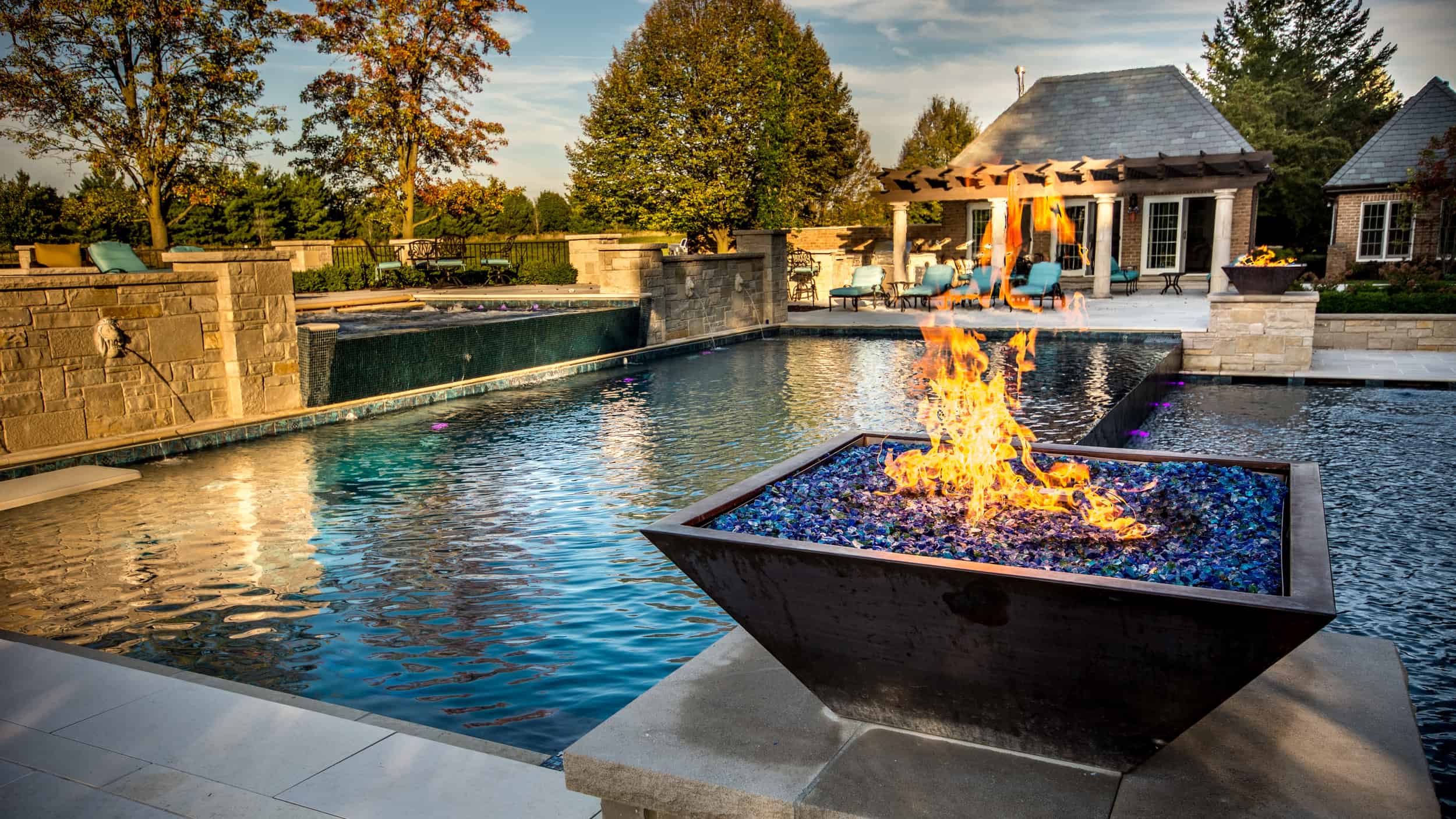 Fire bowls and fire pits have become insanely popular over the last few years. They're now the go-to accessory for the backyard but work really well next to an outdoor pool.
Something about the combination of water and flame really works stylistically, plus it gives a focal feature when you have friends around.
A fire bowl also has the practical feature of giving light, heat, and warmth- perfect when the sun's gone down and it's too late to swim.
Read my articles on the best Copper Fire Pit Bowls.
​12. Wicker Chairs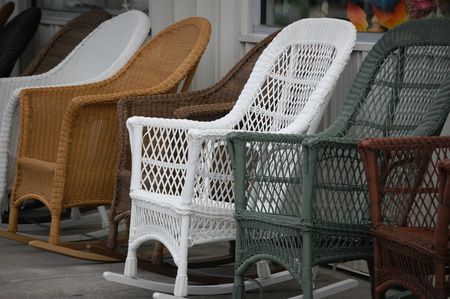 Wicker chairs offer some comfortable, cozy seating around your pool. These are lightweight and fairly inexpensive so you can host large gatherings without a hassle.
Add some cushions to the top and it'll make them look better and add to the comfort. Wicker chairs offer a simple style that helps add to the overall look and feel of the pool area.
​13. Pool Table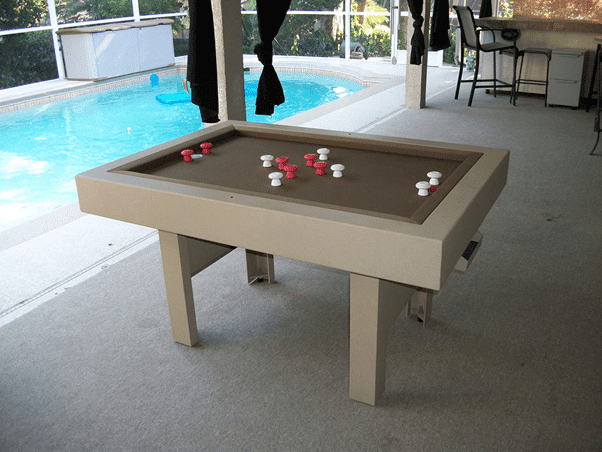 We've all seen the scenes in the movie with a pool table out back next to the outdoor pool.
Even if you aren't a big fan of the game, you have to admit it's a cool feature that adds some character to the space.
Plus it's the perfect accessory when you have friends over and you need something to do.
​14. Mini Fridge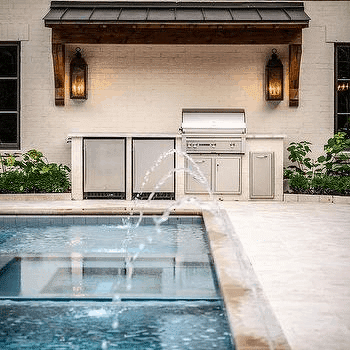 Decorating your space isn't just about the look, it's about getting the most out of your pool area. Adding technology like a mini fridge into the mix helps give a modern vibe and of course, it has the practical application of keeping all your drinks cold.
On a warm Summer's day, there's nothing you'll appreciate more than a stocked mini fridge with your favorite beer or soft drink.
Creating The Perfect Outdoor Space
All of the above options are great for decorating your space and making it more versatile and useful. When planning out the area you should be careful not to overload it and keep the path between your home and the pool fairly obvious.
Mixing some fixed features with more mobile accessories allows you to change things up periodically and keep the whole vibe fresh year after year.
This list is only a small fraction of the options open to you, but hopefully gives you some good ideas of where to start. Remember, it's your garden and there are no wrong answers, it's just about finding your style and going with it.