Indoor growing has become a crucial technique for gardening these days. Whether you raise plants for aesthetics, medicinal value, or even for food, giving them the right conditions is vital. If you have ever visited any modern-day grow room, you will notice that the humidity levels tend to be high. While watering the plants is crucial, your plants will also benefit from a high-quality humidifier.
That said, humidity is only one of the critical factors required for plant growth. When buying a humidifier, you must consider a few key elements to ensure the best usage results. While these products tend to be made for human use, they are also suitable for grow rooms.
Choosing a suitable one for your grow room means that you have to consider factors such as the size of the room, number of plants, and more. Along with such information, we have identified various other vital factors. Let's get started:
Best Humidifier for Plants from A Glance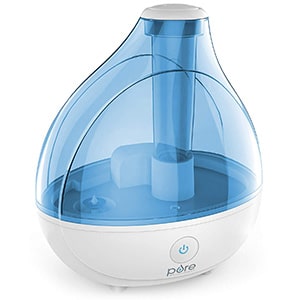 Best Overall
Pure Enrichment MistAire Ultrasonic Cool Mist Humidifier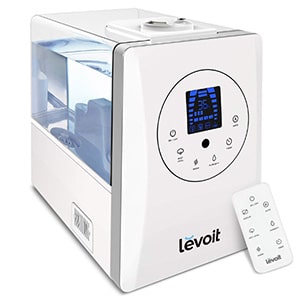 Best Compact
LEVOIT Humidifiers for Large Room Bedroom Mist Ultrasonic Air Humidifier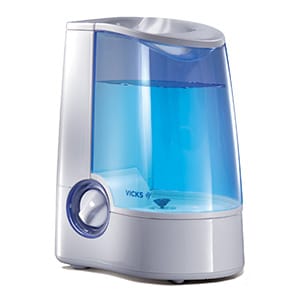 Best Large Capacity, Ease of Use, LCD
Vicks Warm Mist Humidifier, 1 Gallon, Auto Shut-Off, Filter-Free (V745)
How to Buy the Best Humidifier for Plants
It's vital to understand the importance of humidity and determine why specific plants require high levels or lower levels of it. With this information, we can come up with a customized plant care program for our plants. At the most basic level, humidity refers to a measure of the amount of vapor in the air. The two common classifications of moisture are:
Relative humidity – this refers to the amount of water vapor in the air, in relation to the amount It can hold at a specific temperature level.

Absolute humidity – this refers to the amount of water that is available in a cubic meter of air.
The temperature level is directly proportional to the amount of water vapor it can hold. Thus, plants that require high levels of humidity might also require high-temperature levels. These two factors go hand in hand when it comes to plant care and development.
Why Do Some Plants Need Higher Humidity?
Plants have evolved over the years to adapt to their environments. In regions where high humidity levels are normal, the plants adjust by reducing the amount of water the leaves can accommodate. Similar to how succulents have adapted to hold a lot of water in stems, plants that exist in high humidity levels will hold little water.
Furthermore, some plants don't have roots with large surface areas, so that cant pull in much water from the ground. On top of that, the epiphytes are plants that consume all the water required from surrounding regions, meaning that they need high humidity levels to survive.
Common Humidity Levels For Houseplants
All plants are different and require varying levels of humidity to survive. That said, there here are some general guidelines for you to consider about houseplants:
Orchids- 39-69%

Ferns – 40-52%

Most other houseplants – 41-60%
Humidifiers classify into three main categories, which are the ultrasonic, mist, and evaporative. A brief description of them is below:
Mist humidifiers – these are the most common types on the market. They have relatively simple structures, which work by heating water to boiling point. Then, the machine uses a slow-release mechanism to deliver the water to the plants.

Ultrasonic humidifiers – these types use vibration to improve the rate of water evaporation in the tank. You can tell whether it's an ultrasonic unit based on the quality of mist produced.

Evaporative humidifiers – these types leverage airflow to produce water vapor. You might have come across swamp coolers, which work in the same way as a humidifier. The swamp coolers get water from tanks and then relays them to a wicking material.
Features That Make a Humidifier Good For Plants
Most humidifiers are made for human use, but you can customize them to suit your indoor garden. They are simple to use, and with basic features to match. Here are some few key elements to consider when buying humidifiers:
Run time – you will need at least 12 hours of run time, mainly based on a daily schedule. The run time is necessary because some indoor garden plants require high levels of humidity.

Ease of use – most of these tools come with many different design factors that you have to consider. Thus, a good humidifier comes with features that make it convenient and straightforward to use, such as LCDs.

Water capacity – you also want to get a humidifier that has an excellent water capacity level. Usually, this averages between 1.5 to 7 liters of water.

Material construction – you want a unit that is both durable and compact at the same time. Usually, most high-end humidifiers are made using durable plastic, which can provide years of performance.
How to Best Use Your Humidifier
It's not enough to plop a humidifier in a grow room and let it control the mist in the air. You also have to develop a suitable environment, which is conducive to the plants as well. Controlling the flow of air is crucial, mainly because many health issues exist in places with high humidity. Leaving water on your plants can easily lead to various plant diseases, such as spot fungus. Furthermore, ensure that you set up a suitable place for mounting the humidifier.
​8 Best Humidifier for Plants to Buy For your Garden in ​2021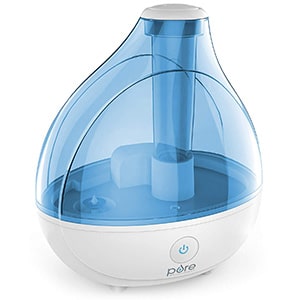 Taking good care of your plants should be an essential priority. This is why the Pure Enrichment MistAire Ultrasonic Humidifier is perfect for your needs. This unit can safely moisturize the air for well over 16 hours, such that your plants grow healthy. More so, it also features convenient high and low-speed settings that make it convenient to customize the direction of mist to suit your needs.
Equipped with a 1.5-liter water tank, this unit provides optimal coverage for your grow room. The Pure Enrichment Humidifier also features an optional night light, to ensure a smooth glow for optimal relaxation. To make things better, the inclusion of an automatic shut off function means that this unit is highly convenient for your needs
The entire set is available with many different components. These include a disk cleaning brush, AC power adapter, and more. It's also easy to keep this humidifier functional at optimal levels. The makers of this unit have included a cleaning brush, which you can use to remove debris and buildup from the disk periodically.
PROS
Ultra-sonic mist cool technology

The 1.5-liter water tank is large

Automatic shut off for convenient use

Available with several accessories for plant care
CONS
Could use a much more robust mounting system

It takes a few seconds to start up
Best On Budget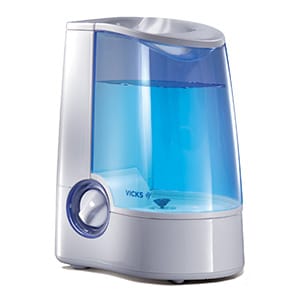 Enjoy improved plant yield quality by getting the Vicks Warm Humidifier. This unit will provide warm mist for bedrooms, nurseries, kids bedrooms, and more. Equipped with a filter-free and full 1-gallon tank, you are sure for a humidifier that can function for more than 24 hours. Even more, the humidifier can diffuse as much as 95% of bacteria-free mist into the air.
The best part of owning a Vicks Warm Mist Humidifier is that it has a heavy-duty design. Yes, that's right! It's a humidifier that you can use for many years reliably. More so, the humidifier also mounts easily on wall surfaces and can provide several hours of reliable air purification results.
This way, your plants enjoy not only moisturized air, but also clean air that improves cell and plant functions. Furthermore, the brand makers of this unit have done well to incorporate with auto shut off features for convenient use. The extra-large display will also accurately display and show the temperature levels. Even more, it has a patented antimicrobial component, that does well to keep your air cleaner for longer.
PROS
Heavy-duty humidifier structure and design

Easy mount and latch system

Extra-large LCD for ease of use

Produces 30db of sound in operation
CONS
The LCD brightness is not adjustable

Motor warms up significantly when in use
Best Most Quiet
The TaoTronics Cool Mist Humidifier is also an excellent recommendation for those who want significant improvements to their plant yield. As one of the best humidifiers on the market, this unit boasts of a host of unique features to enhance play return. For instance, it comes with a vertical oval shape, which takes up a small space within your grow room. Furthermore, the ultrasonic humidifier also offers quiet operation, whereby It has an intelligent air inlet design for enhanced air quality.
On top of that, the unique dial knob control lets you select the mist output conveniently for optimal control results. It is also easy to refill, thus making it ideal for regular use. Equipped with a lightweight and slim 60 oz tank, this unit is easy to pick up with one hand for easy refills. We all know that humidifiers come with moving components, which can produce some noise. However, this unit is silent in operation, and will only produce about 32db of sound.
The humidifier even comes with a 360-degree rotatable nozzle, which you can use to supply quality air to your plants. Furthermore, the auto shut off function operates when waterless, and when the tank is lifted, thus surrounding your plants with clean air each time.
PROS
The vertical oval shape takes up a small space

Intelligent air inlet design is convenient

Dial knob control for enhanced mist delivery

Lightweight and 1.7l tank
CONS
Could be available in many finishes

Detaching the water tank is not easy
Also Consider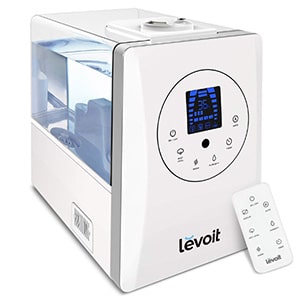 Bad quality air can have adverse effects on the yield of your plants. This is why the LEVOIT Humidifier for large rooms might be a good recommendation for your needs. It's a powerful humidifier, which you can produce near-silent noise levels, and with a convenient display off feature. Designed to be easy to use, this unit comes with an inbuilt sensor, that you can use the gauge the humidity levels conveniently. On top of that, the humidifier also instantly takes off adjustments for you, thus making plant care a simple process.
When the tank runs off, this unit will shut down automatically to protect the device and to save up on power. With an exceptional mist output level of 500ml/hr, this unit is highly convenient for large rooms. The large capacity structure can also provide an extraordinary 36 hours of continuous use while producing a low mist level.
The makers of this have done well to include a convenient remote control, which you can use to customize the settings at any time. In fact, the humidifier features a 12-hour timer, such that you never have to worry about accidentally leaving the machine on. You will also appreciate the fact that this unit is easy to clean and with a wide opening such that you never have trouble cleaning the inside.
PROS
Ultra-quiet operation and display off function

The inbuilt sensor can gauge the humidity levels

500 ml/hr. capacity is suitable for large rooms

Convenient remote control for adjustments
CONS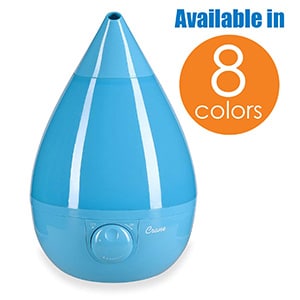 The Crane Ultrasonic Cool mist humidifier is an excellent addition to your gardening regimen. Designed to be simple to set up and easy to use, this humidifier is perfect for various applications. It comes with a removable 1-gallon tank that can fit under most bathroom sinks for convenient filling. Furthermore, the motor runs whisper-quiet and is perfect for use in indoor rooms. Made to use ultrasonic technology to add humidity to the air, this unit is much more efficient than a light bulb.
For clean control, the humidifier features antimicrobial material, which can help to control the occurrence of mold and bacteria. Even more, for soothing relief, this unit can easily humidify well over 500 square feet for easy and convenient breathing results. It does not require a filter to function, which makes it much more comfortable than most humidifiers.
Thanks to the inclusion of an auto shut off sensor, this unit shuts down automatically and is highly convenient in saving power. Thus, you are sure of a humidifier, that is both efficient and powerful at the same time.
PROS
1-gallon tank fits under most bathroom sinks

Clean control and antimicrobial material

Soothing relief and can work in 500 square feet

No filter required and auto shut off sensor
CONS
Antimicrobial material is not durable enough

Could be available in different finishes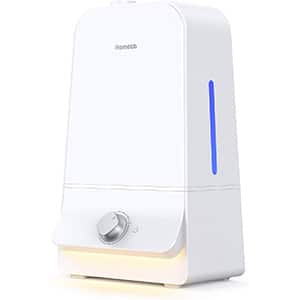 You can easily improve the yield of your plants? How? Well, consider getting a powerful humidifier such as the Homech 6l Humidifier. This unit comes with all the useful features you would want to improve the results of the grow room. For instance, it has a large capacity water tank, which can hold as much as 6l of water for up to 100 hours of mist output. On top of that, the inclusion of a powerful and fully rotatable nozzle brings even mist results.
It is also easy to clean and comes with an in-built wide opening for easy refilling as well as cleaning. Moreover, the heavy-duty design of the humidifier means that you can enjoy a quiet night each time. The patented water dripping system of the quiet ultrasonic humidifier will reduce the sound to 25db. The inclusion of dual knob controls makes it easy to customize the average temperature levels to suit your needs. The humidifier also has an exceptional 3.5-inch-wide opening, to provide a clean and reliable supply of air.
Designed to be both safe and durable, this humidifier makes up for an excellent addition to any modern grow room space. It even has boil dry protection that will shut down automatically when the machine does not detect a water tank. Even more, the nano-coating on the circuit board does well to prevent any water damage to the humidifier.
PROS
Large capacity water tank suitable for large rooms

Powerful fan and 360 degrees rotatable fan

Easy to clean with wide opening for easy refilling

Patented water dripping system
CONS
The fan produces some noise at high speed

Could use a better mounting system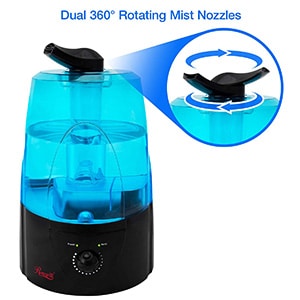 Cleaning the air has never been this easy. The Rosewill UltraSonic Cool mist humidifier for the bedroom is also a good suggestion for you. This unit has a large tank capacity of 5l, with a filter-free design for convenient maintenance. More so, this unit also comes with a 360-degree adjustable dual nizzle outlet. The outlet does well to direct the mist in the most convenient direction.
Even more, this unit comes with an in-built soft flow LED night light with customizable mist control. A humidifier is only as convenient as the features available for plant care purposes. This is why the Rosewill Ultrasonic Humidifier comes with an auto shut off when the water tank is empty.
Equipped with ultrasonic technology, this unit offers quiet operation and large humidifier rooms conveniently. You will even find it easy to adjust the nozzles, which provide enhanced coverage. Are you worried about being able to control the functionality of the humidifier in dark conditions? Well, this unit has an LED night light, which lets you use it in the dark conveniently.
PROS
5L capacity with a filter-free design

360-degree adjustable structure with dual nozzle mist

Inbuilt soft glow LED night light with mist control

Auto shut off when the tank is empty
CONS
Exterior finish is prone to staining

The top cover should have a better locking system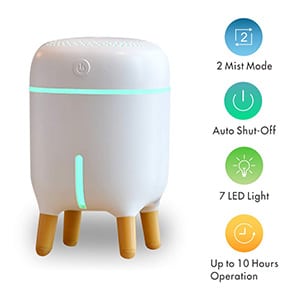 You can now achieve a significant edge over other DIY gardeners. Why? Well, the NUMIFUN Mini Humidifier makes up for one of the best ways to keep your plants healthy. There is nothing worse than having to arrive home to a buzzing machine, which can sometimes be a headache. Capable of operating at less than 30db, this unit is ideal for both desktop and bedroom use. It is whisper-quiet in operation, and the motor won't heat up.
Even more, the BPA free material construction means that it's 100% healthy and suitable for babies when in use. The makers of this unit have also done well to include LED lights for convenient operation. You can use these lights to determine the current functionality of the humidifier, and make proper adjustments. Similar to all the high-end units you will find on the consumer market, this unit is also durable and can ensure years of reliable performance.
The humidifier can also hold an exceptional 2400ml of water, and it also features a unique mist code. It can spray for 5 or 10 hours, through different modes. Featuring an excellent seal ring under the cover, this unit won't leak water even when in use. You can set the humidifier by default as a safety feature. In other words, it will stop automatically after a few hours of use.
PROS
Quiet and BPA free material construction

Operates at 30db for noise-free operation results

Two mist mode and no leakages

Intelligent auto-off and seven color LED lights
CONS
Motor warms up significant

LEDs are not bright enough
Overall
Being able to regulate the growth conditions in a grow room is highly important. Among some of the most important factors to consider is that you have to control the quality of air. To be specific, using the best humidifier for plants is a great way to monitor the quality of air. Some plants have evolved for high humidity levels, and vice versa. Thus, you have to consider these factors and more when investing in proper humidifiers for your needs.
Even more, you also have to get one that comes with useful features such as LEDs and simple design that are easy to install. This way, you enjoy a convenient experience each time you want to set up a humidifier for your plant's needs.