It is important that you get to know the difference between a chiminea and a fire pit before you buy one. Get to know chiminea vs fire pit to know what works best for you and suits your intended purpose.
You can now easily get comfortable outdoors with the right heating system in your back garden. Whether you are looking to hang out around a crackling fire or a fun place to roast your hot dogs, consider getting a chiminea or a fire pit.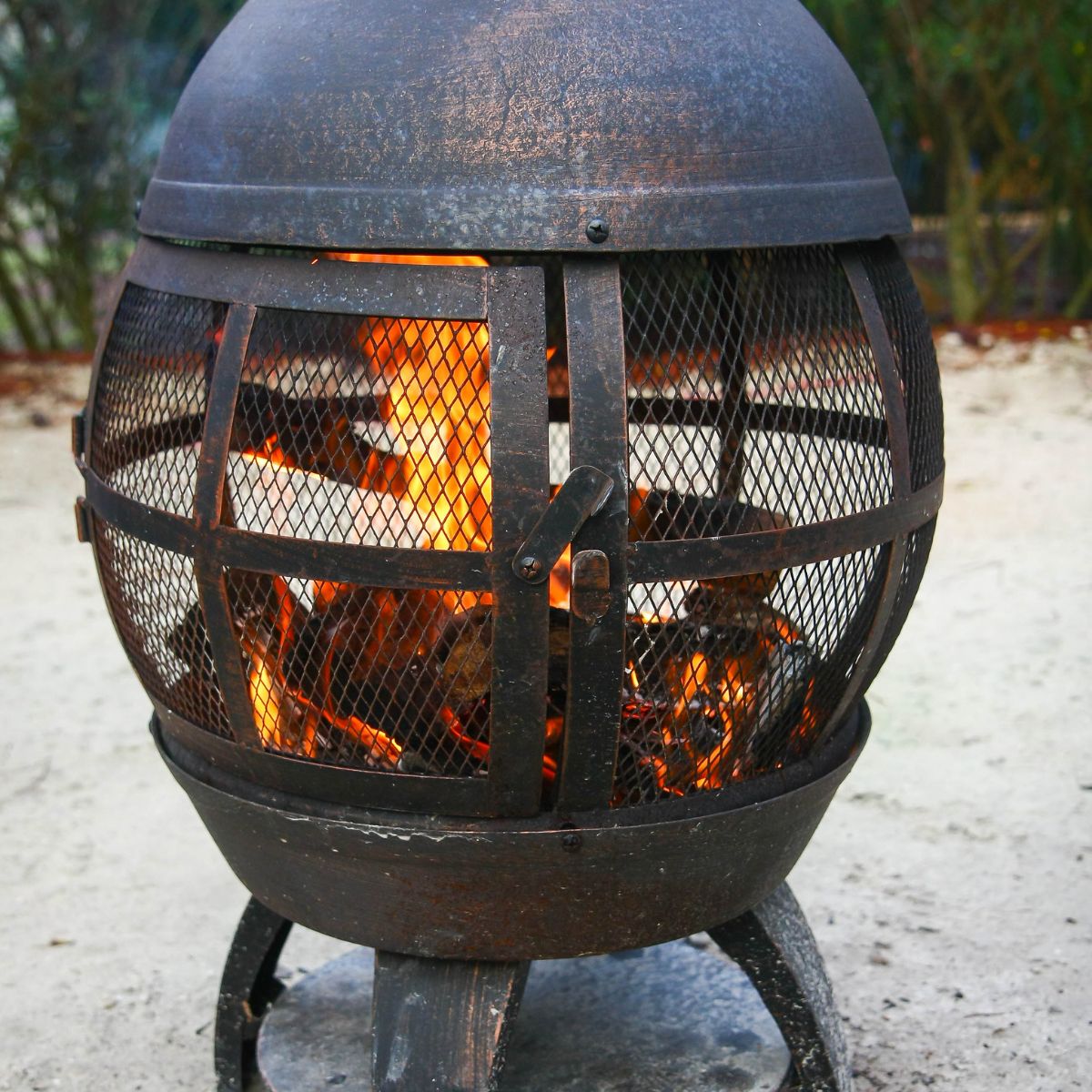 Read Next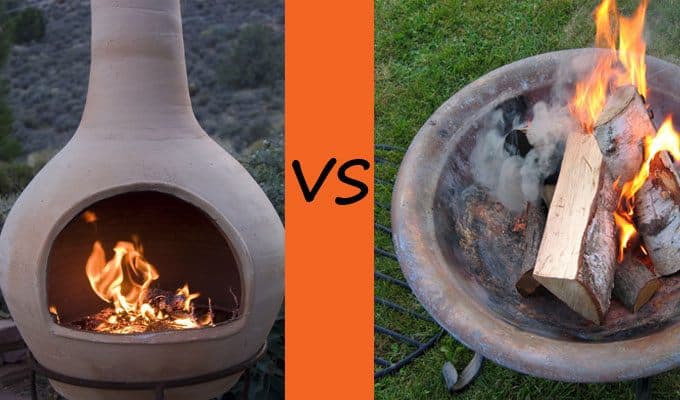 The Key Difference Between Chiminea And Fire Pit
The design of both products differs in some ways. For example, a chiminea is more like a vase or a jar. It is a fire bowl that makes up a chimney by standing in a vertical position.
The diameter of this fire bowl is 24". On the contrary, a fire pit has no chimney attached to it. Rather it is a big bowl and has an open design. This type of fire bowl is suitable for larger spaces.
Apart from design, the two product differs in other ways too. These are as follows:
Wind: In the case of the chiminea, it acts as a safeguard between fire and wind gusts whereas a fire pit has no control over ashes and sparks.
Smoke: The chimney keeps the patio unaffected by any kind of smoke whereas an open pit fire makes the patio smoky. The smoke tends to flow in any direction.
Heat: The chimney turns hot depending on the surface material of the chimney whether it is terra cotta or metal. It is a heat reflector. On the other hand, a fire pit's heat is restricted to a certain area. It absorbs heat to a great extent.
Log Size: In contrast to a fire pit, a chimney allows logs that can easily enter through a narrow entry. A fire pit has a wider opening and it easily fits in larger pieces.
Safety: A chimney is safer than an open fire pit.
Usage: A chimney is considered to be a versatile heating equipment in cold months whereas a firepit is ideal for enjoying the hot fire in cold months.
Everything About Chiminea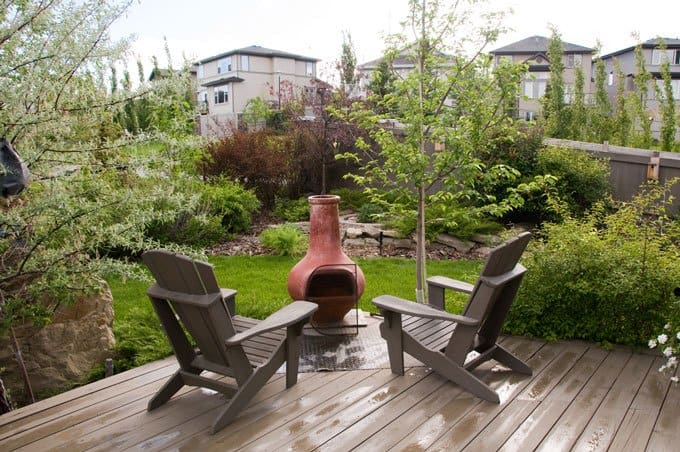 The chiminea is a freestanding fireplace with a vertical chimney. Over the years, the chiminea has evolved into different shapes and sizes. However, they are generally bulbous in shape. They have also become very popular in recent years. It traces its origins back to Spain and Mexico where they were useful in cooking and heating.
The design of the chiminea prevents rain and fire from affecting your fire. This design also ensures you get the maximum heat from the chiminea in addition to saving fuel.
They are also quite safe as they enclose the fire. You do not have to worry about smoke as a well-designed chiminea directs smoke through the vertical chimney. In addition, it draws enough air in for the complete combustion of the fuel you use.
Types Of Chimineas
As mentioned above, chimineas come in a wide range of shapes and sizes. The materials used to make them, however, remain the same. There are three basic types of chimineas. They are cast iron, steel, and clay.
When selecting a chiminea model, once you have settled on your preferred material, consider the following questions:
What type of fuel do you plan to use?
What is the size of your patio?
Do you intend to use it for cooking or heating?
Do you have children and pets?
What is the style of your garden?
Do you plan to move it around your patio?
Cast-Iron
A cast-iron chiminea is suitable for use if you want to generate high temperatures. It is quite heavy and therefore not recommended for moving around. The cast-iron outer shell maintains heat long after the fire goes out. You are therefore capable of heating a large area with this.
This type of chiminea is versatile and usable for both cooking and heating. A larger chiminea is preferable if you cook regularly. You can fry your eggs; grill your barbecue burgers and sausages with this chiminea.
On the other hand, a larger chiminea saves you a lot of fuel compared to a smaller one. You can use wood, coal, or charcoal as your source of fuel.
The downside to using a cast-iron chiminea is the susceptibility to rust. Protect it from rust by covering it and painting any bare spot. Consider this if you have a large area you want to heat, cook regularly, and want to use in different positions in your patio.
Steel
The steel chiminea is suitable if you cook regularly, move it around quite often, use a different kind of fuel, and require less maintenance.
A steel chiminea is much lighter in comparison to a cast-iron chiminea. It is easy to maintain and less prone to cracks and rust. It is suitable for a large patio since it does not generate much heat like a cast-iron chiminea.
When it comes to fuel usage, steel chiminea is not very efficient. Furthermore, it is not environmentally friendly. You can, however, use different types of fuel for your regular cooking. This is an ideal version of an outdoor stove that you can use to boil a kettle with a hot plate. It does not generate much heat like a cast-iron chiminea though.
Clay
Clay is the original material used in making traditional chimineas, especially in places like Mexico. The best clay chiminea is from Mexico, otherwise, you expose yourself to cheap knockoffs.
The best clay chiminea has a wide mouth at the front to draw in more air and generate a hotter flame. They also come in traditional Aztec designs that add a personal touch to their style.
You can use any fuel with it, be it charcoal, garden waste, or wood. It, however, cannot withstand high temperatures that may end up causing cracking on the clay shell.
They are particularly useful if you have children or pets since the clay shell does not get dangerously hot. If you cook regularly, the clay chiminea is not for you. To prevent the clay chiminea from cracking or soaking up with dew, get a protective cover for it.
Why Get A Chiminea?
​Chimineas are great for people looking for something special and functional for their backyard gardens. Chimineas are versatile and possible to use for both cooking and heating.
They are additionally safe to use since they contain flames within their bulbous frame. Depending on your needs, you can select a material that matches your needs. They are also suitable for warming a large patio even when the fire goes out.
Everything About Fire Pit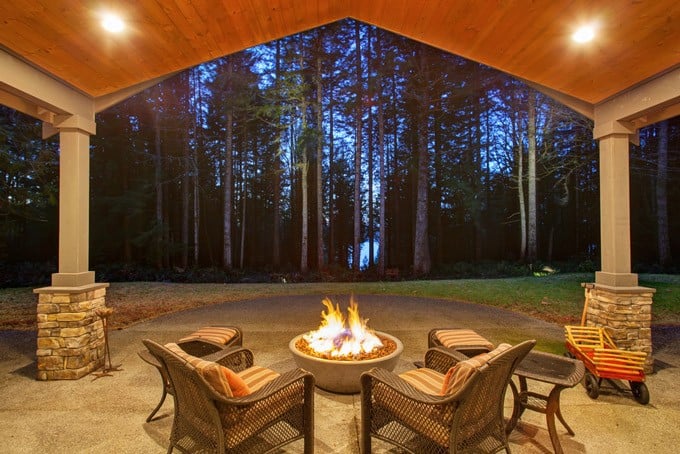 The fire pit is an open container such as a bowl or dish mounted on a stand. It resembles a campfire restricted on the bottom and sides but opens at the top. They, therefore, do not have a chimney to direct smoke while you burn the fuel.
Fire pits may be pits in the ground or made from metal or brick structures. Fire pits enable you to build large fires because of their open design. They contain the fire however and prevent it from spreading.
Types Of Fire Pits
​Fire pits provide a camp-like an experience with their campfire style of burning fuel. They create a comfortable feel for your outdoor garden. You can select four different types of fire pits depending on the fuel they use. These are natural gas, propane, wood burning, and gel fuel fire pits.
Gel Fuel
These types of fire pits use gel fuel to fire up. This type of fuel is environmentally friendly and does not generate any smoke. However, they do not produce much heat as the other types of fire pits.
They are flexible and you can place them wherever you like on your garden patio. They are easy to ignite and refill with gel fuel. The flame goes out when the fuel depletes in the fire pit.
Wood Burning
Wood-burning fire pits resemble campfires because they use logs. They are smoky and provide the same warmth and mood you get in a camp. The restraints on the side ensure that these pits are safe and the fire does not spread.
The legs elevate them from the ground keeping your patio safe from charring with wood. They are mainly from steel designs of different sizes and styles. There is also marble wood-burning fire pits.
Choosing fire pits with different decorative designs adds to the color of your backyard patio. These fire pits are possible to place anywhere in your backyard, converting that backyard meeting into the perfect evening.
Natural Gas
This is suitable if you are capable of installing natural gas on your patio. They resemble propane fire pits but with a permanent gas line connection.
There is no risk of the gas running out since the connection is to the main gas line. The downside to a natural gas fire pit is that you cannot move them once you set them up. They are however cheap to operate and do not require a lot of maintenance.
Propane
This fire pit offers more convenience and allows you to get the best flame. They are larger compared to gel fuel and wood-burning fire pits. The flame rises beneath the pebbles or glass making the fire pit.
They are easy to ignite and turn off the flame by cutting off the propane supply. They have a wide range of uses and are possible to place anywhere in the background.
Why Get A Fire Pit?
​There are several reasons why you should get a fire pit. They bring style to your background patio by embracing the beauty of the natural setting. They also allow you to control the experience by selecting the level of flames you want.
You are capable of creating an ambient environment with fire pits. Fire pits make Thanksgiving meetings and other seasonal gatherings quite exceptional as you enjoy the atmosphere they create.
Conclusion
You read about the chiminea vs fire pit in detail. Both the chiminea and the fire pit have a place on your backyard patio. This depends on your needs and the conditions present in your backyard. The chiminea is versatile, and usable for both cooking and heating. It, however, has a limit to the amount of fuel it can use and requires constant maintenance.
A fire pit, on the other hand, provides a classy feel to your backyard. It offers a campfire experience as you while away on summer nights. The level of maintenance depends on the type of fire pit you select.
However, the chiminea protects you from the smoke with its chimney though. Whichever you choose, your backyard experience will never be the same.