​If there is a household chore that really feels like a chore that just needs to be done, it has to be mowing the lawn. May your lawn be big or small, it takes too much of your time to finish. Sometimes, the equipment you are be using is not thorough enough to finish the job, and that will make you go over it again through trimming manually. Such a tedious work, combined with the environmental factors such as too much heat or too much cold, mowing the lawn is can really be an uninviting activity.
But you know you have no other choice than to do it. You could leave your yard as it is and sooner or later, it turns into a jungle. Poorly maintained lawn can invite pests and insects to dwell in it and nobody wants that.
​The thing is, mowing the lawn shouldn't be a chore that should be hated. In fact, it's something that should be done every now and then and enjoy doing it. This is possible if you will use a piece of equipment that will help you tend your lawn much easier and efficiently. That's what zero-turn mowers are for. If I were to guess, zero-turn should mean that "you don't need to turn back and go over that area again." One of the best zero-turn mowers available in the market today is the Husqvarna Z254.
​Overview Of The Equipment
The Husqvarna Z254 zero-turn mower is a product manufactured by Husqvarna, a power-tool manufacturer that has a product range from chainsaws, robotic lawn mowers, leaf and snow blowers and, of course, zero-turn mowers. Husqvarna claims that they understand how tough lawn jobs could be but offers solutions to make the task lighter with their line: "Tough job that's easy on you." With the Husqvarna Z254 zero-turn mower, you will think that their claims are perfect.So, here's the deal with Husqvarna Z254.The Husqvarna Z254 weighs about 640 lbs, with 6"x11" front tire size. The drive system has a hydrostatic transmission type manufactured by Hydro-Gear, the leading manufacturer of precision drive solutions. So, judging by the initial specifications of the Husqvarna Z254, you'll know that you have a piece of equipment that you will be spending a lot of time for a long duration.Aside from this basic information, here's an overview of the other features of the Husqvarna Z254:
Read more about the best zero-turn mowers for the money here
26HP/747cc Kohler 7000 Series V-Twin OHV Engine
Full pressure lubrication system with spin-on oil filte
Mow up to 2.8 acres per hour at speeds up to 6.5 mph
Smooth power output, quieter operation and outstanding durability
3.5-gallon fuel tank
Hydro-Gear EZT Hydrostatic Transmission
​Fan cooled 10cc pumps and wheel motors on each drive wheel
54-Inch Reinforced Stamped Steel Mower Deck
Reinforced with 14-gauge welded steel tubing for added durability
12-gauge steel w/ 3 mower blades and greaseable mandrels
Electric clutch deck engagement
4 anti-scalp wheels
LED Headlight
Lights your way during early morning and late in the day mowing
Comfortable Operation
Choke, throttle, and ignition in one location for easy access
15-inch sliding seat with spring suspension
Cup holder, hour meter and deck wash port all included
Removable Foot Pan
Allows easy access to deck belts, pulleys and spindles
​​Engine
​Husqvarna Z254's Kohler 7000 Series' engine is manufactured by the leading engine-maker when it comes to power tools - Kohler. The company has been known for their quality work on their engines. This is one thing that Husqvarna Z254 did not miss. This zero-turn mower is powered by a 26 HP output. When it comes to power quantity, the higher the number of horsepower output given, the stronger the power it would give off. With lawn mowing, the stronger the power of engine you have, the faster you get your job done.
Husqvarna Z254 engine's air filter type is classified as standard and it also has an oil filter. The engine is running on gasoline and it can handle up to 3.5 US gallons of gasoline, including its reserve supply. With that amount of gas, you can definitely finish mowing the whole lawn without taking short breaks for refueling.
​​Cutting Deck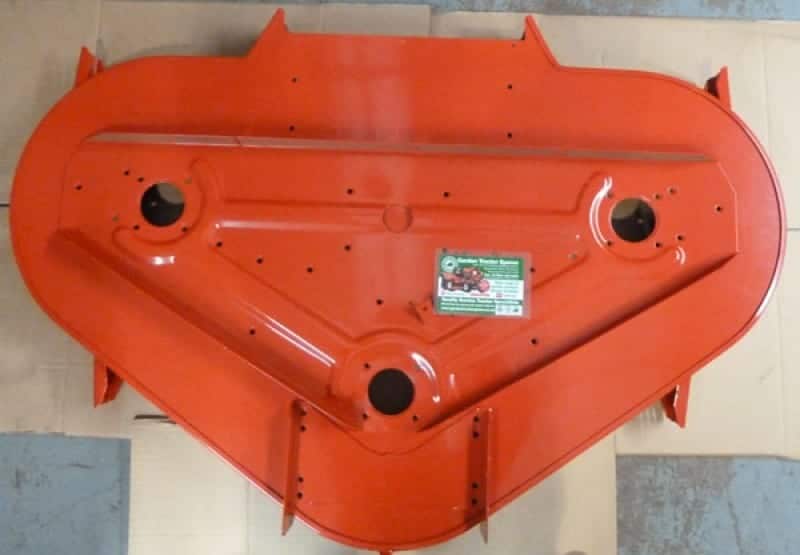 ​When it comes to lawn mowers, your equipment has to have a good cutting deck because this is the primary part that gets the whole job done. With Husqvarna Z254, its cutting deck shall satisfy your lawn mowing needs. It has a cutting width of 54 inches and a cutting range of 1.5" to 4". Husqvarna Z254 has a good cutting range because it can cut even the smallest grasses up to the longest ones. So you don't have to go over an area again, may it be on your mower or on your feet with a hand tool. It's cutting deck has a stamped type and has a 3-in-1 Mulch/ Rear Bag/ Side Discharge Capable. Husqvarna Z254's cutting deck is engaged by an electric clutch. The blade is also one of the most essential components of the cutting deck. Husqvarna Z254 has 3 pcs of cutting deck that has 18,500 fpm blade-tip speed. It also has an additional 4 anti-scalp wheels, and it has a manual hand-operated deck lifting system. Husqvarna Z254 spindles are made up of cast aluminum and these mandrels can be lubricated with grease. Afterward, the cutting deck has a wash port for easy maintenance of the equipment.
​​Frame
​Husqvarna Z254's frame is built with heavy-duty materials that made this zero-turn mower trudge over the surface areas of an office building, farm, or parks and can even be used on hilly terrain. The materials that were used to build Husqvarna Z254 are durable enough to withstand any friction. Husqvarna Z254's frame also requires less maintenance and that also mean that its lifespan is long enough. Designed for outdoor-use, Husqvarna Z254 is rust and corrosion-resistant.
​Accessories Available For The Equipment
​If you make an initial purchase on your Husqvarna Z254, you may also want to maximize its capability. You can do this by adding accessories to your Husqvarna Z254. There are actually a lot of accessories you can individually purchase like the rear bagger, armrests, trailer hitch, and mulcher kit. The accessories included in your initial purchase will be a mid-back seat type with seat springs, an hour meter, and headlights.
​Warranty Coverage
​The homeowner warranty for Husqvarna Z254 is three years. So, you won't really need to worry about the defects because Husqvarna promises excellent quality with their products, and even offers you an extended warranty coverage to support it.
​Special Features
​When it comes to the equipment proper, you should know that the seat material is catered to support your comfort as it is made from vinyl. It has a seat spring and has a medium back height to make you feel as comfortable as you can be while you are mowing your lawn. Also, it's good news that the mower has a cup holder, so there's really no need for a short water break. It also has a spring-assisted deck lift system that you could use and this is conveniently located within your reach. Aside from that, its hour meter has pre-programmed service intervals. But what makes the Husqvarna Z254 are its other features that you cannot just see in other zero-turn mowers. The Husqvarna Z254 has an ergonomically-designed control panel that places everything conveniently at your fingertips. It also has a removable foot plate which is designed with a unique tube-style chassis that gives you easy access to the top of the cutting deck.The Husqvarna Z254 has an Air Induction Mowing Technology. So what does that mean, exactly? It's actually kind of simple - air is drawn from the top and bottom of the deck. This design improves grass lift and shall, therefore, deliver a superior cut. It has heavy flat-stock steel reinforced cutting deck that adds strength and durability on the leading edge and trim side.When it comes to safety, Husqvarna Z254 has also got it for you. It has an anti-slip floor area that's made for your comfort and safe use. Husqvarna Z254 also has an automatic park brake system, which is a newly-patented pending park brake system, that automatically activates or deactivates as the steering levers are moved outward or inward, freeing you of the task. Safe and convenient - all things that Husqvarna Z254 revolutionized in a lawnmower. There are also rubber bellows that offer a refined look that prevents debris and moisture from entering the control system. Aside from that, there is a rear engine guard that protects the engine from impact and gives limited access to hot surfaces for your safety.And there's even good news, Husqvarna understands that not everyone is in the mood for mowing their lawn during the daytime. So, Husqvarna has equipped its Z254 model with a bumper that is integrated with LED headlights. This integrated front guard or bumper offers bold styling while protecting the nose of your equipment. It has a centrally located bright LED headlight kit that can provide improved visibility in dark conditions.When it comes to speed and performance, Husqvarna Z254 has a maximum speed forward of 6.5 mph and can mow 2.8 acres per hour. So, pretty much, if you have about 3 acres of lawn, then you might just spend a little over an hour of doing so. The Husqvarna Z254 received quite a number of reviews when it comes to its performance. The increased power of 26 HP and the dimensions of the cutting deck has dramatically increased the efficiency of mowing the lawn.
​Is It Worth Buying?
​When it comes to buying a mower, you should only consider these three basic things: power, speed, and reliability. All three of which are satisfied by Husqvarna Z254. You can see that by the way it was designed, Husqvarna Z254 incorporates the comfort while doing the job done. Husqvarna Z254 makers are truly living up to their line, "tough job that's easy on you." Gone are the days when mowing the lawn Is considered to be a back-breaking thing to do. Husqvarna Z254 designed this zero-turn mower ergonomically, but not compromising the primary purpose of the lawnmower. Now, mowing the lawn doesn't have to be such a chore anymore. With Husqvarna Z254, you can do it any time and in any way that suits your comfort. Overall, the Husqvarna Z254 is a great buy. With the specifications stated above, coupled with other features, it can be trusted that Husqvarna Z254 will get the job done. The most enthralling feature of this zero-type mower would be its Kohler 26 HP engine. Even its engine's power is even higher than other zero-turn mowers in the market. Husqvarna Z254 is great for residential-use as you can cover such a large amount of area in just a small amount of time. So yes, Husqvarna Z254 is indeed worth buying.