With all the distractions and various causes of stress day in and day out in our lives, you are probably looking forward to anything that will offer relaxation when you come home – lounging on the sofa, getting a massage or capping the night with a glass of wine. Imagine you can enjoy the feeling from all of these while you are soaked in warm water? If we're on the same page, then you are probably thinking about a hot tub.
Nothing beats coming home to the relaxation and health benefits of dipping in a hot tub can offer. You can sit back, relax and let the warm water flow and massage your tired muscles. But owning a hot tub is not as easy as it seems, the price of hard-side tubs is anywhere between $3,500 to $7,000.
Well, we have good news for you! We have prepared a list of the best inflatable hot tubs that will surely offer what hard-side tubs can without breaking the bank. So, read on!
Checkout Which Sanitizer Is Best Suited For Your Hot Tub
Top 6 Inflatable Hot Tubs To Buy In ​2021
If you are looking for a portable hot tub that will give you all the must-haves in a permanent hot tub, Intex PureSpa Plus has all the plus points you can find in its competitors. Inflate or deflate your outdoor spa in just 20 minutes with a pump that comes with it.
You and five of your friends and family members can enjoy warm and relaxing water and be surrounded by 170 bubble jets that will surely soothe every muscle in your bodies. Both the temperature and bubble jets can be programmed through a user-friendly light touch control panel. Get the ultimate pampering experience because it also comes with two headrests for an added feeling of luxury and comfort. Its LED mood lights will also set the mood, especially at night.
The hot tub is constructed using a 3-ply FiberTech material that is puncture-resistant due to a combination of mesh polyester sandwiched in PVC. You can also keep the water warm for days and more prolonged with its insulated cover with lock. You will never have to worry too much about maintenance because it is equipped with a filtration system that converts hard water to sparkling and soft water that is free from abrasive chemicals that can damage your skin, your swimming clothes and even the surface of the inflatable hot tub. A floating chlorine dispenser also activity sanitizes the hot tub while in use.
Should you wish to bring the hot tub somewhere else, deflate it in minutes, wipe it clean and dry and pack it in a carrying and storage bag for easy transport. Aside from the mentioned accessories, it also comes with a hard water system, filtration system with 2 cartridges, thermal ground cloth and an inflation hose.
PROS
​Can fit 6 people

​Bubble massage feature

​Hard water system softens the water

​3-ply puncture-resistant material

​LED mood light
CONS
​Error codes on the control panel
Bottom line:
With all its amazing features, it will be hard to beat the Intex PureSpa Plus Inflatable Hot Tub. You can enjoy the soother jet massage in heated water that is never short of therapeutic and relaxing. The durability will also set it apart with the well-designed and right combination of materials that will ensure that this portable hot tub will be part of your outdoor living space for a very long time.
Coleman is a household name for outdoor recreation gear and products, they specialize in camping gear like tents, sleeping bags and coolers. This gives buyers the confidence that their outdoor hot tub would also be a great addition in their outdoor living space. The Coleman SaluSpa can be enjoyed by 4 to 6 people. Users can enjoy getting pampered by its built-in bubble jets and be soothed by its warm water.
This inflatable hot tub is equipped with an inflation pump which also serves as the control system to activate the bubble jets and set the temperature. The heating system can also be programmed to start and stop automatically. The walls of the Coleman SaluSpa are made with highly durable Tritech 3-ply material containing polyester mesh core in between two layers of PVC, making it sturdy without being too stiff.
The SaluSpa holds 254 gallons on water and has a minimum and maximum water level indicator. The maximum heat capability is up to 104 degrees Fahrenheit. The whole kit that comes with the Coleman SaluSpa includes a DVD of the spa set up and maintenance, heating system, insulated cover, filtration system with filter cartridge, ground cloth, inflation hose, chemical floater and a heavy-duty repair patch.
PROS
​Easy to setup

​Bubble massage feature

​Water heating feature

​3-ply puncture-resistant material
CONS
​Water filling is done manually

​The location must be leveled out

​Cannot be transferred to another site once filled
Bottom line:
With a relatively easy setup and an affordable price tag, its no wonder that Coleman SaluSpa is among the most purchased inflatable hot tubs today. Since you only get to spend 5% of the cost of a hard-side hot tub, there are a lot of safety considerations when using an inflatable hot tub like this. It is essential to read the manuals and follow it to the dot.
"Designed for comfort. Engineered for durability." That's the Intex PureSpa promise with its Fiber-Tech Construction. This 6-person inflatable hot tub is enhanced with high-strength fibers to make it more stable while maintaining a comfortable surface. It has a built-in Hard Water System that will soften the water in the tub to make it more refreshing and less drying on the skin even when you stay longer in the water. This system also prevents hard water build-up on the surface of the tub that will reduce the life of your spa.
It has a capacity of 290 gallon and users can enjoy warm water in the tub between 68 to 104 degrees Fahrenheit. It has an easy-to-use control panel that lets you adjust the jet pressure and the temperature. The Hard Water and Water Heating Systems are set up outside the PureSpa to ensure the safety of its users at all times. It also comes with a Floating Chemical Dispenser and a Replaceable Filter Cartridge that are easy to maintain to keep the water in the hot tub at its best condition.
You can rely on the portability of the Intex 85-inc PureSpa with its grab handles that will let you transport and relocate it quickly once it is inflated. The set also comes with a carry bag for easy storage and transportation that will surely let you enjoy a luxurious PureSpa experience even when outside your home. Share the amazing comfort and benefits of your hot tub when you're visiting your family and friends by bringing it over.
The PureSpa is puncture-resistant with its 3-ply laminated material that will support your weight should you wish to sit on the spa shell. This insulated cover foes not only offer comfort and durability but it also helps in keeping the warm temperature in and prevent heat loss to a minimum. The Intex PureSpa 6-person hot tub has an approximate inflated size of 65 inches and 85 inches, for its interior and exterior, respectively. The standard kit comes with Intex PureSpa, insulated cover, heating/filtration/air blower/hard water system, two filter cartridges, thermal ground cloth, inflation hose, carry bag, floating chlorine dispenser, and 3-way test strips
PROS
​Can fit 6 people

​Bubble massage feature

​Separate heating and filter system

​3-ply puncture-resistant material

​Grab handles and carry bag for portability
CONS
​Error codes on the control panel
Bottom line:
This inflatable hot tub is such a pleaser. It seems to have addressed every portable hot tub problems there is in the market today. It is so advanced that there are barely noticeable downsides, at the very least, negligible. It is highly recommended for those who want to share a luxurious hot tub experience with their friends and family without spending too much.
GoPlus Outdoor Spa is a fantastic choice for a portable hot tub. It accommodates up to four average-sized people in its 55" interior. It goes with a PVC with polyester mesh cover in between two more layers of PVC. It has an insulated ground cloth and an insulated lid to help retain heat in the tub for a more enjoyable and relaxing experience.
Bubble jets are among the most considered features when buying a hot tub, whether its hard-side or inflatable. The GoPlus Outdoor Inflatable Hot Tub features a 360-degree all-around bubble massage design to massage users from the neck down to their legs to relieve muscle stiffness and fatigue. It also has a hard water system that softens the water and makes it more gentle on the skin and on your swimwear. This treatment process also eliminates hard chemicals that may be abrasive to the hot tub material.
An easy-to-understand control panel is also built in the hot tub. Set the heating system and enjoy warm water up to 40 degrees Celsius (104 degrees Fahrenheit). The GoPlus hot tub holds 210 gallons of water. This hot tub cleans on its own and is easy to maintain with an easy to replace filter cartridges. A brand new set comes with everything that you will need from setup to repair – GoPlus tub, PU cover with foil and zipper, inflation hose, filter cartridge, filter cartridge cover, ground cloth, rubber plug and a repair kit.
PROS
​Can fit 4 people

​Bubble massage feature

​Separate heating and filter system

​Hard water system softens the water

​Grab handles and carry bag for portability
CONS
Bottom line:
If you are looking for an affordable alternative for the bigger and more expensive 6-capacity hot tubs, settle for one that can accommodate 4 with the same set of fantastic features. The GoPlus Outdoor Spa Hot Tub can be a deal-breaker for other brands because it's cheaper and feature-packed.
Mood lights and spa surely go well together with the Bestway SaluSpaParis. In just 20 minutes, you can set up a spa party for four with its inflation pump that sits on the side of the inflatable hot tub. It also has a rapid heating system that lets you and your guests enjoy 40 degrees Celsius warm water. Melt your stress away with a relaxing bubble massage coming from 87 air jets – a feature that you thought only permanent hot tubs can offer.
It guarantees stability with its I-Beam construction that can support you even when you sit on the outer shell of the hot tub. Your eyes will surely have a feast with a stunning light show which settings can easily be changed using a remote. The control panel also lets you program the heating system so you can enjoy a warm dip as soon as you get home. Keep the warmth and keep debris away from your hot tub with a leatheroid cover that comes with it. Unlike other hot tubs, the SaluSpa Paris has a separate air pad cushioned floor pads that offers additional comfort and insulation at the base of the spa.
The hot tub's filtration system actively cleans the water so you can continuously enjoy sparkling water in your outdoor spa. Bestway SaluSpa Paris Hot Tub can be purchased as a set together with an insulated leatheroid cover with double safety lock clips, a setup and maintenance guide in a DVD, a filter cartridge, ground mat and a chemical floater.
PROS
​Easy to setup

​Bubble massage feature

​LED light show with remote

​Rapid heating feature

​3-ply leatheroid material
CONS
​Heating only runs for 72 hours on automatic
Bottom line:
Although this product may be perceived as a hot tub for a younger market, there is no absolute age bracket when it comes to relaxation. The affordability and the unique features and added comfort of the Bestway SaluSpa Paris make it appealing across all generations. This is the improved version of the Lay-Z Spa Paris and it sure improved a lot from the older model making it a competitive option.
If you do not have a big space for a portable hot tub, a square-ish option might be appealing to you. It is very easy to set up with a couple of hookups and with a touch of a button on the digitally controlled pump on one side of this inflatable tub. This control panel also manages the heating system that will surely give you a relaxing dip in heated water in minutes. You will surely stay longer with the soothing power of 114 air jets surrounding the interior of the Coleman SaluSpa.
You can keep the warm temperature of the water using a pool liner and pool cover with locks which also act as an insulator. The 3-layer durable material lines the whole inflatable hot tub ensuring that it is built to last and comfortable for users from all ages. The combination of a chemical floater and the built-in filtration system guarantees that you will enjoy clean water in your tub. Although it is highly advisable to perform regular cleaning as directed in the user manual. The hot tub also comes with a repair kit which has a PVC patch in case you experience leaks over time.
PROS
​Easy to setup

​Bubble massage feature

​Rapid heating feature

​3-ply durable material

​Space-saving shape
CONS
​Not enough ground cushion
Bottom line:
Space constraints should not limit you from getting a portable hot tub, so Coleman built one with a space-saving square shape. It offers the same air jet bubble massage features as the other Coleman SaluSpa and the rapid heating system also works great. The durability of the materials used for this hot tub is attested to by its buyers which almost all gave it a 5-star rating for a 5-star experience.
Proper Care for Your Inflatable Hot Tub
Taking care of your hot tub is not limited to ensuring that there are no sharp objects that will come near it. It needs TLC just like the permanent, hard-side tubs and these tips will surely help prolong the life of this investment:
​Read the installation guide : Reading the manual will tell you information more than the setup instructions. It will also educate you on the right pressure of air needed to inflate the hot tub. The location of the filter, drain and other connections that you need to know about are there too. When you have a hot tub with a digital control panel, a list of error codes and the troubleshooting instructions are there also.
​Keep the water clean and chemically-balanced : A chemical imbalance in the water on your tub can cause the early wear and tear of your tub's interior and floor which will result in leaks eventually. These tubs come with a floating chemical/chlorine dispenser which is the first protection and sanitation accessory for your tub. The filtration system will also remove dust particles from the water. But these are not enough. Just like regular pools and hard-side tubs, test strips are available to check the chemical balance of the water so you can adjust the acidity and alkalinity to maintain soft and clean water.
​Keep your tub covered when not in use : You can save on frequent water replacements and chemical treatment if you keep your tub covered so dust and dirt will not get in your water. This will also prevent quick evaporation and will maintain the heated temperature of the water. Most brand new inflatable hot tubs come with a cover.
​Place your spa in an even and clean surface : Not all ground mats are created equal. Not all are cushioned and can protect you and your guests from uncomfortable feeling from an uneven surface. If you are placing your tub on your lawn, make sure to collect stones, pebbles and twigs that might be scattered. If you are putting it on a deck, make sure there are no protruding nails or sharp objects that might puncture the bottom of the tub.
​Change your pump filters as necessary : Newer variants of hot tubs have their own filtration system. One crucial maintenance procedure is cleaning the filter cartridge and replacing it as necessary. This is very important in maintaining clean and chemically-balanced water. For those with a hard water filtration system, it will keep the water soft and less drying on the skin.
The Verdict:
Best Inflatable Pool Tub
Intex PureSpa Plus Inflatable Hot Tub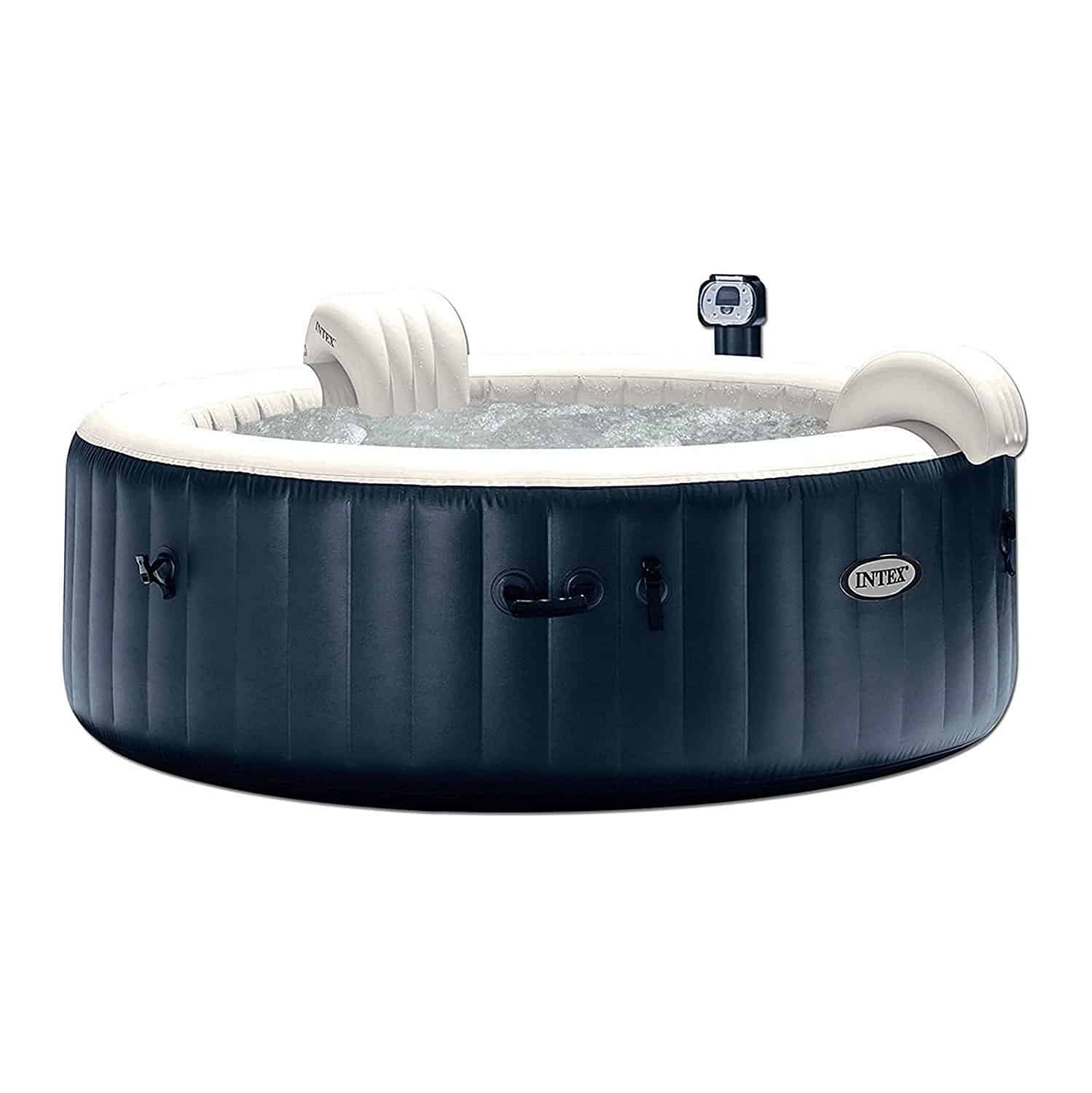 ​Features :
​Can fit 6 people

​Bubble massage feature

​Separate heating and filter system

​Hard water system softens the water

​Grab handles and carry bag for portability

​3-ply puncture-resistant material
​This is undoubtedly packed with PLUS features that will offer a luxurious and relaxing experience for the whole family. The comfort and durability brought by the Fiber-Tech material are unmatched. The attractive LED mood light feature will surely make your inflatable hot tub a conversation piece on every outdoor gathering. The built-in hard water system is healthy for both your skin and the exterior of your spa. And you will surely look forward to capping the night with a soothing bubble massage under the stars. You can enjoy all of these features that a permanent tub can effort for a fraction of its price. Now, click that link, add to cart and treat your family to a spa experience at home.